South Korea has been aggressively building up its space program. The aerospace industry in Korea is now bigger than ever. The aim is to attract global partners and venture into the space economy. South Korea is not alone, 13 other countries have established their own space agency over the past decade. Due to emerging technology that allows for more efficient satellites, spacecraft, rockets, and software, the cost for a country to start a space program has lowered greatly. While NASA is the leader when it comes to space exploration, many countries building space agencies feel there is huge potential for partnering with the commercial sector interested in what space has to offer. 
The aerospace market is estimated to be worth $300 billion and could be worth over $1.5 trillion by 2040. This includes space telecom infrastructure, space tourism, remote sensing, space mining, earth monitoring data, and many other space services. South Korea sees the aerospace industry as something that can bring not only added value to society but also a competitive advantage for businesses. The potential lies in the pirate sector. Computer hardware and innovative designs make it easier than ever to launch satellites into space. This is why private companies like Blue Origin and SpaceX have been able to break into the aerospace industry in a short period of time. Therefore, South Korea hopes to make it easier for private companies to enter the aerospace industry in Korea. 
The Aerospace Industry in Korea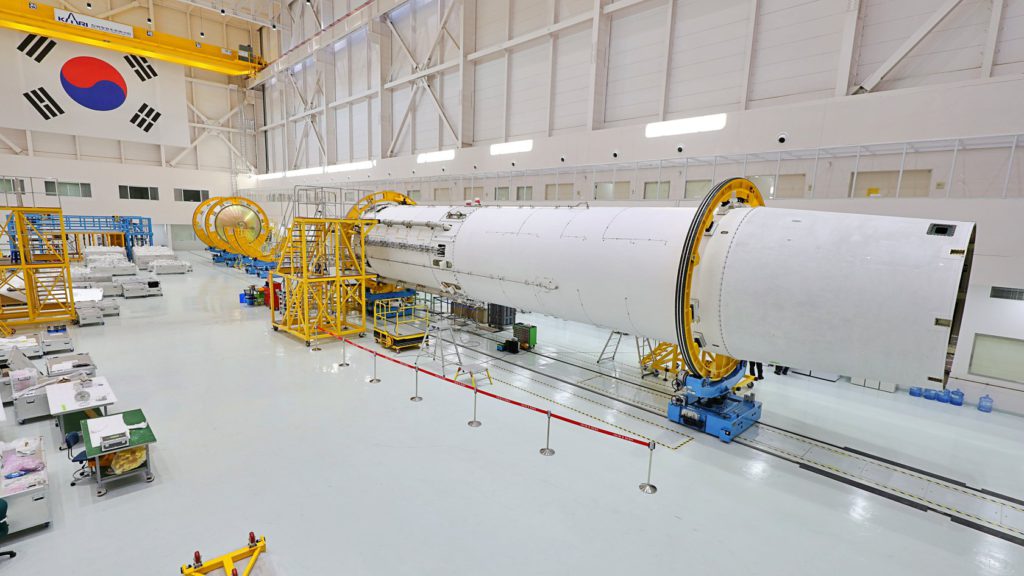 Korea's space program is growing rapidly as they are set to launch space rockets and lunar orbiters in 2022. However, they are latecomers to the global space development race. South Korea will not match the United States, Russia, or China's space programs. However, that is not the goal of South Korea. Korea aims to find want to focus on areas they will be able to thrive in the age of space commercialization. For example, South Korea could utilize space to position itself as a leading telecommunications sector and attract businesses from all over the world. In addition, Korea has a strong engineering sector that has the ability to develop new technologies that can be easily installed on newer satellites designed for Earth observation and remote sensing.
South Korea aims to develop over 100 miniature satellites and 14 low earth orbit communications satellites by 2031. This will prepare South Korea for future 6G network technology which is vital for autonomous ship control systems and marine traffic services.
The aerospace industry is changing rapidly. Therefore, there are always new players coming into the space both from the private sector and the government. Below are some of the top Institutions Leading the Aerospace Industry in Korea.
KARI – Korea Aerospace Research Insitute 

The Korea Aerospace Research Institute (KARI) is an aerospace research institute in Korea. It focuses on R&D in systems and core technology for satellite and space launch vehicles. KARI is responsible for the development of Arirang, a multipurpose observation satellite, and Chollian, a geostationary satellite. In addition, they also developed Naro, a small satellite rocket, and are currently developing Nuri, a Korean-style launch vehicle. The Nuri rocket, also known as KSLV-2, is a $1.8 billion project designed to put a 1.5-ton satellite into orbit. 
KASP – Korea Association for Space Technology Promotion

The Korea Association for Space Technology Promotion (KASP) is a space organization in Korea that does policy research, industrial surveys, and government-commissioned projects. The aim of KASP is to develop core technologies to strengthen space research and secure independent space development capabilities. In addition, they look to promote both foreign and domestic investment through the cooperation between member companies. 
KASI – Korea Astronomy & Space Science Insitute 

The Korea Astronomy & Space Science Insitute (KASI) has been Korea's top research institute for astronomy since 1974. They develop and operate observational facilities in Korea. In addition, they support research groups by offering an optimal environment through programs. These programs include astronomical workshops at various educational levels, training projects for school teachers, and programs for students/researchers. 
Korea Space Policy Research Center
The Ministry of Science and ICT has created a space policy-oriented think tank to strengthen its space development ambitions. The Think Tank is called the Korea Space Policy Research Center. It will conduct space-related research and analysis to offer guidance for Korea's space development policies. The Think Tank includes space industry experts from KARI, KASI, and the Agency for Defense Development. 
KSF – Korea Space Forum 
The Korea Space Forum (KSF) is organized by the Ministry of Science and ICT which promotes R&D in the field of science and technology. KSF is the first space conference in Northeast Asia that focuses solely on the space industry. In addition, it is attended by government space institutions and the private sector to find economic opportunities related to space. 
Space Capabilities for Korea's Military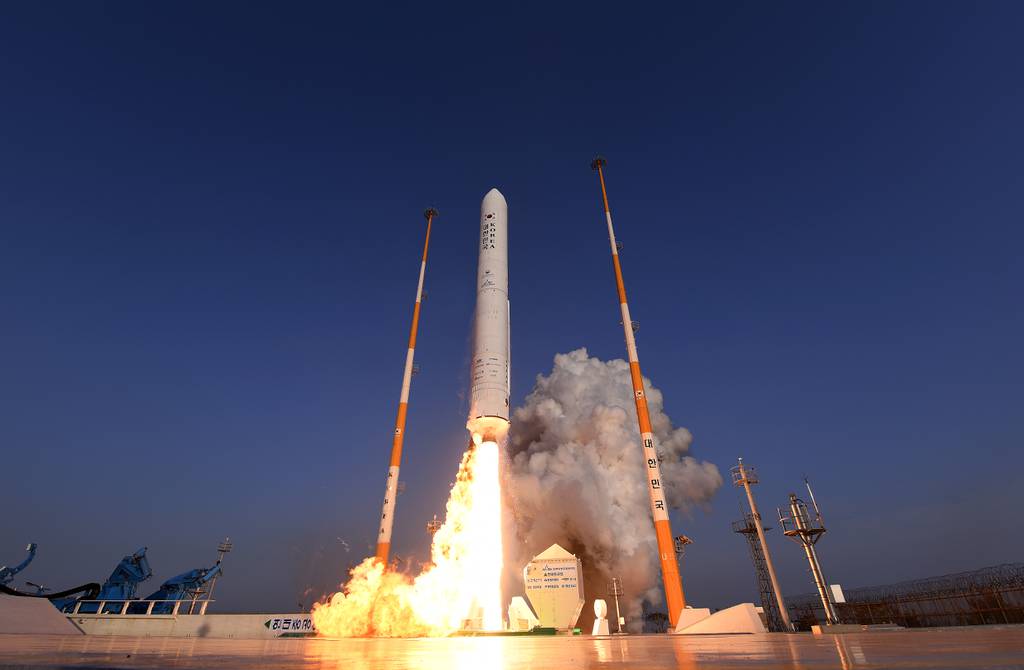 South Korea recently created a task force to develop space capabilities for its military. This is after the United States approved a lift on restrictions to Korea's missile production program. The task force is made up of key personnel from the Ministry of National Defense, the Agency for Defense Development, the Joint Chiefs of Staff, and other government organizations. They will develop regulations, technologies, industries, and infrastructure. In addition, $13 billion will be invested over the next decade to help industries in Korea develop technologies for military satellites.
To make this easier, Agency for Defense Development will transfer core-satellite technologies to local defense contractors. This will be done to prepare for the mass production of military satellites. Therefore South Korea will start to develop more powerful rocket engines and have more commercial space projects. 
Hanwha, the 28th largest defense company in the world is the most active Korean company looking to enter the space market. It owns Hanwha Aerospace which develops liquid engines for the Korea Space Launch Vehicle (KSLV) and other components like turbopumps, valves, and thrust vector control systems. Moreover, Hanshwa Aerospace is in charge of a Space Hub task force. The Space Hub is in charge of doing R&D for space launch vehicles, Earth observation, and satellite-based communication. Moreover, Hanwha Aerospace acquired a 30%stake in Satrec Initiative, a Korean company known for its satellite systems for Earth observation. Satrec developed an Earth-mapping satellite called SpaceEye-T to observe and provide imagery of the Earth in high resolution. It will be launched by early 2024. 
"The space task force will play an active role in boosting the space industry under a midterm and long-term road map," said Seo Hyung-jin the vice-commissioner of DAPA.
Moon Missions by South Korea
South Korea aims to have yearlong missions to observe the moon through an orbiting spacecraft. The orbiter is set to launch in August of 2022 and it will gather data of the moon's surface to support the US-led Artemis program. The Artemis Accords were signed back in May of 2021 by South Korea which aims to send astronauts to the moon by 2024 and build a sustainable manned lunar base by 2028. Moreover, Korea will get support from NASA for the lunar orbiter mission.
---
John is the Co-Founder of Seoulz. He has covered the startup, tech & blockchain scene for over 7 years and has written over 700 articles regarding the Korean startup ecosystem. Using Google SEO, he has brought global attention to Korea's tech scene. Email him at john@seoulz.com
All author posts