The Korean government has been behind the push for the increase in robotics and drone technology. Currently, drones are being used for many things such as disaster relief (COVID), agriculture, repairs, and logistics. In addition, there is a growing interest in Korea for personal drones which are used for recreation. However, most of the discussion is taking place between government organizations in Korea and Korean logistics companies in terms of promoting the drone industry in South Korea. Currently, China is leading the world in drone manufacturing. However, South Korea has the potential to lead the world in terms of drone innovation.
Drone Manufacturers in Korea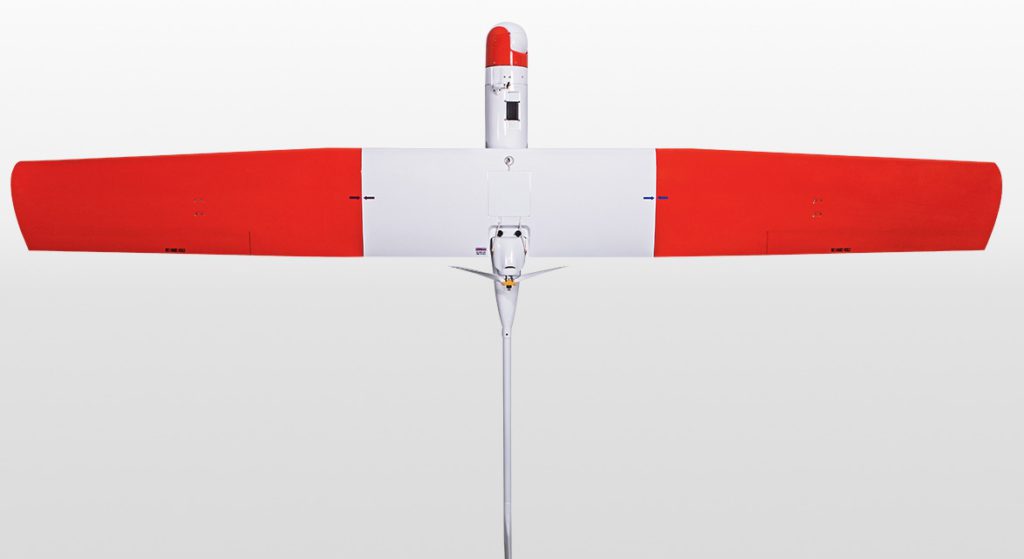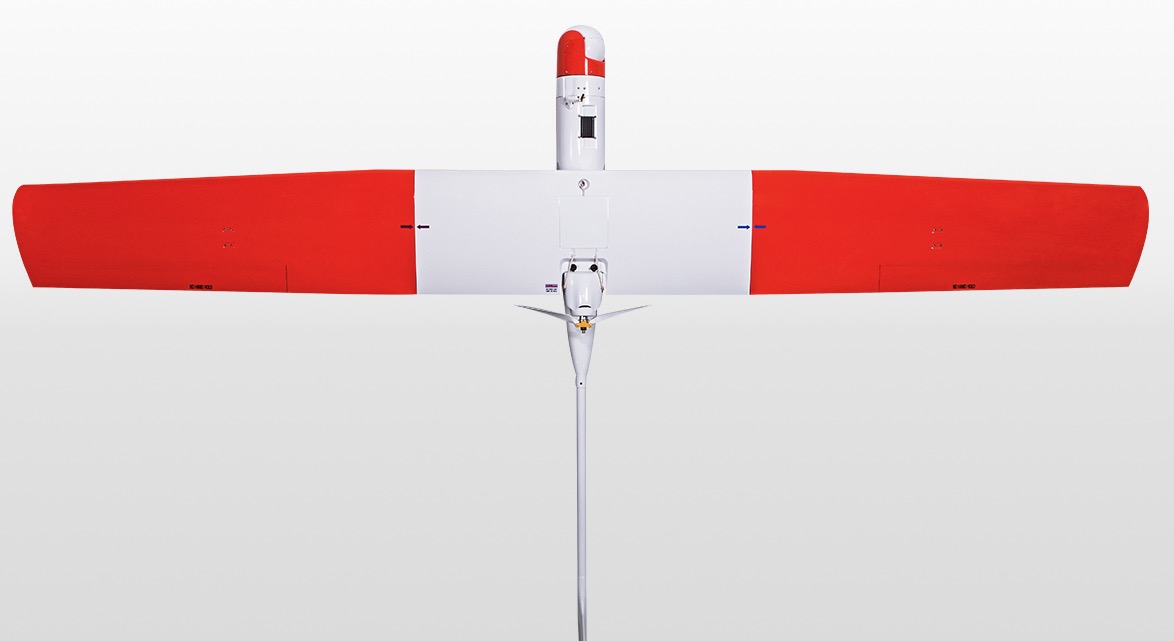 The top drop manufacturer in South Korea is Hojung Solutions, the developer of Remo-M. Not only are they are drone manufacturing company but they are also a survey and mapping company that uses drones. Other drone manufacturers in Korea include:
Giantdrone CO. Ltd, is a drone service company that also offers drone education and drone sales.
UCONSYSTEM Co. Ltd. was the developer of the first unmanned aerial vehicles (UAVs) to be used by the Korean armed forces. They also develop unmanned helicopters and drones for agricultural spraying. Currently, they have entered the civilian drone market.
Drone Delivery in South Korea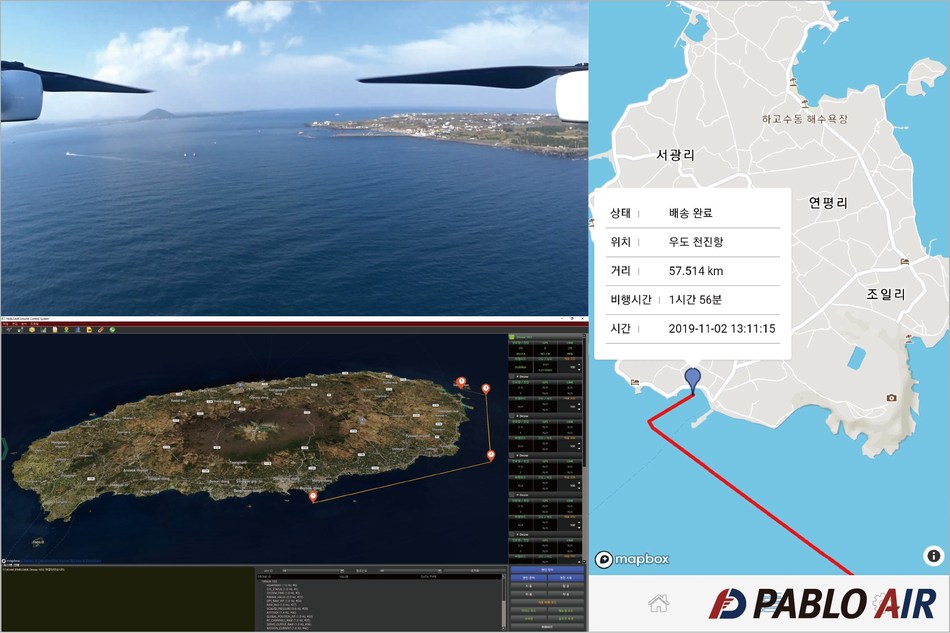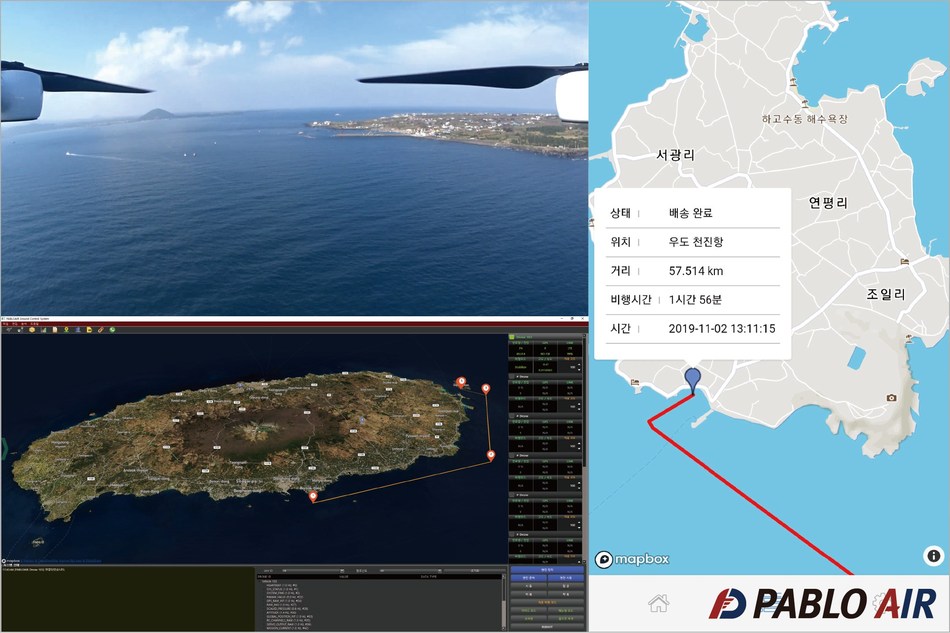 Korean eCommerce companies are looking into drone delivery systems to make home deliveries even faster than they are now. The top drone delivery startup is PABLO AIR. They focus on unmanned aerial hardware and software development. In late 2019, PABLO AIR successfully made a long-distance drone delivery from Seongwipo Port on Jeju Island to Cheonjin Port on Wudo Island. The distance was 57.5 km and took less than 2 hours. Currently, the startup is expanding its business to industries such as entertainment and education.
3D Drone Mapping in Korea
The Ministry of Land and Transportation (MOLIT) has already set up programmed routes for drones in Korea. These routes have been critical in keeping the drones away from the general public. As drones continue to travel these programmed routes, better data is collected on spaces and obstacles in a given area.
Before 3D mapping, drones had to use 2D mapping which made it difficult to avoid obstacles drones might come across. Testing the mapping layouts has already been done in 5 regions in Korea. These regions are remote industrial areas in Korea used mainly by commercialized drones. Moving forward, South Korea will need to continue to focus on safety standards such as air traffic control and operation before it can be commercialized. The global commercial drone market is estimated to grow to $6.5 billion by 2025.
The Top Drone District in Korea – Incheon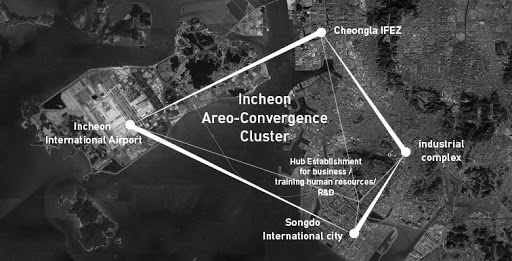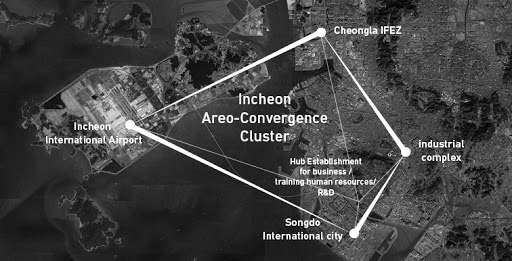 The top drone district in Korea is Incheon which is northwest of Seoul. It already has an aeronautics industry complex (16,000 square meters) where drone demonstrations, aerospace research, and testing of unmanned aircraft can occur. The area already has more than 20 companies that develop parts for drones in the area. The drone district in Incheon is called the Songdo International Business District and it has already established a solid base in regards to drone manufacturing and infrastructure. Incheon has all the best features for drones as it has both land and sea features in addition to high-rise buildings. This is why many of the top startups in Korea in the drone industry are moving their offices to Songdo. The area offers cheaper rent compared to Seoul.
Free drone flying is allowed in Songdo and is one of the very few places in Korea that has this lack of restrictions. Therefore casual drone users can fly their drones freely. This has already caused a culture of drones in the city. An electric-powered unmanned drone taxi was tested near Incheon over the Han River. This was to show the potential of unmanned drone taxis and the potential to have these drones in Korea by 2025. Drones taxis could potentially reduce traffic congestion in Seoul, as well as, help improve air quality.
The Drone Software Industry in Korea 
The biggest strength South Korea has in regards to the drone industry is in software. There are many companies in Korea that make software for drone parts, drone data processing, and drone navigation. The South Korean drone software industry is very strong due to the fact that Korea has one of the top semiconductor industries in the world. Semiconductors have played an important role in Korea's process in drone manufacturing technology.
Drones for Military Use in South Korea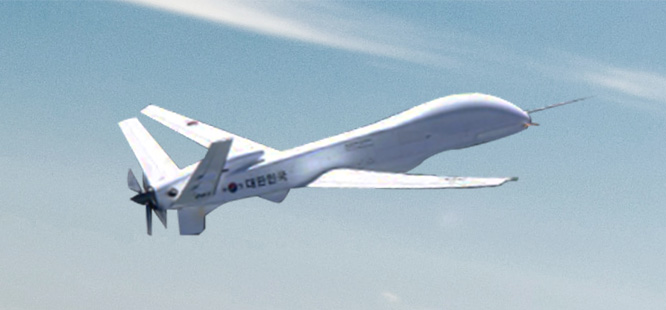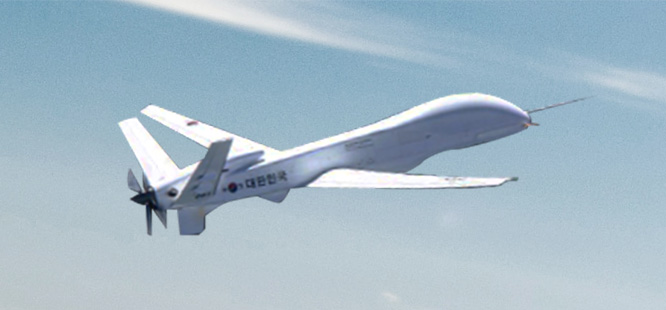 South Korea has been investing heavily in military drones due to tensions with China and North Korea. Chinese fishing/trawling has tested the boundaries of the nautical borders of the West Sea for many years now. In addition, North Korea has also been accused of selling fishing permits to China to allow them to fish in their waters. Therefore, drones have been used for surveillance at sea. Many of these drones are equipped with AI technology. In 2021, the drones have spotted around 180 Chinese vessels near the maritime border with North Korea.
Drones are not only being used at sea. South Korea will also be developing manned-unmanned systems Light Armed Helicopters to combat unauthorized drones entering Korea. This is expected to be completed by 2022. In addition, they will develop self-destruct drones called loitering munitions which can be used to crash into targets. South Korea will work with Israel to develop these loitering munitions.
---
John is the Co-Founder of Seoulz. He has covered the startup, tech & blockchain scene for over 7 years and has written over 700 articles regarding the Korean startup ecosystem. Using Google SEO, he has brought global attention to Korea's tech scene. Email him at john@seoulz.com
All author posts