An innovative startup program in Seoul called the Seoul Global Challenge 2021 will allow startups from around the world to work with government agencies in Korea to help solve air quality issues on subways. The Seoul Global Challenge is a project in which global innovators, including domestic and foreign companies, universities, and research institutes, develop innovative technologies and ideas to solve the urban problems of Seoul. Therefore companies from around the world will get a chance to share their ideas and technologies with the Korean government and businesses. There will be a total prize of 690 million won ($620,000) up for grabs!
The Seoul Metropolitan Government understands that the many problems Seoul is facing will need help from across all sectors. Therefore, this innovative startup program in Seoul called the Seoul Global Challenge 2021 will allow startups from around the world to work with government agencies in Korea to help solve air quality issues on subways.
Koreans often expect quick solutions and easy access to information for their daily lives. Seoul has become an ultra-connected ecosystem that embraces new digital innovations. While the Korean government has the data on the problems facing their citizens, they lack the technology and resources to address these problems. Therefore they are reaching out to not only startups in Korea but around the world through this challenge. The Seoul Global Challenge 2020 was held for the first time in 2019, with the topic of 'Proposals on reducing fine dust levels in Seoul subways.' The whole subway system of Seoul was the testbed for the challenge.
Seoul Global Challenge 2021
The Seoul Global Challenge will be the platform to improve the quality of life for Seoul's citizens. The Seoul Global Challenge 2020 was successful which is why they are excited about Seoul Global Challenge 2021. The aim is to make Seoul a better place to live and free from particulate matters. The purpose of the challenge is to establish a global competitive R&D platform. In order to do that, the platform needs to be open to innovators in Korea and around the world. In addition, this is a great way to bring in technological developments from outside of Korea, into Korea. This will be key to bring outside perspectives to research, develop, and ultimately solve urban problems in Korea.
Through the Seoul Global Challenge, Korea can set an example for other global cities to look towards innovation for solving their issues. Seoul has been able to establish a strong foothold in innovative and technology-driven solutions. Therefore, this has paved the way for young, high-growth startups in Korea that have provided a better quality of life for their citizens. This is why Seoul has placed technology entrepreneurship at the center of its economic development strategies. Now the mission is to spread the Seoul Global Challenge 2021 to the world. This involves bringing in innovative companies from around the world to help solve issues related to improving the air quality on subways in Korea. The Seoul Global Challenge 2021 is broken down into two challenges. One is a technology competition and the other is an academic paper competition.
Technology Challenge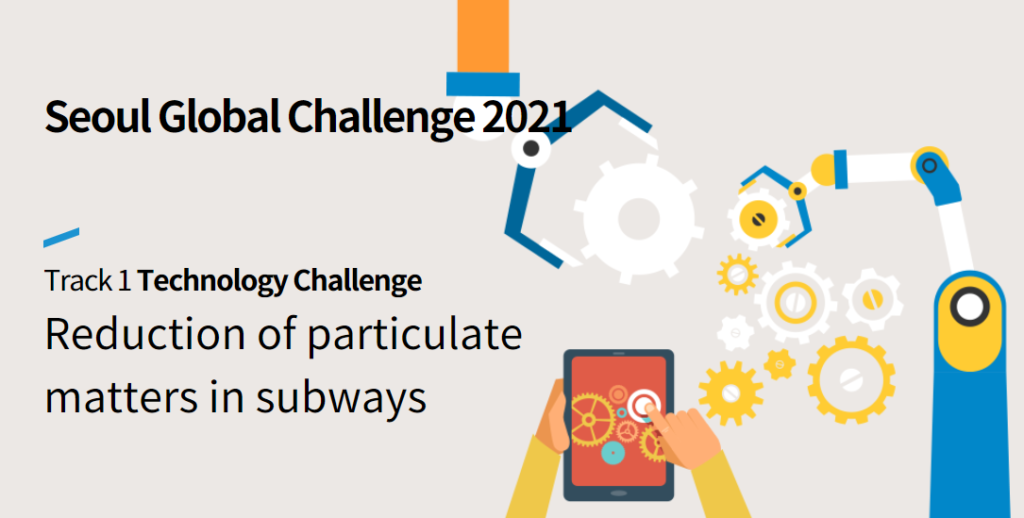 The Technology Challenge is for those with innovative ideas that can then move on to the development stage. The innovative ideas will need to be for certain topics. These topics include:
Reduction of particulate matters in subways
Reduction of wear particle generation (ex. development of wear-resistant materials, immediate removal of wear particles at emission sources, etc.)
Improvement of removal efficiency such as filters
Improvement of the measurement technique
Integrated management of air quality inside subway stations

The challenge is open to individuals, corporations, universities, research institutes, research associations, business associations, and an industry-academic consortium of domestic or foreign origin that have ideas for new technology for particulate matter reduction (TRL 5 and under).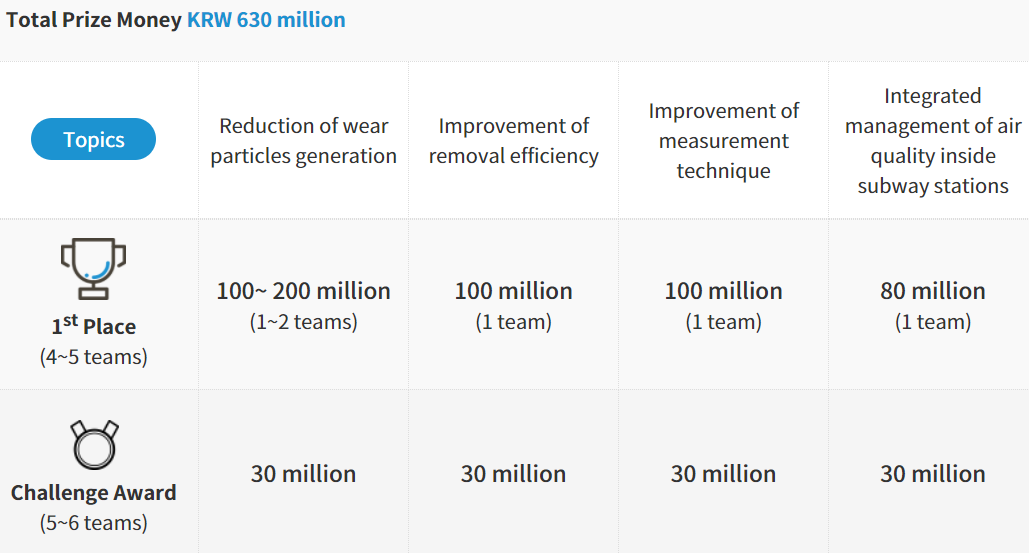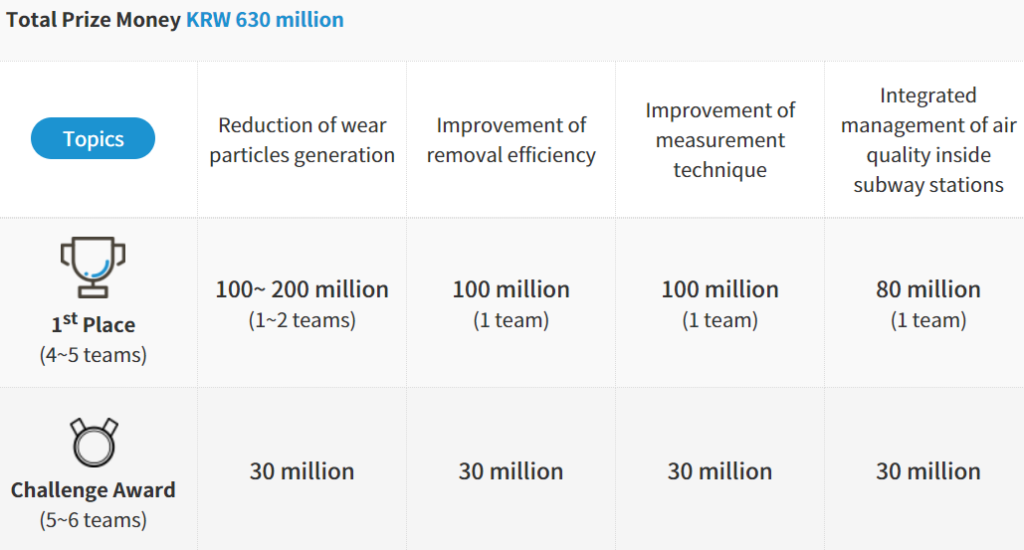 Those that get selected for a preliminary evaluation will get funding for the development of their prototype. The funding can range from 10 million won ($9,000) to 200 million won ($180,000). In addition to the funding, those selected will get mentorship support and a space for prototype development.
Academic Challenge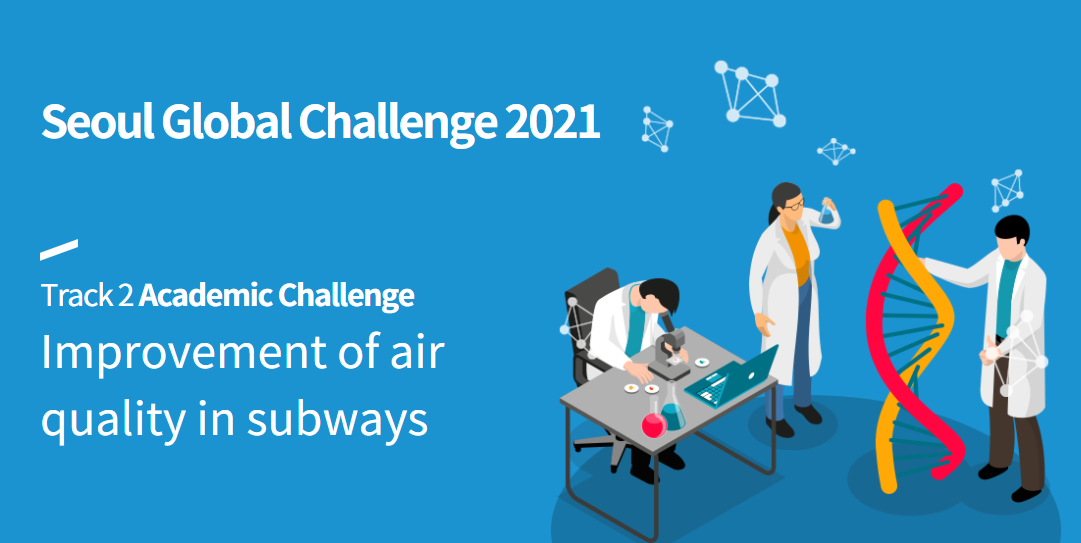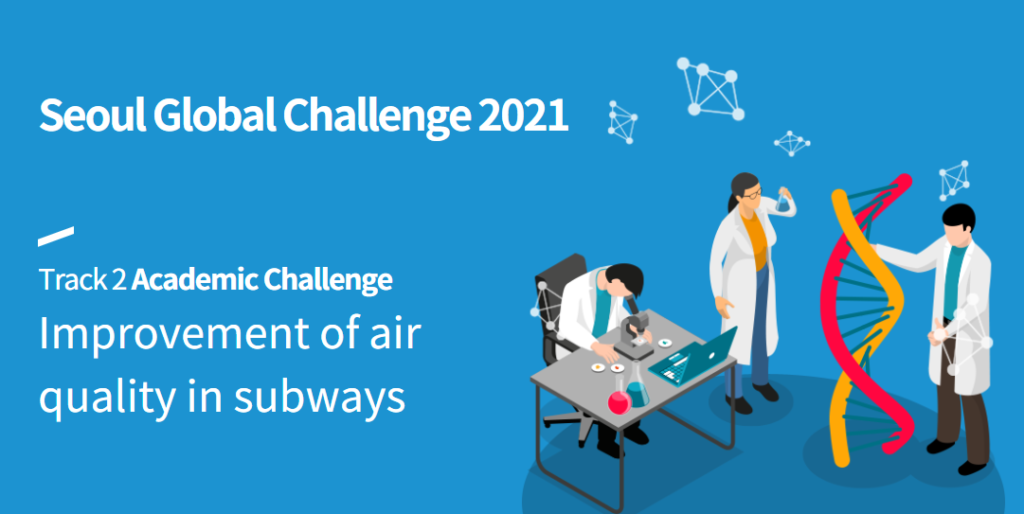 The Academic Challenge is for those looking to do research and showcase their work related to improving the air quality in subways. The academic papers will be about the interrelationship between the outside atmosphere and the subway air quality and the reduction of indoor fine dust and viruses on subways. There are three topics the research can be about. Furthermore, each topic is supported by a Korean government organization.
These three topics are.
Links between indoor and outdoor air quality in subways
The Korean Society for Atmospheric Environment (KOSAE) was founded in 1983 and has over 2,400 members including individuals, corporations, and universities and it is also one of the major environment-related associations in Korea. KOSAE covers the area of environmental management, climate change, sampling & analysis, dispersion & reaction, indoor air quality, and human health.
Reduction of particulate matters in subways
The Korean Society for Indoor Environment (KOSIE) was established in 2003. Their role is to scientifically assess indoor pollution problems. As well as, produce a more efficient management plan following an in-depth discussion by a group of relevant researchers on the necessity of society. Therefore, the society plans to serve as an integrated center for comprehensive and continuous researches on the identification of phenomena, health impact assessment, and control technology in the indoor environmental area.
Reduction of viruses in subways
The Korean Association for Particle and Aerosol Research (KAPAR) was founded in 1994 and has organized many workshops on particle and aerosol technology. They invite many prominent Korean and foreign scientists to present the most up-to-date review in their fields. In addition, KAPAR has organized many conferences and short courses related to particle and aerosol research.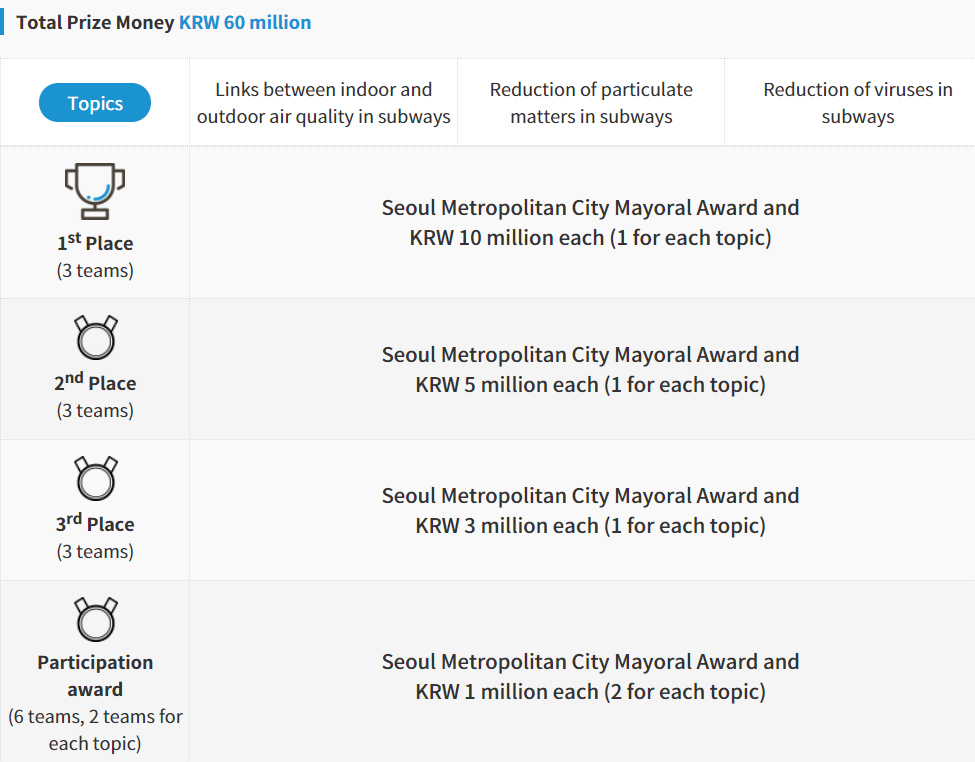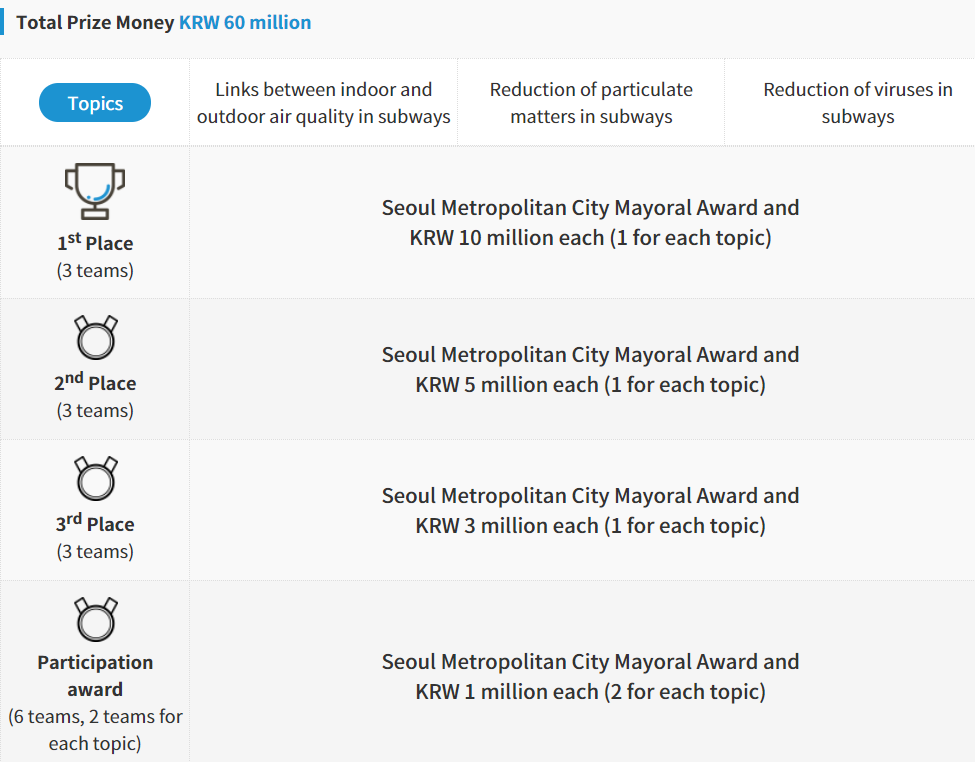 There are few restrictions to those looking to participate in the Academic Challenge. In addition, there are no restrictions to the number of papers submitted and the number of authors per paper. The only restriction is that it must be a new research paper. Therefore, those interested in the academic paper competition can fill out the application form on the Seoul Global Challenge website. Then simply submit it with the paper proposal by the end of November. Seoul will do a preliminary screening of the papers in December to select those who will go through the paper evaluation phase. Furthermore, those that pass the preliminary screening may submit their final paper by September 2021.

There will be an awards ceremony for both the technical and academic challenges in December of 2021.
"Innovaive technologies and research will contribute to the solution of problems of particulate matters and air quality, which occupy a large part of urban problems. In the future, we will start Seoul Global Challenges on more diverse urban problems. This Challenge will be something that can solve urban problems of megacities around the world as well as those of Seoul," said the Director of Innovation Growth Division at Seoul Business Agency, Mr. Seong Min Kim.
Great Opportunity to Work with the Korean Government
Korea is a very difficult market for many global startups to penetrate. There is a reason why South Korea is one of only three countries (China and Russia) where Google is not the #1 search engine. This is why challenges like the Seoul Global Challenge 2021 are a great way to enter the Korean market. In addition, it will be a great opportunity to form strong networks with key players within the Korean government.
The Korean government is always looking for innovative ways to leverage technology and data as they plan for the future. Furthermore, Seoul is a prime example, of a city looking to incorporate startup technology. Working with Seoul can provide a much-needed validation for global companies to help them scale in South Korea. Therefore startups in the air-quality space should at the very least apply to the Seoul Global Challenge 2021. You never know what great things might come out of it.
---
John is the Co-Founder of Seoulz. He has covered the Korean startup & tech scene for over eight years and has written over 700 articles regarding the Korean startup ecosystem. He has brought global attention to Korea's tech scene using Google SEO. Email him at john@seoulz.com
All author posts