Entrepreneurs living in Korea have started to hop on to Clubhouse to not only expand their network but also grow their business. It is interesting to see how quickly Clubhouse in Korea has taken off. As most might already know, Clubhouse is only available on IOS. There are been reports that Koreans have started to buy iPhones just to use Clubhouse. Now Clubhouse has become the biggest social media trend in Korea. Most of the conversations happening in Clubhouse in Korea are amongst friends who in turn bring their network of friends. This allows for introductions to be made quickly so people in the chat room can build relationships with new people that are associated with your existing network. 
It is the perfect app during this time as COVID-19 has kept physical interactions low. Think of Clubhouse as a podcast in real-time where you can participate by raising your hand and getting called on by the moderator.
Clubhouse allows for those that are feeling lonely or in need of human interaction a platform they are easily log in and out of. There is no need to schedule a time, just log on and see who is online and what rooms are open. Therefore, it is perfect for Koreans who are shy about showing their face on video and there is no pressure to join in on the conversation. You can just sit back and listen. It is no wonder the Clubhouse app has taken off in Korea as it has all around the world. 
The Short History of Clubhouse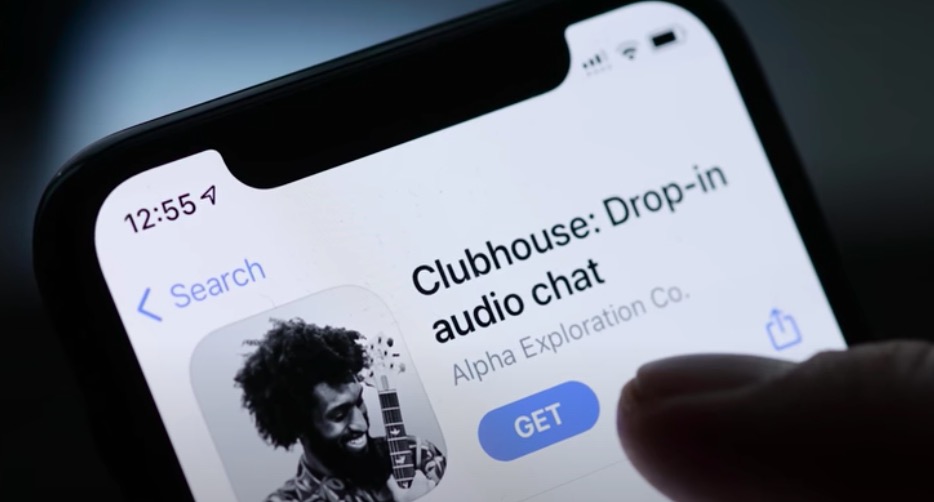 Clubhouse is an audio-based social media app. Those that are 40 years or older might remember listening to AM radio stations and calling in to speak on the air. It is basically that in the digital age. Clubhouse is less than a year old. The app was launched in January of 2020 by Paul Davidson and Rohan Seth.  They launched Clubhouse on iOS in April of 2020.
A month later, they got a $10 million investment from Andreessen Horowitz. There was a waiting list for the app which generated a lot of buzz for the app because you couldn't get in unless you were invited. The invitation could only come from someone who is in Clubhouse. Therefore, the initial people on Clubhouse were key players within Silicon Valley. This meant that right away Clubhouse had a network of high-impact entrepreneurs in the startup scene. So early on, the talks happening on the platform were from insiders and experts within the tech community.
By the end of 2020, Clubhouse had a little over 1 million users. However, in January Clubhouse went to 2 million users thanks to Elon Musk joining the app.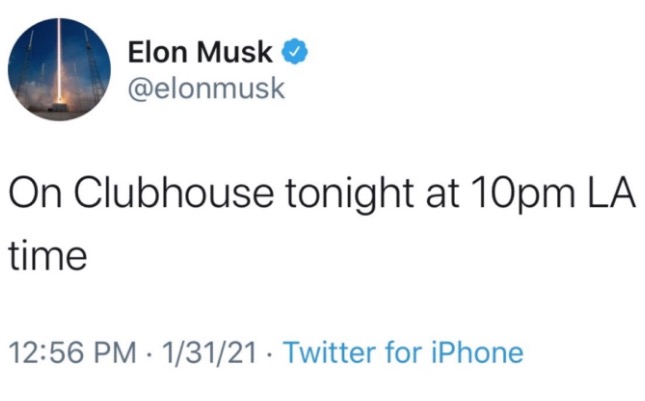 Then in February they raise more funding on a $1 billion valuation and raise $100 million which also involved Andreessen Horowitz. Now in March, they have over 11 million users. All this has taken place without the app being available on Android. 
Clubhouse in Korea
The Clubhouse app had a very small Korean community in early February. However, throughout the month, the buzz started to grow. Soon invitations were being sold for as much as 25,000 won on social media platforms like Facebook and Twitter. Currently, Clubhouse in Korea is mainly used for networking. Many share their experiences living and working in Korea. However, there have been cases of startup pitch events and panel talks for startups and entrepreneurs. It is a great place to not only grow your network within Korea but also find new talent in their respective industries. Furthermore, it is a great platform for Koreans to meet new people from all around the world. They will not only have access to the latest Korean trends but they can also join rooms that feature the latest trends and opinions from industries outside of Korea. 
How do you use Clubhouse?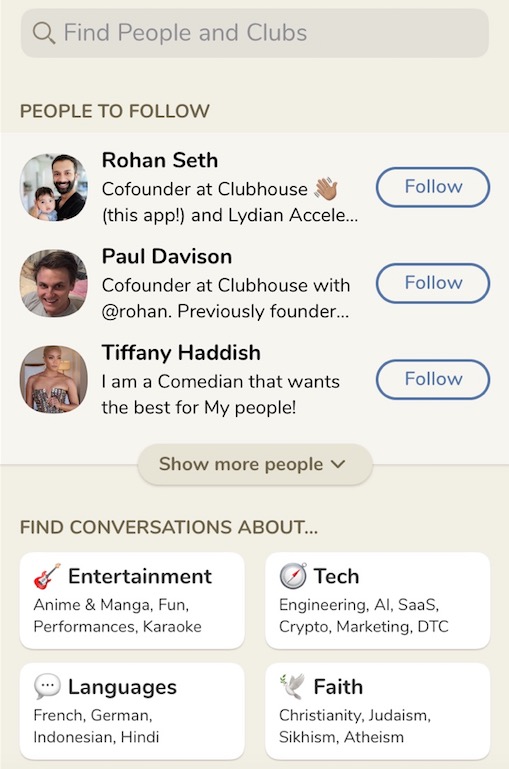 First and foremost, you will need an iPhone to download the Clubhouse app. It will not work on your Samsung Galaxy. Once you have downloaded the app on your iPhone you will need an invite to join the app. You can ask around your network to see if they can invite you to Clubhouse. In the early days, this was very difficult, however with so many people now on the app, it should not be difficult to get an invite. Once on the app, you will see a list of rooms once you enter the app. These are rooms are recommended by Clubhouse based on your phone directory. You can also search for rooms using keywords. In addition, there is a greenhouse icon to learn more about the club before you decide to follow it. Most follow groups that are in their industry or groups they have an interest in. 
Before entering a room. Make sure you fill out your bio. Your Clubhouse bio tells people who you are. What you include in your bio will determine how people will find you via searches. Try to create an extended informational bio. Some key information to put in your bio includes where you work, your title, your content channels, and social media profiles. Once in a room, you will see three sections of people.
The first section is the stage. The stage will have all the speakers, moderators, and those that have been called onto the stage to speak.
The second stage shows people followed by the speakers.
Finally, the third section shows the audience.

You can also create a room. Once you create a room, you will automatically become the moderator for that room. You will have control over who comes on stage as well as muting power. In addition, you can give other people the role of moderator. Clubs can have multiple admins that can create, host, and moderate the room. You can also make your room private. Public rooms are open to anyone. Anyone who follows your club will get a notification when you open a room. The maximum size for a chat room is 5,000 people. 
How should Industries in Korea use Clubhouse?
Fan Meetups
With Kpop tours canceled due to COVID-19, Kpop entertainment companies need to find new and innovative ways to keep connected with fans. Clubhouse would be a great way for Kpop groups to hold virtual fan meetups. Think about BTS holding a VIP-only fan access meetup on Clubhouse where they can talk to their fans and fans get the chance to speak with their favorite member.
Press Junkets
What better way to speak with the press than to invite them to a room for the upcoming release of an album, movie, or event. Instead of flying around the world doing press junkets, a production company can arrange for press junkets to be held in rooms for a particular country. A whole wide press junket can take place in a single day spanning multiple rooms. They can bring in journalists, writers, and media who will be allowed to ask any question they please.
Interviews
Interviews can now take place in a matter of minutes. There is no need to fly a camera crew out to a particular location or have the star come into a studio. The whole interview can be done at Clubhouse which means neither side will have to travel. The moderator can choose to take questions from the audience or have the interview be a listen-only event. Do you have a product or service you are about to launch? You can follow tech journalists that are already holding weekly shows on Clubhouse to hopefully get on and showcase your product/service.
Focus Groups
Industries in Korea can hold focus groups to get feedback from consumers on particular products, services, and content. These valuable insights from the public can go a long way in making improvements. If you are a Kbeauty brand, you can talk about future products you are planning. The best part is that the brands can ask consumers directly what they want in a product.
Auditions
Record companies can hold auditions right on Clubhouse. Think of the reality show Kpop Star but in all audio form. This could be a great way to first listen to the actor's performance rather than their visuals.
Job Interviews
What better way to interview a group of potential employees than to have them on Clubhouse. Companies in Korea can open a room for 4-5 applicants and talk to them as a whole. This is a great way to distinguish talent as they will be in the same setting.
The Future of Clubhouse in Korea
Clubhouse has been able to capitalize on the need for people to connect with others during COVID. However, what will happen when in-person gatherings come back? Is this a short-term trend or is Clubhouse here to stay? One of the key issues is the fact that the Clubhouse app is banned in China. The app does not meet the regulations of China in regards to speech/censorship. Therefore is it possible for the social media app to succeed in Korea when the Chinese market is not able to join? Another issue is in regard to how Clubhouse makes money.
The simple answer is that they don't. Not yet anyway.
They are losing money every month as it is free for users and they don't have any advertisements. So they are looking to grow their user base to attract even more funding. This seems to be the strategy for most tech startups these days, worry about growth and deal with monetization later.
Donations Now Available on Clubhouse
Clubhouse recently announced they will make it possible for creators to get donations from their fans and supporters through the app. However, these donations will go 100% to the creators with Clubhouse taking zero fees. To send payments, fans can visit a creator's profile and tap on the button at the bottom that says send money. The feature is powered by Stripe and will require a debit or credit card. By making payments available for supporters, the aim is for Clubhouse to keep the talent they currently have.
Finally, there is Facebook. Facebook currently building its own version of Clubhouse. Mark Zuckerberg made headlines in the tech industry for creating an account on Clubhouse. Twitter is also creating a Clubhouse competitor called Spaces. These social media giants have the cash and resources to create an even better audio app than what Clubhouse has now. There could also be a Korean competitor that is strictly for the Korean audience. You know there is an entrepreneur in Korea that will look to create a Clubhouse clone for the Korean market. Whatever happens, Clubhouse in Korea will be with us for a while.
---
John is the Co-Founder of Seoulz. He has covered the Korean startup & tech scene for over eight years and has written over 700 articles regarding the Korean startup ecosystem. He has brought global attention to Korea's tech scene using Google SEO. Email him at john@seoulz.com
All author posts