CAN (Community Alliance Network), Asiance (An advanced model of digital agency and leading Brandtech partner), and TheVentures (Early-stage investor) has launched CANnovate 2021 – Devless Heroes. CANnovate – Devless Heroes is an acceleration program aiming to help startups or startups-to-be with community-driven business models to build and run a competitive online service of their own without heavy investment in development.
The CANnovate 2021 No-code Virtual Startup Acceleration Program is open to startups all around the world. Founders will not have to physically be present to take full advantage of the program. In addition, the virtual selection process is more streamlined and can be done quickly compared to the traditional in-person process. A virtual technology environment allows for a more detailed evaluation with better feedback. 
The call for application is open until January 31st, 2021. Therefore time is running out! 
Why Startups Should Apply for CANnovate 2021?
CANnovate – Devless Heroes is an online 12-week program. It is open to startups that are pursuing community-driven innovation in various sectors such as:
Community innovation in education

Cooperation of decentralized community

Governance innovation of the traditional organization 

Journalism/media innovation using community power

Participative local community

E-democracy

Responsible & conscious consumption

Community commerce

Community-driven innovation for small-medium businesses, etc.

And more
During the 12-week program, 10 selected startups will build their MVPs (Minimum Viable Product) using CAN's "plug-n-play" tools. Each startup will have access to tech consultations to launch their beta service and to conduct a market test. The participating teams will have the opportunity to interact with other teams from various fields. Therefore, this will be a great opportunity to share insights and learn from fellow entrepreneurs. In addition, selected startups will receive tailored mentorship from experienced mentors who have successfully built their products and services on a global scale.
By the end of the program, the top 5 startups, who best showed their business potential through their initial beta service, will be selected as Devless Heroes. Furthermore, the Devless Heroes will continuously receive tech support from CAN for an additional 12 months. Therefore, during this time startups can refine their product and prove their business model while getting access to investment opportunities.
Support from CAN, Asiance, and TheVentures
Over the past ten years, as a software developer, consultants, and start-up investors, CAN founding members have seen a thousand companies, big and small, undergo the same trials and errors in their attempts to build their online service. CAN was started to address these common difficulties that non-technical founders and non-IT companies always face. Their aim is to enable businesses to build and run a competitive online platform without an internal development team. Beyond websites, blogs, or e-commerce, CAN supports businesses to build a quality community with strong engagement and automating work processes.
Therefore, to get a sense of what you can build using CAN, see CAN Modules and Kits provided.

CAN has partnered with Asiance, the first Brandtech company in Asia, experts in digital marketing and user experience, to create a dedicated acceleration program to empower startups without an internal development team. In addition, TheVentures, an early-stage venture capital focusing on community and impact, supports the program by providing investment opportunities with the belief that building a powerful community is a key motivator behind any successful business.

If your startup pursues community/consumer-participatory business but has yet to find the best solution to develop it online, this program is meant for you. Applications from all over the world are welcome to join.
Through CANnovate, you will have a chance to receive technical consultation/assistance, peer learning opportunities, and mentorship, and investment from their partners to build your online community and generate a concrete business model around it.
Receiving applications until
January 31st, 2021!!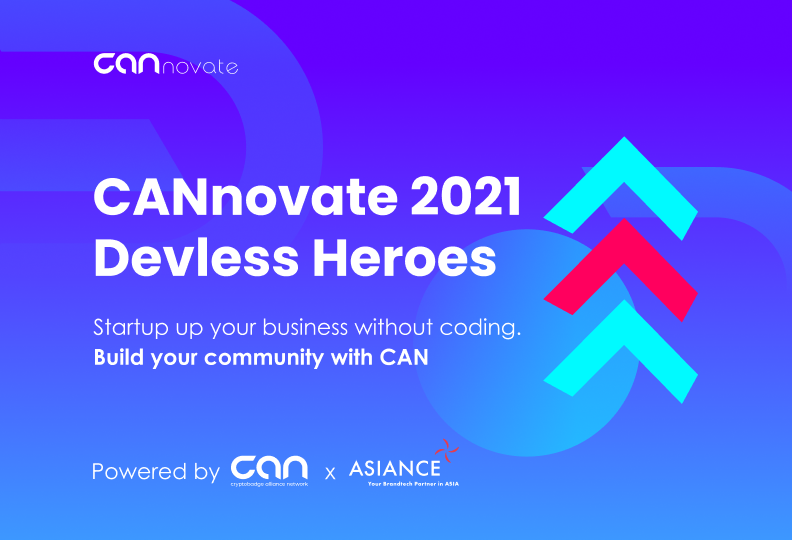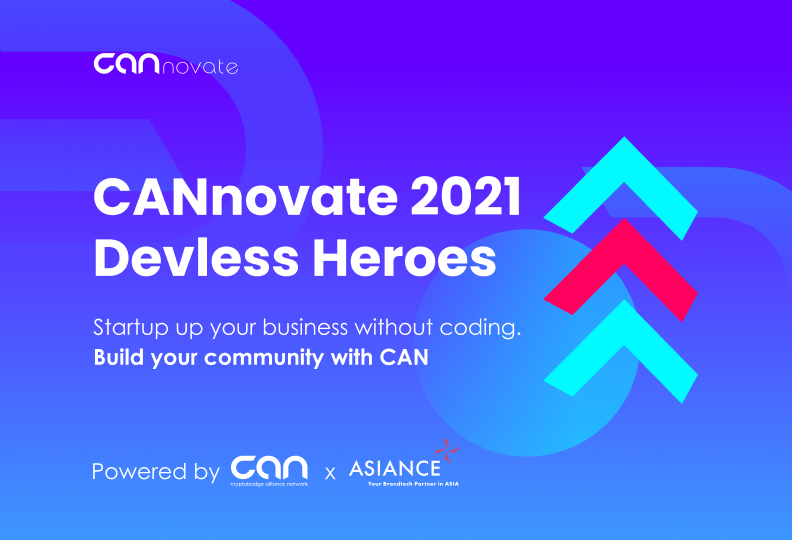 You can reach out to the CANnovate team for further information: cannovate@canfoundation.io
CAN (Community Alliance Network), as an alliance of startups and developers, collectively provides a comprehensive set of SaaS (Software-as-a-Service) tools for communities, to let a variety of organizations, from traditional companies through nonprofits to virtual organizations, build and run a community without an in-house tech team. 
The first Brandtech partner in Asia, Asiance is an advanced model of Digital Agency. Since 2004, They have helped business leaders and world-renowned brands to create a maximum brand value through the creative use of technology and make a positive impact on the world.
TheVentures is an early-stage investor focusing on technology, community, and impact. With the belief that building a powerful community is a key driver behind any successful business. They aim to redefine the capital model for startups by bringing the collective power of the community and local experts into the investment process.
For any demand, you can contact: cannovate@canfoundation.io 
 phone: +82 10 7400 7747
Useful links:
---
John is the Co-Founder of Seoulz. He has covered the Korean startup & tech scene for over eight years and has written over 700 articles regarding the Korean startup ecosystem. He has brought global attention to Korea's tech scene using Google SEO. Email him at john@seoulz.com
All author posts