The 2nd Edition of the Tech4Good Summit is kicking off on May 10-12th, 2021. Tech4Good Summit is an event organized by the French Tech Community Seoul (FTCS and the French-Korean Chamber of Commerce and Industry (FKCCI) with the theme 'France, Korea, and Beyond.' While previous editions were held offline, this year's summit is a comprehensive online and offline event with a focus on innovation for a better tomorrow. Tech4Good aims to become a platform for conferences, discussions, networking, and exhibitions to boost startup ecosystems and international collaboration in fields such as social tech, Ed-tech, GreenTech, health tech, and fintech. Korea and France are moving together towards the same goal. That goal is to connect people, businesses, and partners that share the same vision and believe in international cooperation. 
"FKCCI wishes to put its 35 year-long experiences in international business development to offer more collaboration opportunities to startups which have a meaningful impact as France and Korea are both major world leaders for innovation, and as bilateral cooperation to build a better world and a better society is our steady commitment as well as our common horizon," said Cédric Legrand, Managing Director of FKCCI.
Tech4Good Summit 2021 – Online/Offline 3 Day Event
For 2021, the Tech4Good Summit offers a new online format to expand its reach beyond the Korea-based audience. Over the course of 3 days, participants from APAC, France, and Korea will participate in keynotes, roundtables, networking, business meetings, and a pitch contest. Two days of the event are dedicated to topics focused on Tech4Society and Tech4Earth. The remainder of the program offers a roundtable on the ecosystem to support Tech4Good solutions and a transversal session on public policies.
More than 300 participants such as impact startups, incubators, accelerators, large groups, institutions, and non-profits are expected to join the Tech4Good Summit 2021. Recent emergent technological innovations gave unprecedented opportunities to solve social, economic, and environmental challenges, enhanced by the global COVID-19 pandemic that will have lasting social and economic consequences. In this framework, both French and South Korean governments understood the importance of these challenges. South Korea has also released its ambitious Korean New Deal recovery plans in 2020, which focuses on three pillars: Green economy, Digital economy, and Social and Territorial inclusion. 
"We are very excited to hold this second edition of Tech4Good with the FKCCI. Connecting the French and Korean startups ecosystem is the key objective of the French Tech in Korea. What better way of doing this than by joining hands to great awareness on climate and social issues and find innovative solutions to tackle these problems! We strongly believe that technology and international cooperation are key to building a better world", said Solomon Moos, French Tech Community Seoul President; Head of Korea / Asia Investment Partners Director of Eurazeo.
Supporting Innovative Startup Ecosystems
Both South Korea and France want to support an innovative ecosystem for startups to sustain new sustainable growth engines. The 'France Relance' plan dedicates 3.7 bn EUR (4.5 bn USD) to startups and technological sovereignty. Moreover the 'Korean New Deal' includes support for 1000 startups in tactless services and 4000 startups in green sectors.
As of 2020, French Tech released figures of more than 19,000 registered startups and a total of 7.7 bn EUR of venture capital investment, up 43% YoY (5.1 bn EUR in 2019). In addition, Korea also fosters a vibrant startup scene and gathered more than 39,000 startups in 2020, up 6.8% compared to 2019, according to VentureIn.
Tech4Good Startup Pitch Contest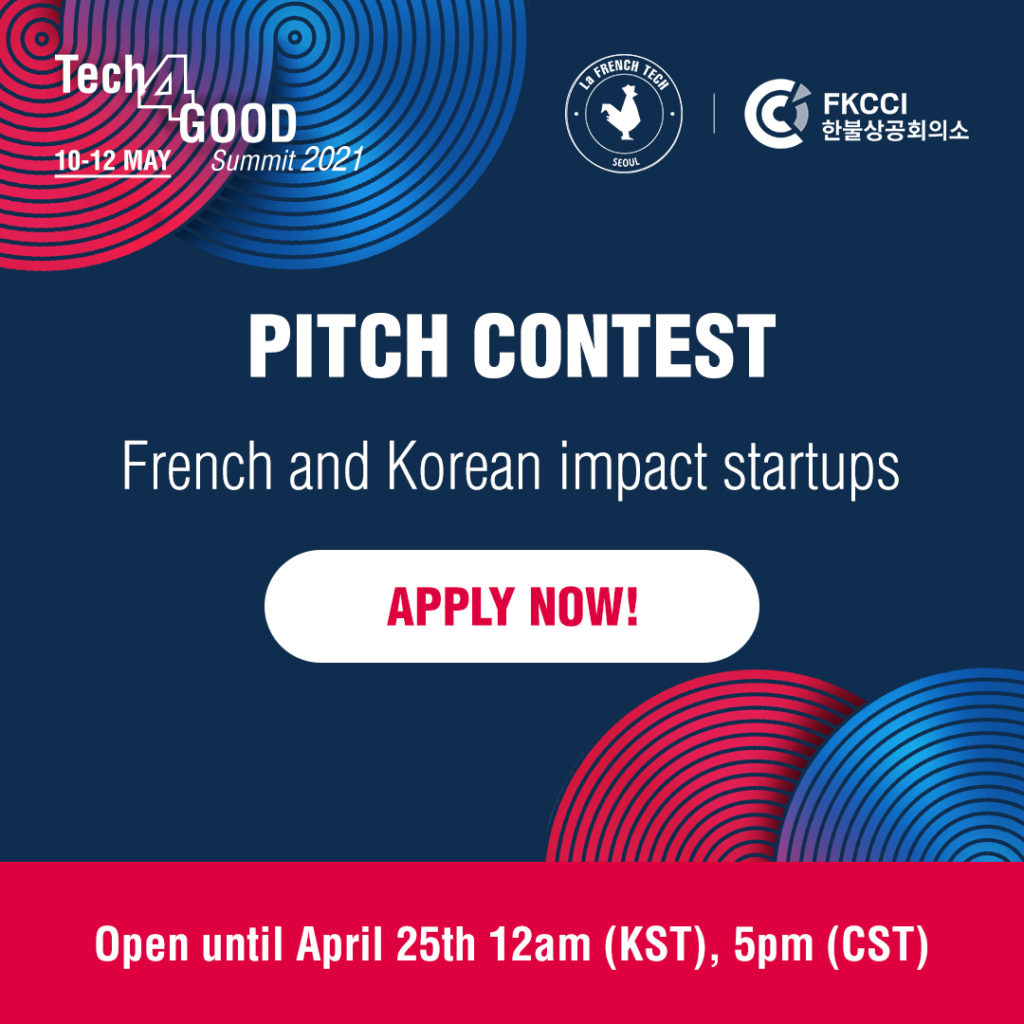 A pitch contest will also be held for promising French and Korean startups. Startups will compete for a customized international support program and a cash prize. In addition, startups will be able to connect with key players in France and Korea. The pitch contest is for both French and Korean impact startups that fall under Tech4Society or Tech4Earth. Furthermore, startups will need to create a 3-minute pitch video, and there will be 2 minutes of Q&A. The jury will be composed of selected impact funds and key players in the Tech4Good ecosystem in France and Korea.
Tech4Society 
Social Mobility 

Education

Health/Well-being

Gender/Social Equality 

Peace/Justice

Fight against Poverty/Hunger
Tech4Earth
Responsible consumption/production

Clean Air/Water

Secured/healthy food

Sustainable/accessible energy

Preserved biodiversity 

Smart/Sustainable cities 

Green Mobility
Startups that apply could get pre-selected for an exclusive virtual booth during the 3-day Summit. Through the virtual booth, startups can show off their solutions and network with potential partners. 
Benefits for Winning Startups
Winning startups will get exclusive market entry support through the French Tech Seoul and FKCCI's network in France and Korea. For example, some network partners include Business France, KOTRA, Paris Région Entreprise, KITA, and more. The support will be discussed according to the team's needs and can be activated in 2021. In addition, winning startups will get: 
Press Release in Korean and international specialized media (SEOULZ, Maddyness, …)

Advertorial and web banner for one month on FKCCI website, Corée Affaires magazine, newsletter shoutout; and social media mentions

Advertorial on French Tech Seoul website, Podcast, newsletter shoutouts, and social media mentions

News on partners' communication channels: KOTRA, French Embassy in Korea, Asiance, etc.
A closing ceremony with an award ceremony will be held at the Four Season Seoul following the Korean government and healthy authority's sanitary conditions inviting stakeholders from the Korean and French governments and relevant industries as well as key participants and award recipients.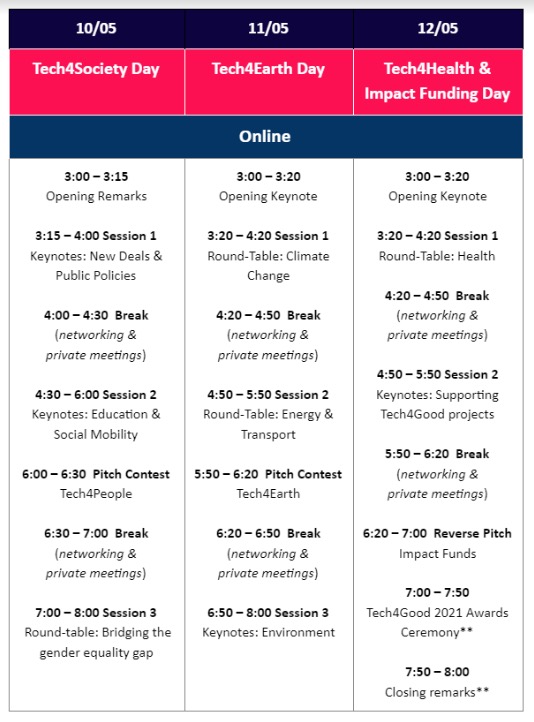 In 2019, the first edition of the France Korea Tech4Good Summit was held at the Dongdaemun Design Plaza (DDP) and gathered 200 participants, including French Ambassador in Korea H.E. Philippe Lefort, and the President of Korea Institute of Startup Entrepreneurship Development (KISED), Gwang Hyon Kim, in the framework of the K-Startup Week ComeUp 2019. Successful French startups such as health tech AI-specialist 'Nabla' or social inclusive platform 'Bayes Impact' discovered the Korean tech ecosystem. In addition, Korean startup 'Marine Innovation' won the Pitch Contest with their solution to produce eco-friendly, innovative material.
About French Tech Community Seoul
French Tech Community Seoul, officially endorsed by the French Ministry for the Economy and Finance, bridges the French and Korean tech communities and helps to skyrocket tech champions (Hypergrowth) that are a vector of positive change (Tech for Good). 
About the French-Korean Chamber of Commerce and Industry (FKCCI)
Since 1986, the FKCCI is the key player fostering the vibrant business community between France, Korea, and beyond. Gathering nearly 5000 business leaders, FKCCI is a non-profit association providing a wide range of customized services: market expertise, prospection, networking, business center, HR, communication, advocacy. More information is available through its website at https://www.fkcci.com/
Press Contact
Oriane Lemaire, FKCCI PR Communication manager o.lemaire@fkcci.com
Heesang Yoo, Prism Communications heesangyoo@prismcomms.com
---
John is the Co-Founder of Seoulz. He has covered the Korean startup & tech scene for over eight years and has written over 700 articles regarding the Korean startup ecosystem. He has brought global attention to Korea's tech scene using Google SEO. Email him at john@seoulz.com
All author posts