The global beauty industry is worth an estimated $530 billion. Of that, $10 billion is attributed to K-Beauty products. These sales are driven by online videos, blogs, and influencer content. However, opinions found through this content are not always reliable. It is not easy to know what lies behind them. Many K-Beauty consumers look to communities for more transparency and honesty. Beauty startup PowderRoom has created a beauty community where consumers can exchange beauty tips, advice, and reviews they deserve. The strategic combination of technology, beauty, and community makes the PowderRoom community successful and growing. 
The power of an active and engaged community and its impact has never been stronger than it is today. In 2023, we will continue to rely on digital connections during times of isolation caused by the pandemic. Communities help foster human connections, which is why many beauty brands look to communities to connect with beauty consumers. Beauty brands interested can do so through PowderRoom, which has over 3.7 million registered members and subscribers. 
The Importance of Community for Beauty Consumers and Brands
Many consumers saw their offline retail purchases drop due to many stores being forced to shut down due to the pandemic. This has translated to a spike in online shopping for beauty products. Reviews from real users can improve the buying experience and help purchasers make buying decisions. While many bases their purchases on product reviews that others write, not all reviews are created equally.
With a large K-Beauty community comes a lot of feedback and opinions. PowderRoom is a company that constantly monitors the community feedback and reactions from its members to offer a range of content that speaks to every type of beauty lover. This is an important part of building up a strong and loyal community. 
In addition, sharing and connecting socially with fellow K-Beauty lovers creates a hyper-engaged social community focused on beauty. This enhances the user experience by linking users to fellow enthusiasts and instantly building on a common interest that keeps users engaged and connected. It is a community where anyone, not just people who are paid to advertise, can create reviews for their favorite K-Beauty products. The "anyone" aspect is what makes PowderRoom special. Community members do not have to have massive followings or be beauty influencers. These are everyday K-Beauty consumers that want to talk about products they like. In doing so, they can get honest feedback from real people and connect with other beauty consumers, creating a beauty social network. 
The PowderRoom App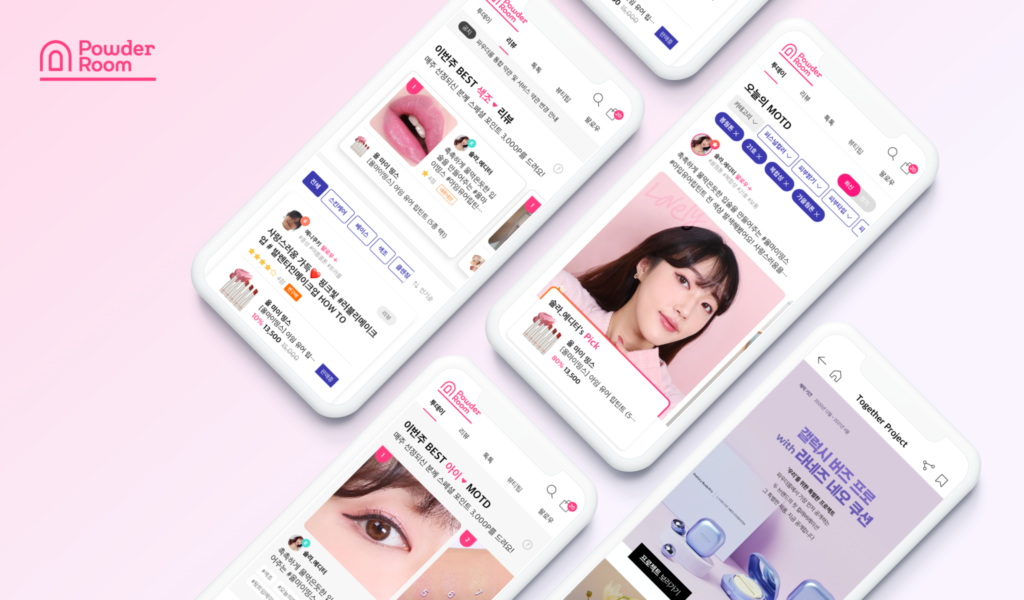 PowderRoom has been a trusted beauty community platform for beauty fans in Korea since 2003. It spans major beauty categories, including makeup, haircare, and skincare. The platform consists of digital content that helps to attract, inform, and retain loyal K-Beauty users. Furthermore, through the community, users can listen, learn, and connect through digital content. 
The PowderRoom beauty community started through Naver Cafe back in 2003, and since then, it has expanded into global social media channels such as Facebook, YouTube, and Instagram. It is the largest beauty community in Korea. It continues to gain loyal members thanks to the discovery of trendy beauty products and the ability to accumulate points based on their activities within the community. Now the startup has launched the PowderRoom App, which offers members:
Access to services such as MOTD (Makeup of the Day)

 

Platform to generate their beauty content
Ability to share beauty-related information
Access to feedback, product reviews, tips, and product recommendations from other members
Beauty tutorials/routines

 

Purchase beauty products directly through the app
Co-Creation Project for Brands
Data has proven that the word of our friends and peers is key in steering our purchase decisions. Therefore, K-Beauty brands have a huge opportunity to connect with real K-Beauty lovers eager to look, buy, and share through PowderRoom. Beauty brands rely heavily on customer feedback as it offers a great opportunity to optimize the development of their products.
 The PowderRoom Co-Creation Project is a process that connects brands and customers. It offers total marketing solutions from product development to marketing for beauty brands. In addition, brands can collaborate with PowderRoom to conduct surveys, get feedback, and find out what members are looking for in a particular product. Therefore, foreign companies who want to enter the Korean market can successfully launch their brand by leveraging PowderRoom's Co-Creation Project. 
"PowderRoom's commitment is to connect beauty brands with consumers who love personal grooming and beauty. We envision working and growing with users who are ardent participants, communicators, and value-creators through daily practice on beauty in the PowderRoom," said the CEO of PowderRoom, Sukyung Kim. 
PowerRoom Investment
PowderRoom is one of the top five startups that joined the NX NIVEA Accelerator program. With the help of NX accelerator, they have the opportunity to get consulting from one of the biggest beauty companies, Beiersdorf, and gain access to its massive beauty network.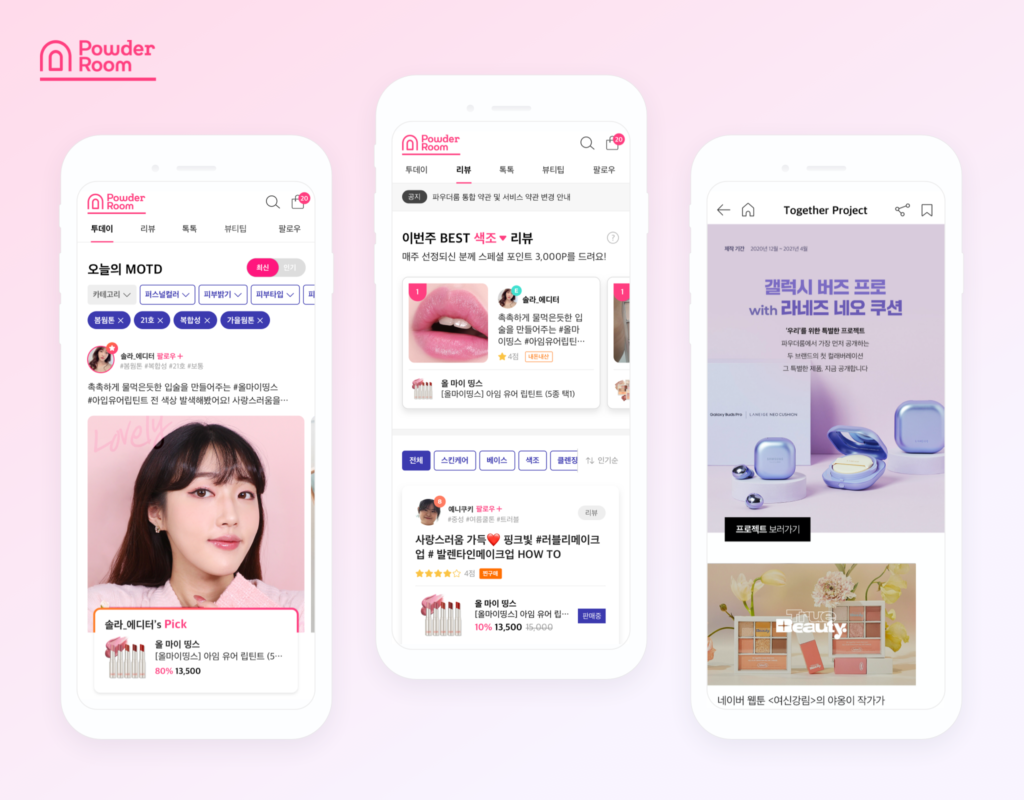 The beauty startup has raised investments led by Kolmar Korea and Spigen Beauty in the 4th quarter of 2021. Kolmar Korea, one of the major cosmetics ODM companies, now has an 11% stake in Paw Company, the mother company of PowderRoom, which has been conducting dynamic marketing collaborations with more than 5,400 beauty brands. In addition, Spigen Beauty, an e-commerce platform for Korean beauty brands, has invested to secure a 33.3% of stake in Assemble Beauty. Assemble Beauty is a subsidiary of PowderRoom. They launched a creative K-Beauty brand, All My Things (AMTS), that reflects the needs of users of an innovative beauty platform PowderRoom targeting global Millennials and GenZ Consumers.
---
Sue is the Co-Founder of Seoulz. She is the mind behind all of Seoulz' creative direction and visuals.
All author posts