ICON: Hyperconnecting the World
ICON Foundation is Korea's #1 most successful Korean ICO project of all time. Their ICX token has been in the top 50 since its launch. They are looking to create the largest decentralized networks not only in Korea but in the world. ICON Foundation is a blockchain protocol much like Ethereum and EOS. What makes ICON so interesting is that they are looking to hyper-connect different blockchains with their own blockchain. Therefore their ultimate goal is to remove barriers among different Blockchains and allow them to exchange values without intermediaries.
ICONsensus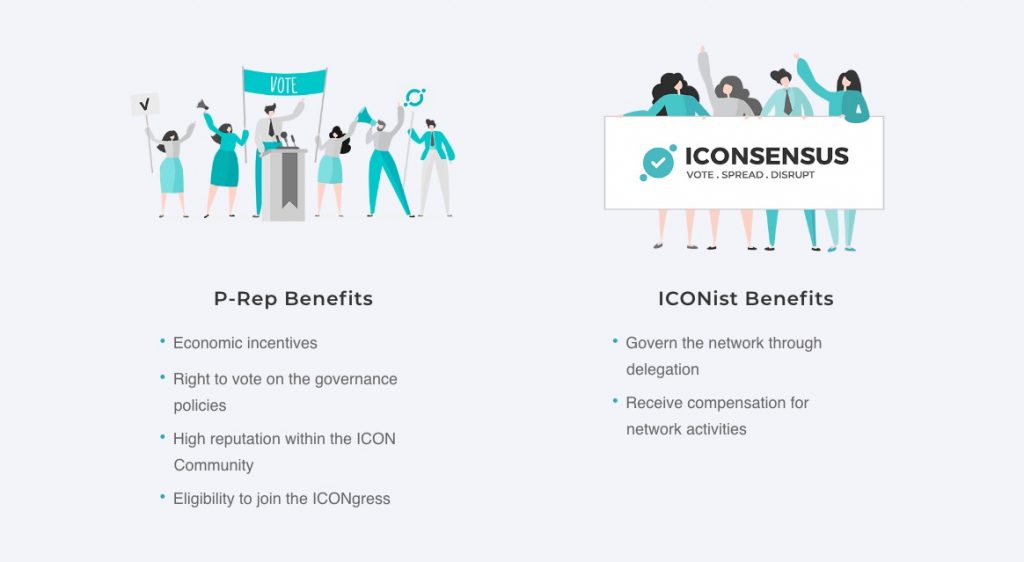 ICON began ICONsensus to help with the mass adoption of blockchain. Their first step was the election of P-Reps which lead to disruptive innovation through organic ecosystem expansion driven by EEPs, diversified DApp business models driven by DBPs, and the connection of different blockchain platforms through C-Reps in order to hyper-connect the world.
P-Rep Election Process
There was a pre-registration of P-Rep candidates where candidates submitted team introductions and delegate proposals to be registered. Then in September of 2019, there was a blockchain election where ICONists voted for their favorite candidates by delegating their stakes. This led to the ICON network being fully operated by the P-Reps. The full list of candidates can be found on the Icon Community P-Rep Candidatesn page. 
ICON 2.0 
ICON 2.0 is ICON's next-generation Blockchain software architecture which will be an upgrade to the current ICON platform. There will be no token swaps but rather a seamless transition for current users on the platform. The aim is to offer their users better functionality, cross-chain interoperability, and Defi applications. ICON 2.0 will use a Blockchain engine that is written in Golang. "Goloop" will provide an improved Blockchain experience over the current  Python-based loopchain. This includes better speed, stability, and scalability than the current architecture. ICON 2.0 is expected to launch by the summer of 2021. 
ICON 2.0 New Features: 
Interoperability between Blockchains
Ability to earn ETH as fees
Improvement of Python programming
New P2P protocol
Fast Sync of data
Ohject Merkle Patricia Tree (OMPT)
Vote Spreading 
Freedom to design a cleaner design
Multi-Channel Technology
Open-sourced development
ICX Station Accelerator Program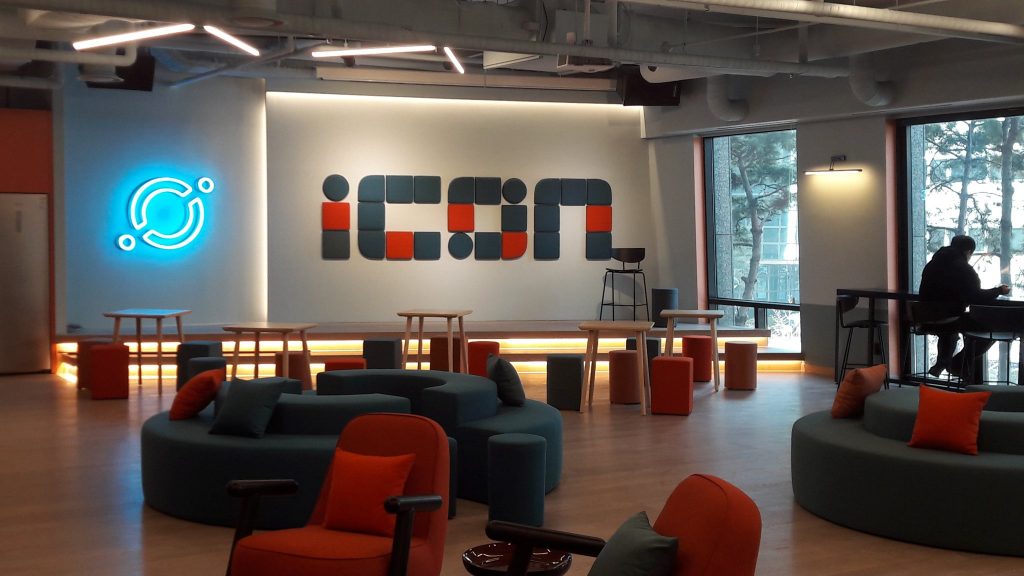 The ICON Foundation is giving back to the global Blockchain startup community. They created ICX Station to help fund new Blockchain startups and nurture job growth. The program will focus on startups that are looking to expand the power of the ICON infrastructure, a scalable interoperable Blockchain. The program will give opportunities for developers, tech entrepreneurs, and companies that are looking to incorporate Blockchain technologies. Their first program launched in Silicon Valley. In addition, ICON has partnered with Deblock to manage the ICX Station in Seoul. They will soon launch branches in Tokyo and Singapore in 2020.
ICON Foundation will put up an initial seed investment of $100,000 for new startups or businesses using ICON. They will help provide the framework for decentralized applications to be built on top of their protocol. Furthermore, they will help facilitate token offerings when fundraising is needed. 
Icon's other projects
ICONex – ICONex is ICON's wallet supporting ICX and other cryptocurrencies. ICONex will aim to have faster transactions, secure payments, and liquid exchange across multiple cryptocurrencies with user-friendly UX and UI. You can download their wallet here.
ICONick – Wallet ID used in the ICON network. Instead of a long complicated wallet address, you can create your own unique nickname to easily transfer or exchange your ICX tokens.
BIA – BIA stands for Blockchain Interoperability Alliance. ICON is a key member of BIA and shares a common goal to interconnect with isolated blockchain networks and develop global standards for inter-blockchain networks.
Loop Fault Tolerance 2.0 (LFT2) – A new consensus algorithm that improves the performance of blockchains. LFT2 has proven performance improvements over PBFT (Practical Byzantine Fault Tolerance) in the areas of scalability and network bandwidth without compromising two fundamental requirements which are safety and liveness. 
Blockchain-Based Mobile Drivers License
ICONLOOP is developing a Blockchain-based mobile driver's license under regulatory sandbox approval in South Korea. The Ministry of Science and ICT will allow ICONLOOP to test its decentralized identity (DID) technology on mobile driver's licenses. The aim is to offer better protection of personal data. Currently, driver's license information in Korea is stored on a single server. Therefore, this leaves it vulnerable to hacking. With DID, people can directly manage their own data by storing their authenticated personal information on their mobile devices using the Zzeung App. Therefore when people need to submit their authenticated data, they can use the app to access the information. 
"ICONLOOP emphasizes the self-sovereignty of personal data. The authentication processes that previously existed offline in the form of physical cards are now online via mobile apps like Zzeung, making it possible for users to manage their own authenticated information. We are happy to work closely with regulators in South Korea to support efforts to responsibly manage and protect citizen's personal data through advances in technology" said Jonghyup Kim, CEO of ICONLOOP
Expansion into Europe through Bit2Me
ICON Foundation made a strategic investment into Bit2Me, a leading blockchain platform in Europe focusing on financial products and services. Bit2Me will help ICON expand its technology, users, and brand in Europe. Bit2Me has over 200,000 wallet users and an alumni network of 1.7 million users. 
Why ICON will take off in 2022
ICON has already started working with major South Korean insurance companies, hospitals, and Universities. They are even working with the Korean government to work together on a Seoul project. With over 90% of the population in Korea living in Seoul, this project will showcase the Seoul Coin (S-Coin) and testing will be done for the next two years. Therefore by 2022, the S-Coin could replace a lot of the infrastructure in Korea.
Seoul has been at the forefront of embracing new and innovative technologies. They have been using the NFC metro cards for transportation for the last 15 years which is why the transportation payment system in Korea is so much more advanced than say places like London or New York. When S-Coin comes out in 2022 it will be easy for Seoul to transition from the NFC payment system to the S-Coin because Korea will already have built the technological infrastructure. This single project with the Korean government is going to be huge for the ICON foundation. In addition, Koreans embrace their own and the Korean government has a history of giving support to their own companies.
Why is Seoul creating S-Coin?
Seoul wants to be at the forefront of innovation and technology. Blockchain is the future technology and the Korean government wants to be the first adaptor of this new technology. Korea already has the fastest internet speed in the world. Koreans, in general, like things that are fast and efficient. Therefore, this blockchain technology has the potential of saving Korea billions of dollars over the next 20 to 30 years. When they create their own digital currency, it will make transactions easier and more secure.
Koreans will support ICON Foundation because Koreans are as nationalistic as they come. ICON is currently the 8th most utilized blockchain and fully decentralized with 120 validators from around the world.
Once S-Coin is up it will be easier for Koreans to adopt it. The long-term outlook of the ICON will solely depend on this project. Therefore, if they succeed they could become the Samsung of Cryptocurrency. Furthermore, history has shown with Samsung and the other conglomerates in Korea, that if the Korean government is on your side you WILL succeed.
ICON's Ultimate Goal 
ICON ultimately wants to create a way for Blockchains to communicate with each other. Therefore, they are considered the early leaders amongst the projects in cryptocurrency that are focusing on interoperability. They have one of the most active communities in the crypto space and actually have a product. Korean insurance companies, hospitals, and NGOs are using the ICON framework for their operations. Moreover, they are using ICON's technology to communicate with each other in the same industry. Furthermore, each chain will have the ability to make its own system of governance, and ICON's interchain technology will handle all asset exchanges. It is basically a Blockchain of Blockchains.  
---
John is the Co-Founder of Seoulz. He has covered the Korean startup & tech scene for over eight years and has written over 700 articles regarding the Korean startup ecosystem. He has brought global attention to Korea's tech scene using Google SEO. Email him at john@seoulz.com
All author posts