A social impact startup in Korea is using creativity and technology to reduce food waste in Korea while providing consumers with discounted prices on delicious food. Their two main services include working with local farms to help them sell their "ugly" fruits and vegetables and an app that allows restaurants to sell food at reduced prices.
DamoGO is a startup that works with local farmers to sell their "ugly" and surplus produce. If you have ever walked into a supermarket in Korea, you will notice that all the fruits and vegetables are perfectly shaped and showcased in the aisles. But what happens to the other fruits and vegetables that just don't look perfect enough to make it on the stands? Farmers in Korea throw away perfectly good food because they are too "ugly" to sell to consumers. DamoGO works with local farmers to help sell more of what they grow, feed more people with less waste, and give them higher profits.
Saving Imperfect/Ugly Foods
DamoGO meets with local farmers to ensure their products are safe and good to consume. Through the partnership, DamoGO can work with farmers to match them with retailers looking to buy produce at a reduced price. Restaurants, juice shops, etc., don't need their products to look perfect. It does not matter if they are too big, too small, crooked, or oddly shaped. What matters is the taste. Therefore, this is a win-win for both the farmer and the retailer. The farmer does not have to have their products go to waste and fill up landfills. Retailers can buy produce at a reduced cost while still having the same amount of nutritional value as "pretty" produce.
They are in talks to incorporate a subscription service so customers on their DamoGO App can get these "ugly" produce at a discounted price delivered to their door.
The DamoGO App
The DamoGO app lets consumers buy unsold food in restaurants, cafes, bakeries, and food stores for a reduced price at the end of the day. This is perfect for a city like Seoul, with one of the fastest internet speeds, smartphone penetration rates, and high city density. Therefore getting food delivered to your door is very easy in Korea. In addition, Seoul is so well connected that it takes someone less than 30 minutes to get around Seoul via taxi, bus, or subway.
This social impact startup in Korea was launched in the middle of 2019 and has already partnered with 65 businesses. By connecting customers to restaurants and stores that have unsold/surplus food, DamoGO is not just helping businesses and customers in Seoul but also helping reduce food waste in Korea. Therefore they can provide a cheaper alternative for customers and help fight global warming. Overall, food waste is handled well in Korea compared to other countries. For example, 95% of the food waste is recycled into animal feed, compost, or fuel. This movement started in 2005 when the Korean government banned sending food to landfills. However, South Korea still ranks very high in terms of food waste production.
Reducing Food Waste in Korea
DamoGO was started by two entrepreneurs in Korea who deeply care about food waste, the environment, and other social issues.
Approximately 85% of the food that isn't used in a typical restaurant is thrown out. Each South Korean citizen accounts for 130 kilograms of food waste each year. This is more than the average North American and European. Much of it comes from restaurants, bakeries, and other food retailers. There is a cost for disposing of food, and these costs are a major burden for many restaurants, cafes, bakeries, and food retailers.
The Korean government has instituted incentive programs to combat food waste. Currently, businesses and individuals in Korea pay for their food waste. DamoGO hopes its service will help lessen the load for businesses in Korea.
"We want to create a national movement for citizens to think about wasted food differently and to do their part in reducing waste. DamoGO gives them a starting point to do this. We are careful not to call the food available on the app as "leftover food". The food on the app is perfectly good, untouched food that would have gone to waste just because it wasn't sold by the end of the day. We are NOT a discount app – we are a social business dedicated to reducing wasted food." Lin Hwang, CEO & Co-Founder at DamoGO
Helping Homeless Shelters Across Seoul
DamoGO is also making a social impact by helping businesses get their surplus food to charities. They have already prevented more than 10,000 food items from going to waste in the last two months. They have partnered with homeless shelters and soup kitchens across Seoul. Seoul has many high-quality catered events. At the end of these events, the untouched food gets thrown away. Therefore, a team of volunteers from DamoGO will go to these events, package the foods themselves, and encourage guests to take the food home or take it to local shelters or soup kitchens. Furthermore, they are looking for more partnerships as they look to expand Damogo across Korea.
How does DamoGO work?
Businesses
Restaurants, cafes, bakeries, and food stores can list DamoGO for free. Therefore they will be able to get additional revenue and marketing exposure and reduce their food waste. The average restaurant could potentially save up to $800 a month in food waste fees. Each business will have a section on the DamoGO app. There they can sell their unsold food items at the end of the day. DamoGO will take a small percentage of each transaction. This also results in free marketing on the DamoGo app. Every day DamoGO users discover new items on the app as more and more restaurants, cafes, etc., come onto the platform.
Furthermore, businesses in Korea get an added boost in their brand image by showing their commitment to sustainability and reducing food waste. DamoGO is not a discount app but a social business to reduce food waste. Therefore businesses can become a part of the corporate social responsibility movement through their partnership with DamoGO.
Consumers
First, consumers must download the DamoGO app. Then they will be able to see all the postings in real-time and by location from restaurants, cafes, bakeries, and grocery stores in Seoul. The app provides a wide selection of unsold food and drinks at a discounted price (50% or greater).
Consumers can then purchase the item directly on the app. Then they will need to pick up the item before the store closes. They offer a wide selection of restaurants with different cuisines – from traditional Korean food to Thai Fusion kitchen. Therefore consumers will be able to eat meals from some of the finest dining restaurants in Seoul for half the price.
The app lets consumers follow their favorite restaurants, cafes, and bakeries. In addition, when items are uploaded by restaurants, users will get immediate notifications. Payment is a seamless one-step payment system that is easy to use, even for foreigners in Korea.
Ensuring the Quality of the Food
When DamoGO works with their partner restaurants, cafes, bakeries, etc., to ensure the food's quality meets DamoGO's standard. Partners need to sign an agreement forbids them from selling old food (more than a day). The team at DamoGO will constantly check their partner's reviews from customers.
The potential to expand outside of Seoul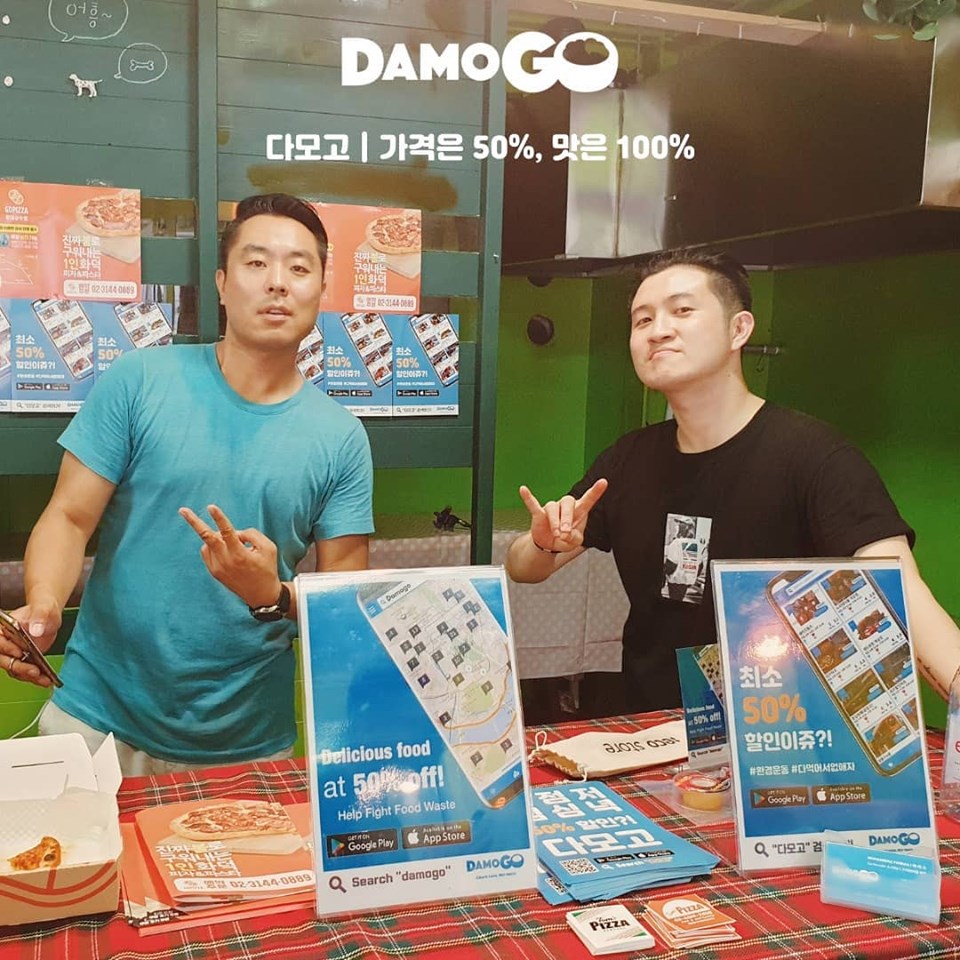 The target market for DamoGO is consumers in Seoul that are looking for a great bargain. Many Koreans love to save money. Therefore with DamoGO they can not only save money but also do something positive for the environment. Seoul has over 80,000 restaurants and the world's highest smartphone ownership. Therefore as competition for customers rises, restaurants will need to get creative to stay ahead of the competition.
DamoGO's mission is to create awareness about food waste issues and significantly reduce wasted food. Food waste is not just a problem in restaurants and bakeries but also at the farm and distribution levels. DamoGO has great potential to scale outside of Seoul. Many regions in Korea have small shops and restaurants that want to engage with their local market. They will look to grow aggressively in Korea.  As well as look to enter the Southeast Asian market, starting with Indonesia. They have already reached out to many franchise owners and government officials in Indonesia.
---
Sue is the Co-Founder of Seoulz. She is the mind behind all of Seoulz' creative direction and visuals.
All author posts