COVID-19 cases continue to rise in the United States and the United Kingdom. The number of COVID-19 cases in South Korea is falling. South Korea has done a great job producing covid-19 test kits and COVID-19 masks since the outbreak's first cases in Daegu, a city south of Seoul. Therefore, many government bodies, schools, and hospitals are looking to import COVID-19 masks from Korea. The demand for N95 masks, in particular, is increasing in the US and the UK. This is because the N95 masks do a great job of filtering airborne particles that can carry the virus. The N95 equivalent masks in South Korea are the KF94 masks. These masks are critical for healthcare workers, teachers, and students looking to get back to school.
Recently, the Korea Food and Drug Administration (KFDA) has allowed the export of COVID-19 masks from Korea. The supply of COVID-19 masks in Korea has stabilized. Therefore the Korean government will now allow masks to be made and sold freely under market rules for global export. However, there will be outbound export quotas for each manufacturer in Korea. Exports can't exceed 50% of masks produced by companies in two months.
N95 Mask Shortages in the US and UK
There is still a huge shortage of COVID-19 masks in the US and the UK. Even though the production of protective equipment has increased in both countries. This is a major problem because both countries will have a tough decision about reopening schools. For example, some states across the United States have moved toward full reopening. Once schools and universities start to reopen, there will certainly be a greater need for protective equipment for all the students. The US and the UK must start aggressively importing N95 Masks from other countries. The only other country with excess supply at the moment is countries in Asia, especially South Korea. 
Getting COVID-19 supplies like N95 masks must be handled at the local and state levels. Therefore, state governors and hospitals must reach out to N95 (KF94) mask manufacturers in Korea to arrange their private purchases. The US simply isn't making enough N95 masks to meet demand despite having major producers like 3M who are already producing masks at maximum capacity. With so much knowledge about COVID masks, hospitals and government officials have become more aware of unreliable vendors and fake products. 
It is hard to estimate just how bad the shortages will get once schools open. It might be cases where many teachers and students will have to reuse the same masks for multiple weeks.
COVID-19 Masks in Korea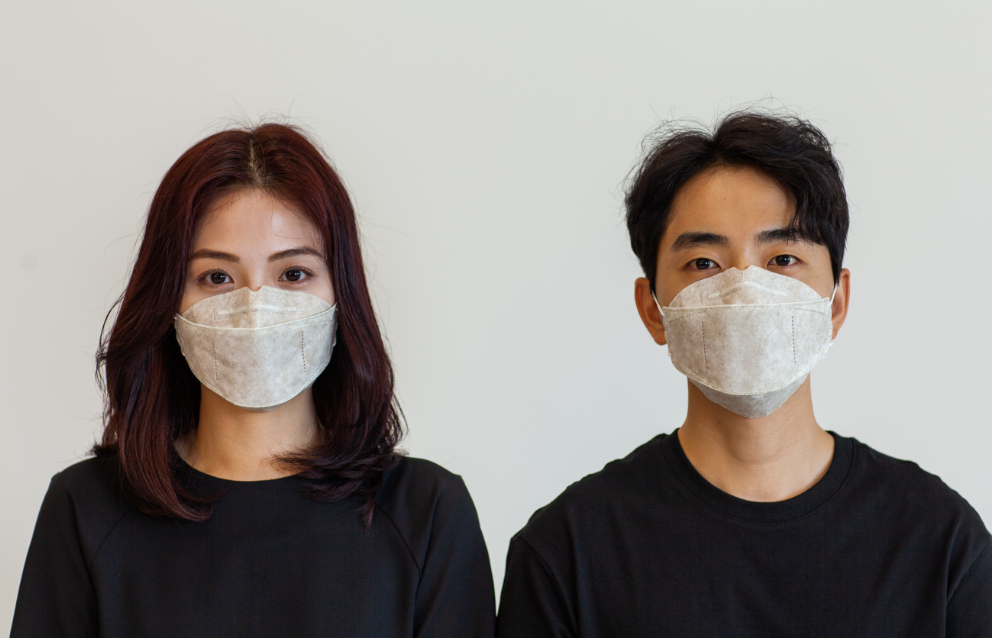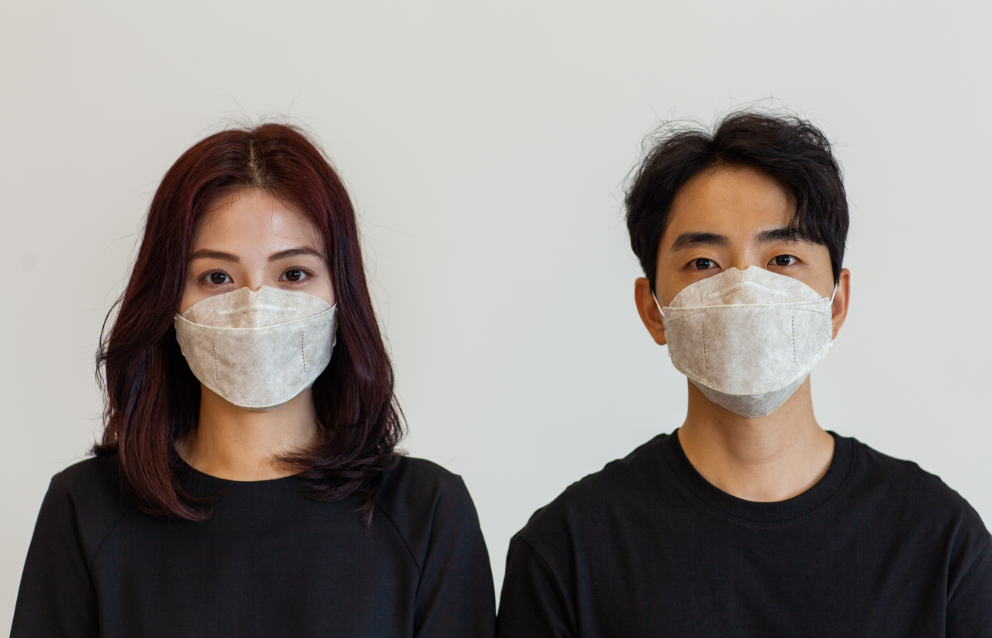 Masks are so abundant in South Korea that manufacturers are looking to export them to the global market. Life has pretty much gotten back to normal in South Korea. The Korean government has given tax relief for small businesses to help them as they recover from COVID-19. Since the demand is lower than the supply, many are looking abroad to find buyers. In Korea, many manufacturers have already started to prepare for the cold winter months by producing and stockpiling thicker and more durable masks. 
The standard government-rationed masks are sold retail for 1,500 won ($1). Many manufacturers sell N95 masks to global buyers for about $1. That seems to be the standard going rate for most masks. It could be possible to buy them for less, but buyers must do their due diligence. South Korea has resumed the export of face masks classified as KF94 which is the equivalent of US N95 masks. The Korean government momentarily banned the export of these masks for three months due to supply shortages in Korea. However, the export ban has been lifted, with supplies now abundant. South Korean protective masks are gaining huge popularity abroad as the world sees their effectiveness in South Korea. 
"The changes are expected to permit market mechanisms to take effect that can end excessive inventory issues faced by some manufacturers due to a drop in sales and make it possible for companies here to export their products to countries that are in need of South Korean-made masks," said a KFDA official.
COVID-19 Masks from Korea Ready to be Shipped to US and UK
Seoulz will continue to update this section as we find more and more suppliers in South Korea. Those looking for the highest quality COVID-19 masks in Korea should check back often. We will help you connect with these manufacturers in Korea so the masks can be shipped to the US or UK as quickly as possible. We will focus on companies in Korea that produce COVID-19 Masks that are FDA approved and meet the standards of the N95 masks.
HEALMADE's FFP2 Masks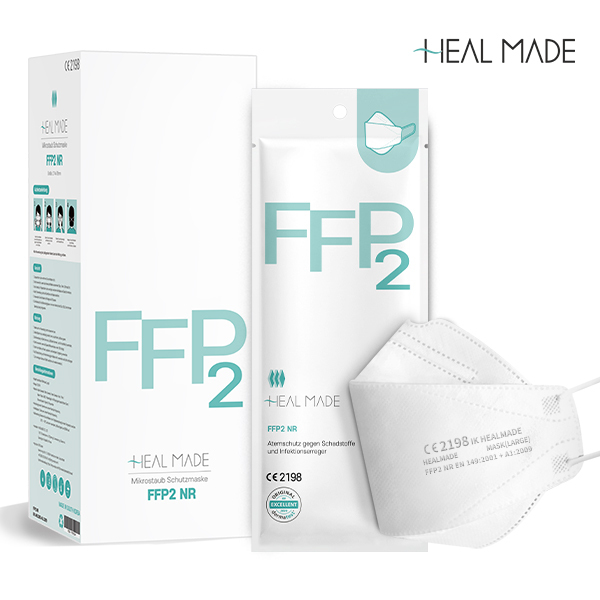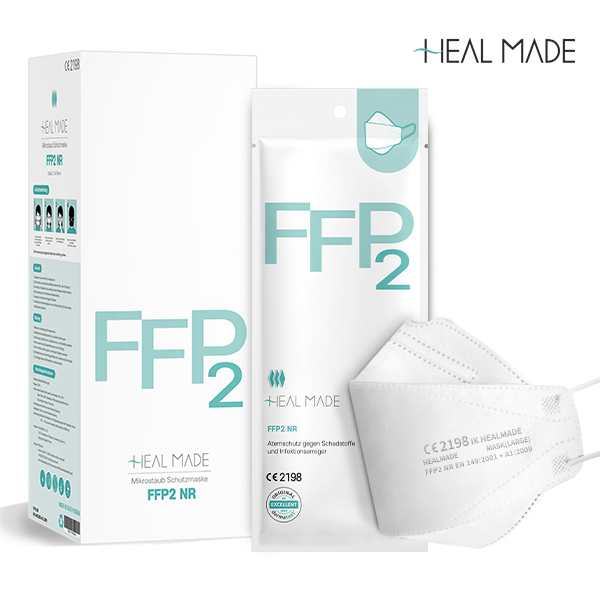 HEALMADE is a mask company in Korea that has gotten FDA approval for their FFP2-certified masks for export to the U.S. and Europe. To get FFP2, the company had to pass more than 20 tests and prove it could filter out more than 94% of aerosol content. The FFP2 mask tests were conducted by Europe's certification body Conformite Europeenne in 2020. FFP2 Masks are the same grade as N95 and KF94 masks. In addition, it has gotten the US FDA's approval as a surgical medical class 2 product and passed the multinational SGS product safety test for Substances of Very High Concern.
PASS OVER MASK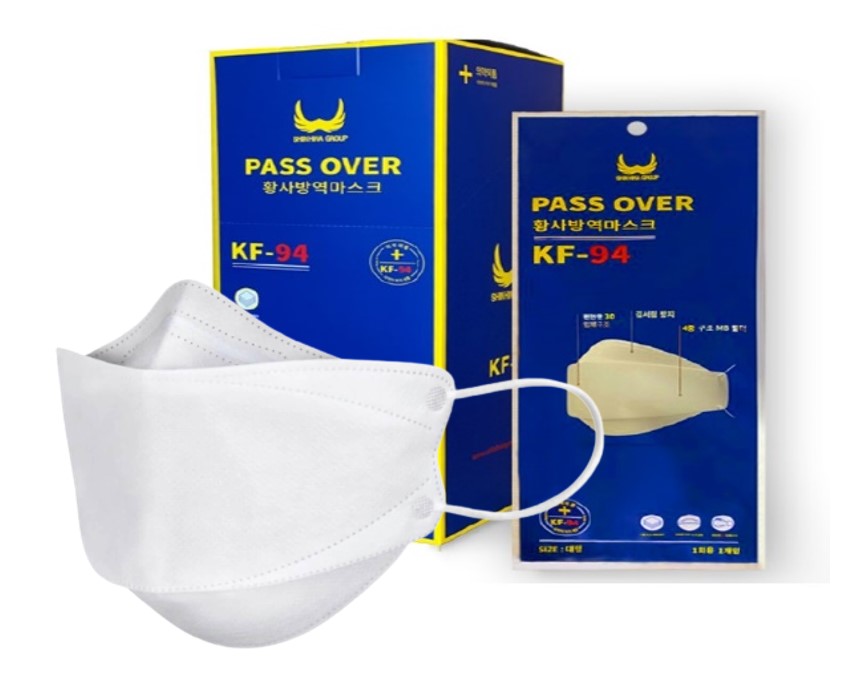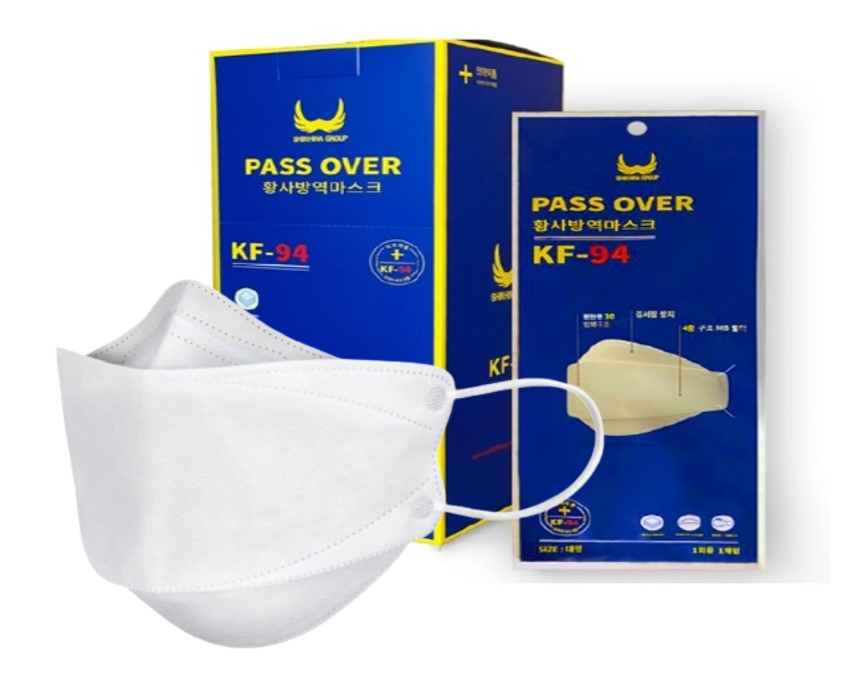 Shinwha Group Co. Ltd is the manufacturer of both KF94 and KF80 masks. Their PASS OVER MASK is a KF94 mask that is already FDA and KFDA approved. The mask is 20.5cm by 7.6cm, and a box contains 25 individual masks. Shinwha has the infrastructure to produce these masks in bulk. They are expanding their business area to include B2G(government) beyond the B2C and B2B markets. Therefore, they will be able to ship their masks internationally to government organizations in the United States and the United Kingdom.
FDA Certified
One-Q Antiviral Mask by Reno-Fec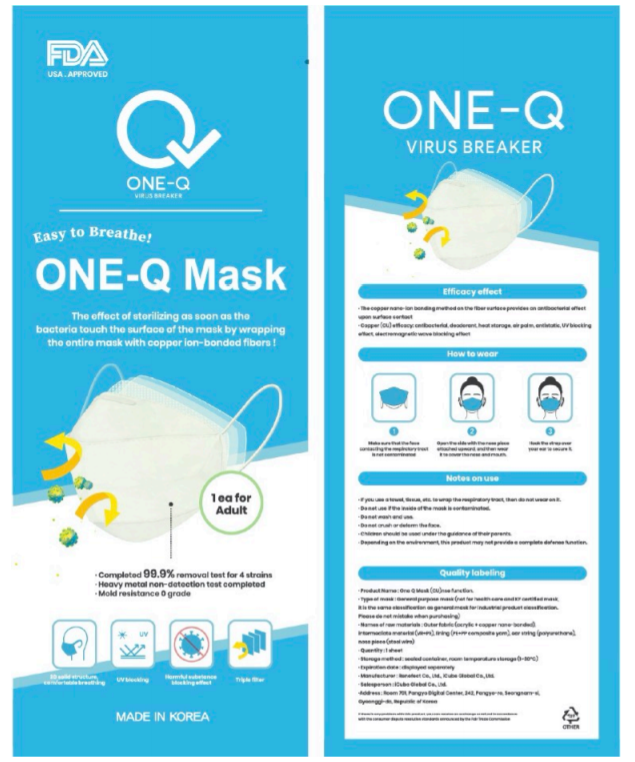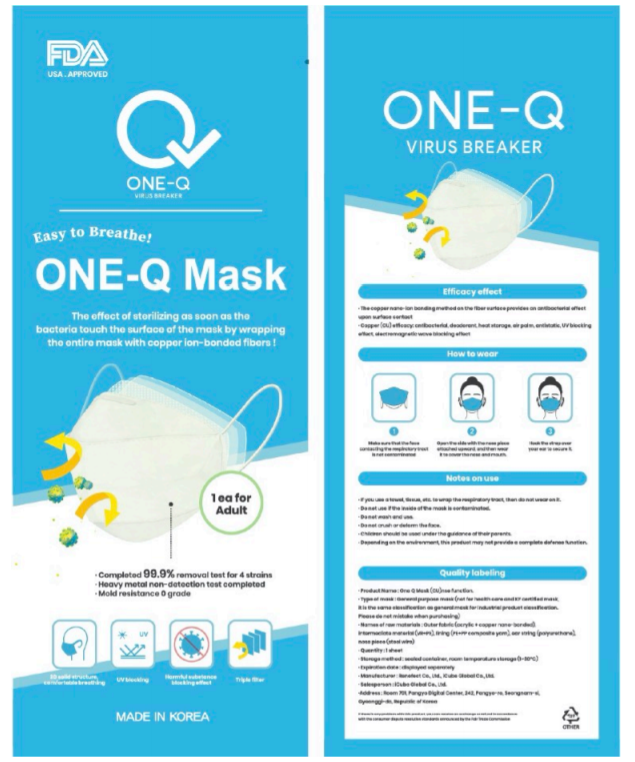 Reno-Fec is a specialized manufacturer of functional soft materials. They are the producers of One-Q, the world's first micro-current antiviral mask, which also has US FDA certification. Not only is it easy to breathe, but it also has excellent sterilizing properties. The mask is created by applying the nao-fusion wire technology of silver and copper. Wearers can see the copper wires, which help is crucial for offering 99.9% sterilization function even after being washed 100 times. The copper non-woven fabric blocks the growth of viruses and other harmful bacteria.
FDA Certified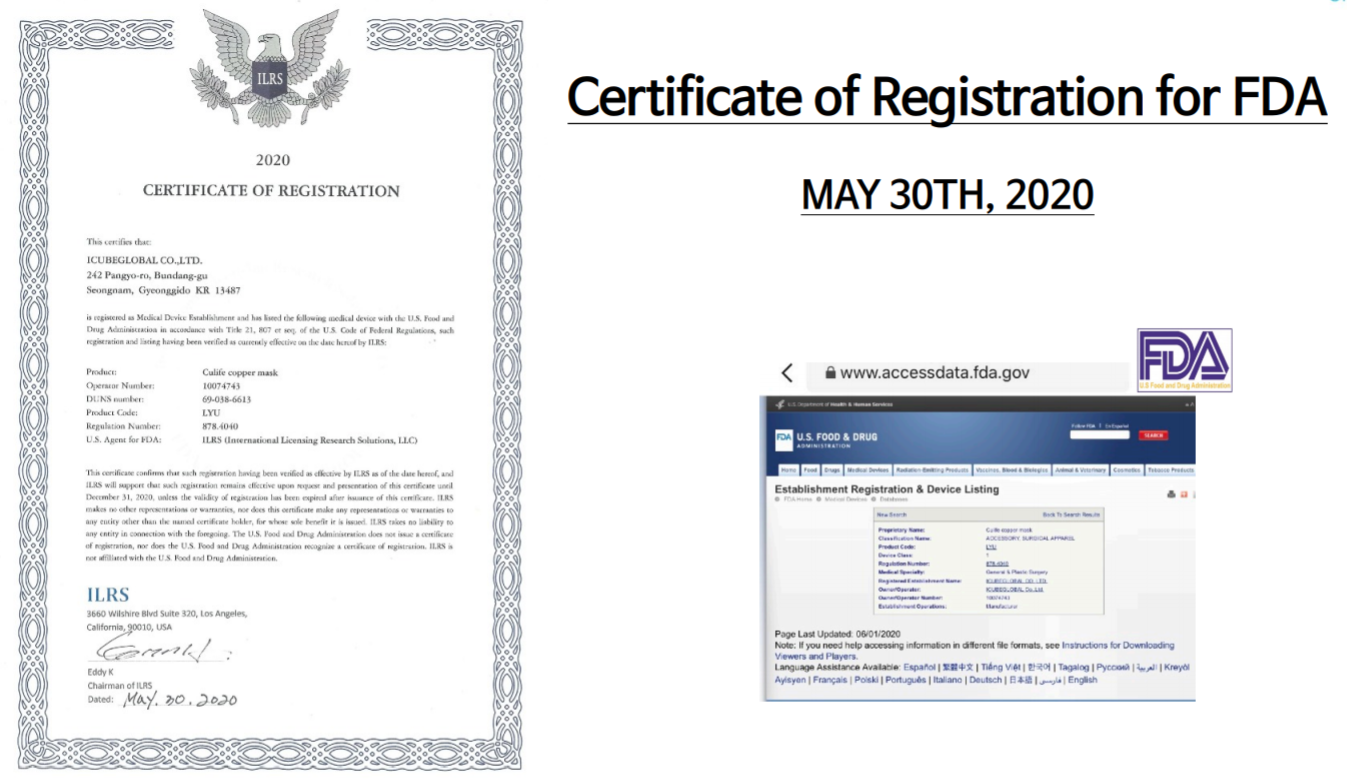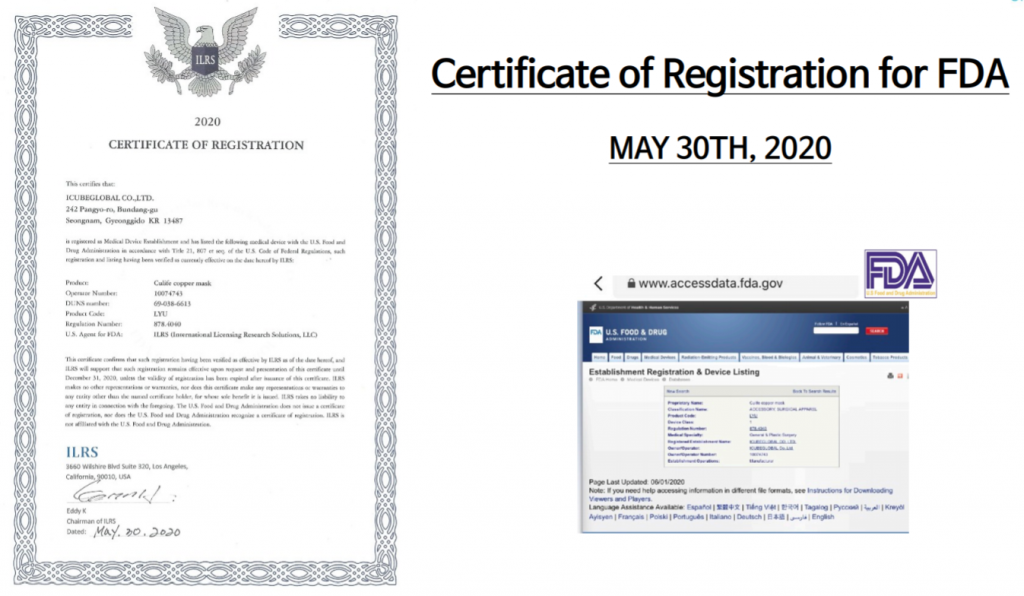 The copper ion-bonded fibers are what separates the One-Q mask from other COVID-19 masks in Korea. They choose copper because it is not only a safe natural material but also the most powerful and non-toxic to humans. It can sustain antibacterial activity even after repeated wear and tear due to moisture and drying. Incorporating copper into the mask is a major reason why the One-Q mask has been able to get FDA approval. They are now well-positioned to enter the US and UK markets.
Number One Guard Mask by Happy Day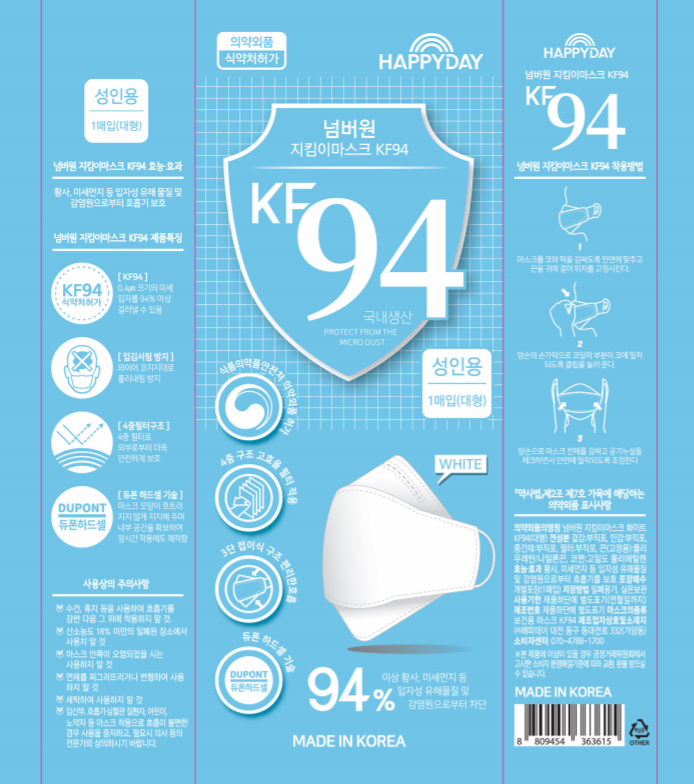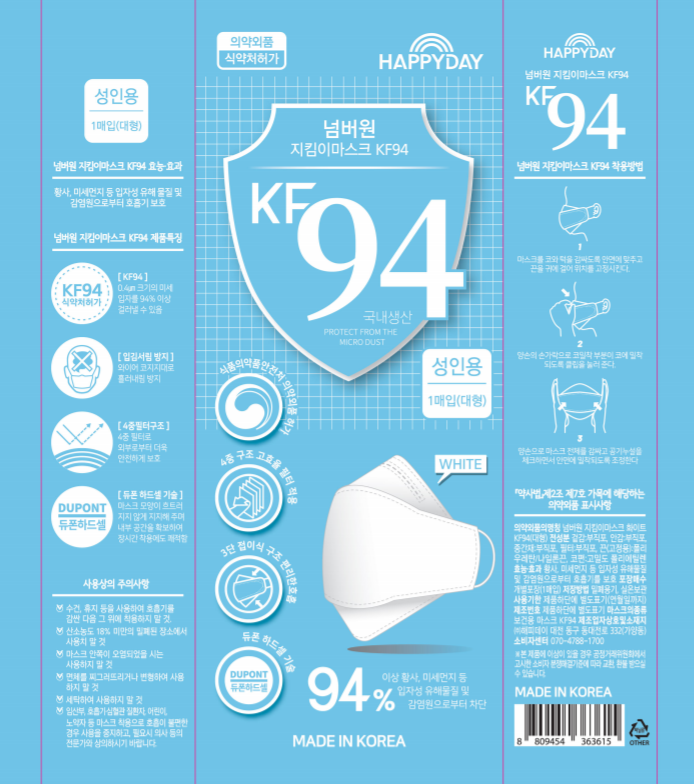 Happy Day is working with exporter Blocks Avenue to provide FDA-approved KF94 and KF80 masks. The Ministry has approved these masks of Food and Drug Safety for importation into the United States of America. It has passed all the testing requirements and has completed the FDA Medical Device Establishment Registration and Device Listing.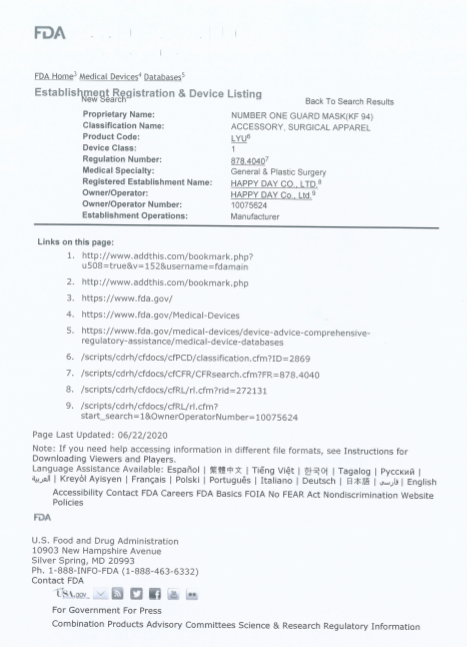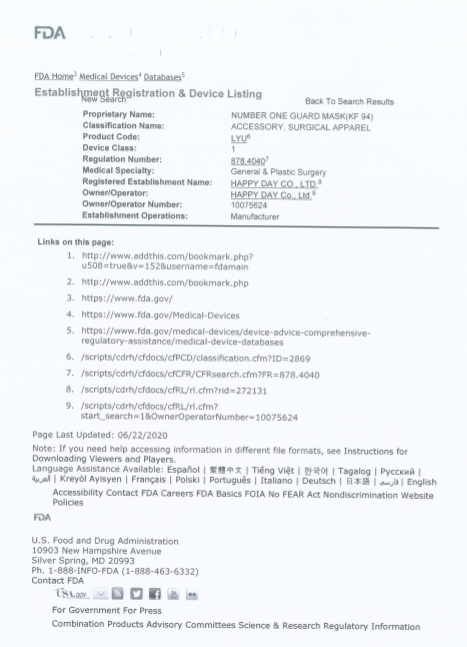 On the Lookout for FDA-approved COVID-19 Masks in Korea.
We are constantly looking for COVID-19 masks in Korea that have FDA approval and are ready to be shipped to the US and UK. Manufacturers interested in connecting with government bodies, schools, or hospitals, please send Seoulz your documents so we can look them over and add your masks to this list. The world needs access to reliable Covid-19 masks, and hopefully, South Korea can help those having trouble keeping up with the demand. South Korea has shown that life can get back to normal post-COVID-19. Let's hope other countries can follow in South Korea's footsteps.
---
John is the Co-Founder of Seoulz. He has covered the Korean startup & tech scene for over eight years and has written over 700 articles regarding the Korean startup ecosystem. He has brought global attention to Korea's tech scene using Google SEO. Email him at john@seoulz.com
All author posts