South Korea has been able to keep its economy running during the coronavirus pandemic. A lot has to do with their social distancing system which is now a 5-level system (Level 1, 1.5, 2. 2.5, and 3) used for covid-19 alert levels in Korea. The aim of the 5 level scale system is to enhance social distancing for transportation, dining, and work. It offers a framework to support clear decision-making, improve accountability, and communicate with the Korean public to increase healthy social distancing behavior. The system has been very effective and has set a global standard for governments to follow for best practices in regards to alert-level systems. 
Since South Korea has a large supply of COVID-19 test kits, getting quick data on the number of those infected is crucial for the 5 level system to work. The 5 level system that South Korea uses communicates easily the level of health risk, as well as the measures that need to be taken for each level to maximize safety. For example, for the highest level (Level 3), there may be lockdowns that require people to stay home and the closure of schools, hagwons, churches, and nonessential businesses. As the level gets lowered, the restrictions will also get lowered. The 5 level system has done a great job of promoting transparency, accountability, and clear communication with the Korean public. 
Covid-19 Alert Levels in Korea – 5 Level System


Level 1 
When the average number falls below 100 in Seoul (Metropolitan area). The number of people will be limited to 1 per 4m area. Gatherings of 500 or more people need prior approval from local authorities. Antivirus measures will be mandatory throughout the event. For churches, there needs to be a seat left empty between people. 
Level 1.5
When the average number falls above 100 in Seoul (Metropolitan area). Festivals and other types of group gatherings that involve more than 100 people will be banned. 
Level 2 
The number of infections exceeds 300 in Korea. Suspending operations of clubs and bars. Any type of gathering of over 100 people will be banned. 
Level 2.5 
When infections reach over 400 in Korea. Hagwons, study rooms, and cinemas will be forced to close operations after 9 p.m. All gatherings of over 50 people will be banned. All religious services will go online and only a maximum of 20 people can attend offline. 
Level 3 
Level 3 occurs when infections reach over 800 in Korea. Any gathering involving 10 or more people will be banned. Suspending operations of hagwons, study rooms, and cinemas. School classes will be moved online as well as all religious services. 
A Classification System of High/Medium/Low-Risk Facilities in Korea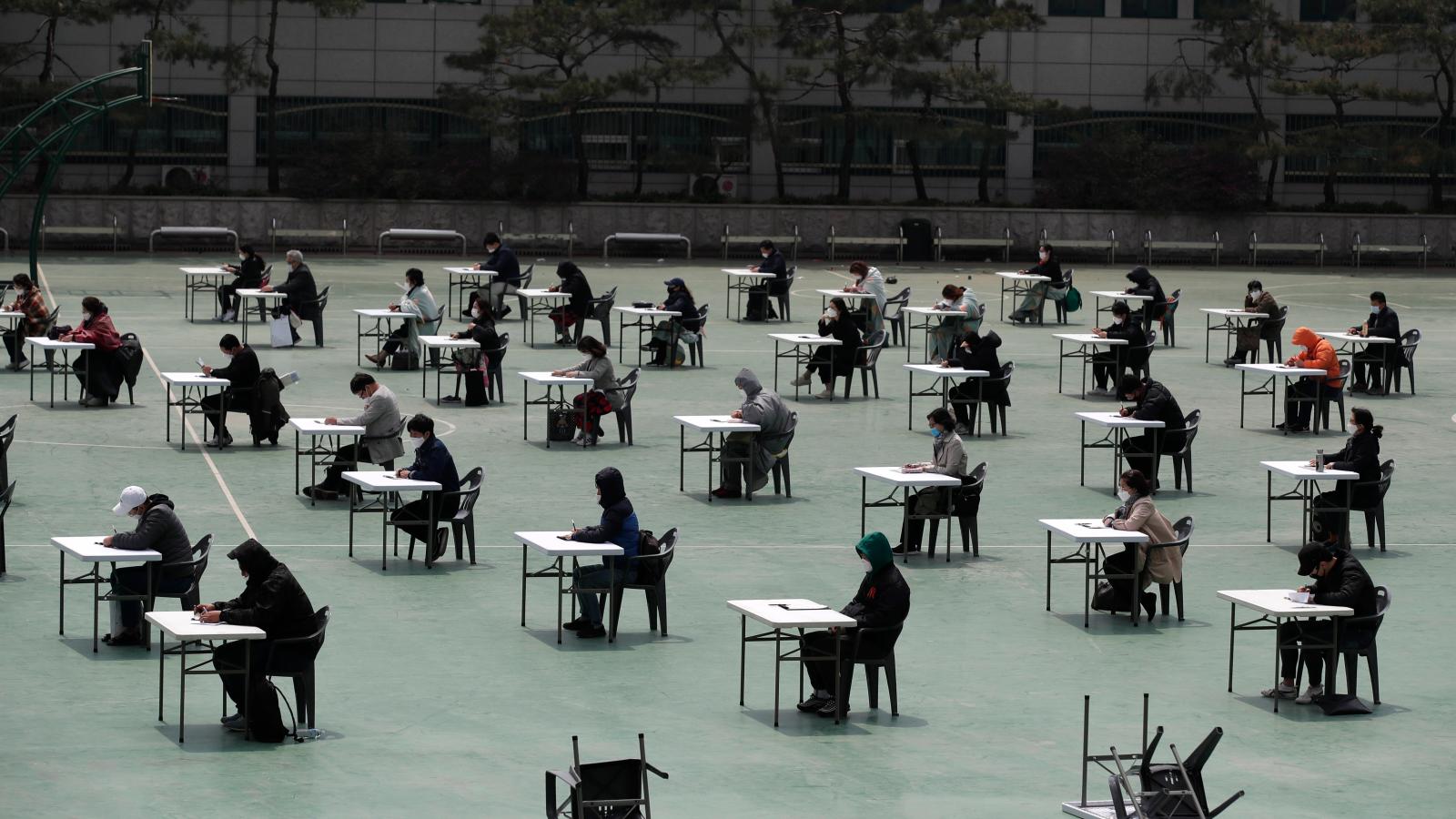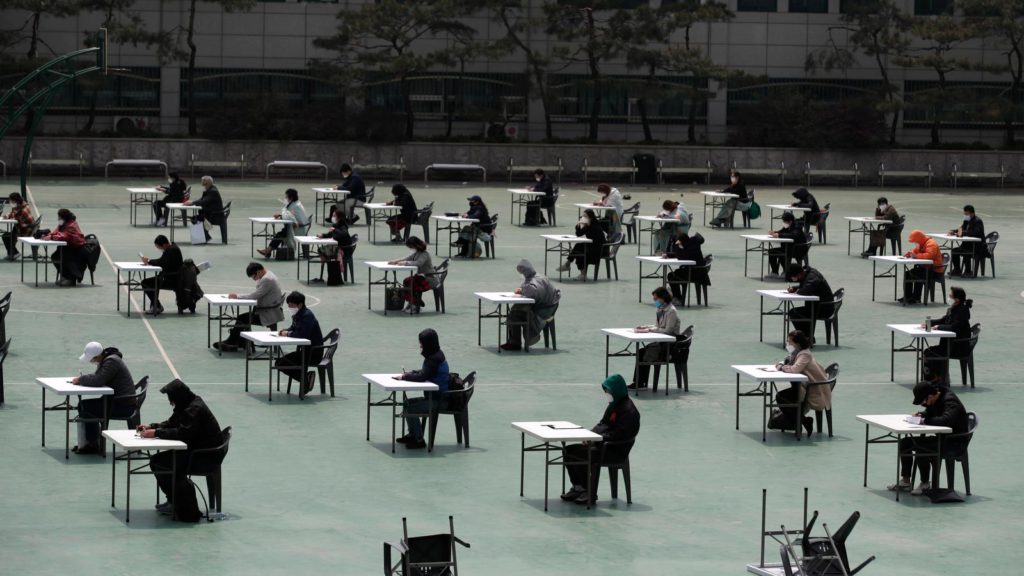 For all classifications, the facilities must follow the 3 basic guidelines. Therefore, everyone needs to wear a mask, manage a visitor list via Kakao/Naver or sign-in sheet, and have ventilation/disinfection. The distance between people should be 4m per person. For example, for restaurants and cafes, there should be a 1m distance between tables/seats. 
High-Risk Facilities 
Clubs 

Room Salons 

Karaoke Rooms

Indoor Performance Halls 
Medium Risk Facilities 
Restaurants 

Cafes 

PC Rooms

Wedding Halls

Funeral Halls

Vocational Training institutions 

Movie Theaters 

Amusement parks/Water Parks

Saunas 

Indoor sports facilities 
Low-Risk Facilities 
Department Stores 

Grocery Stores 

Reading Rooms

Study Cafes
Starting November 13th, face masks in Korea are mandatory and will be fined 100,000 won.
The Importance of Alert Levels in Korea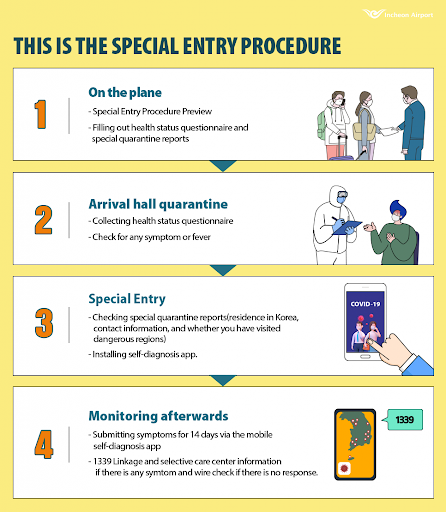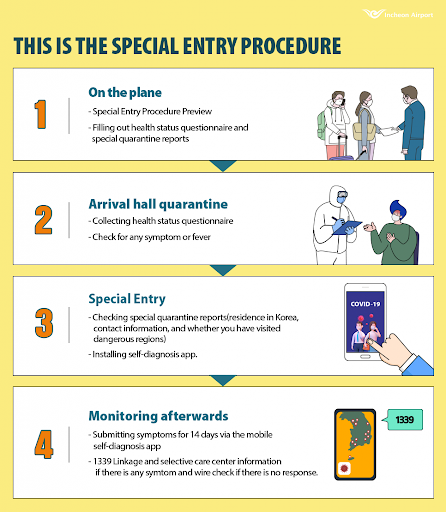 South Korea's 5 level alert system is crucial for effective coronavirus preparedness and response. However, it is up to every country to find the right alert system for them. If an alert system is implemented successfully, these systems can help officials communicate effectively with the public. It can be used to not only guide but also engage their citizens to practice proper social distancing measures. In addition, it can play a vital role in facilitating the resumption of social and economic activities as soon and safely as possible. Ultimately, this will limit both the economic and health damage of the coronavirus pandemic. 
Frequently Asked Questions about Social Distancing Guidelines in Korea 
If I travel to South Korea, will I be quarantined? How does the quarantine process work? 
There is a 14-day mandatory quarantine for anyone traveling to South Korea. Korean nationals or long-term residents of Korea can self-quarantine at their homes. However foreign nationals who are short-term visitors to Korea will serve the quarantine at a designated government facility at their own cost which is 100,000 ($90) a day). Therefore, this means you will need to pay 1.4 million won ($1,200) for the 2 week quarantine period. In addition, all inbound travelers will be tested for COVID-19 within 14 days of their arrival regardless of symptoms being present.
A tip: Make sure you have 2 Korean contacts to give to the officials at the airport. 
What is the 14-day mandatory quarantine like for short-term travelers into Korea? 
You will be taken to a hotel as most of the facilities are hotels. Once at the hotel you will need to download an app (self-quarantine app) which you will use for the entire time you're in quarantine. This is different from the app you have to download at the airport. The self-quarantine app requires a Korean phone number which is why you need Korean contacts who can give you their Korean phone numbers. If you do not have a Korean phone number you will need to download the Kakaotalk app. Give your Kakaotalk ID to any official who asks. Furthermore, you will pay upfront for your 14-day stay which could range from $1,200 to $1,400. 
While at the hotel you will get 3 meals a day. Meals can vary but usually come with bottled water/juice and a Korean meal. In addition, you will have a toothbrush, toothpaste, hand sanitizer, soap, shampoo, conditioner, body wash, laundry soap, coffee, tea, pillow, comforter, towels, and trash bags are all provided. You can not exit your room unless there is an emergency. You will not be able to order takeout but you can order from online stores like Coupang or G-Market. Visitors are not allowed. They do accept deliveries from family and friends in Korea but only for medicines, canned food, or other essential items. During your 14-day stay, you will get tested around 2-3 times. 
Can we hold an Event in Korea? 
Yes. You can still hold events or meetups in Korea however for indoor events, the limit is 50 people. For outdoor events, it is currently at 100 people. Therefore events with over 50 people indoors or 100 people outdoors are not allowed in Korea. 
Are sporting events open in Korea? 
Yes, sporting events are open however there is a limit of 30% max number of spectators for these events. 
Is it mandatory to wear a mask in Korea? 
Yes, you must wear a mask in indoor facilities and dense outdoor areas. Starting on November 13th, the Korean government has implemented a mandatory mask mandate. You can be fined 100,000 won ($90) for not wearing a mask in Korea. 
---
John is the Co-Founder of Seoulz. He has covered the Korean startup & tech scene for over eight years and has written over 700 articles regarding the Korean startup ecosystem. He has brought global attention to Korea's tech scene using Google SEO. Email him at john@seoulz.com
All author posts