Coworking spaces in Seoul, South Korea have really taken off since WeWork came to Korea back in 2016. The reason for this growth is because these coworking spaces in Seoul are not just getting filled by startups but also traditional Korean companies. The high cost of working in Seoul (especially Gangnam) and the rising cost of traditional office spaces are some of the reasons for the rise of coworking spaces in Seoul. Coworking spaces in Seoul offer low-cost office spaces in prime locations like Gangnam and Apgujeong. However, the most important thing a coworking space can offer is its community and network of other entrepreneurs in Korea who can share their advice and experiences.
COVID-19 has been brutal for the coworking industry as a whole but there are some early signs that things will pick up again soon as restrictions get loosened. As more and more entrepreneurs look to get back to how things were, they will look towards Coworking spaces more than ever. Seoul is perfect for coworking spaces because of its great internet connection that makes working remotely very easy. We at Seoulz researched some of the top coworking spaces in Seoul, South Korea.
The list is arranged in alphabetical order.
Here is a complete list of all the coworking spaces in Seoul
CowNDog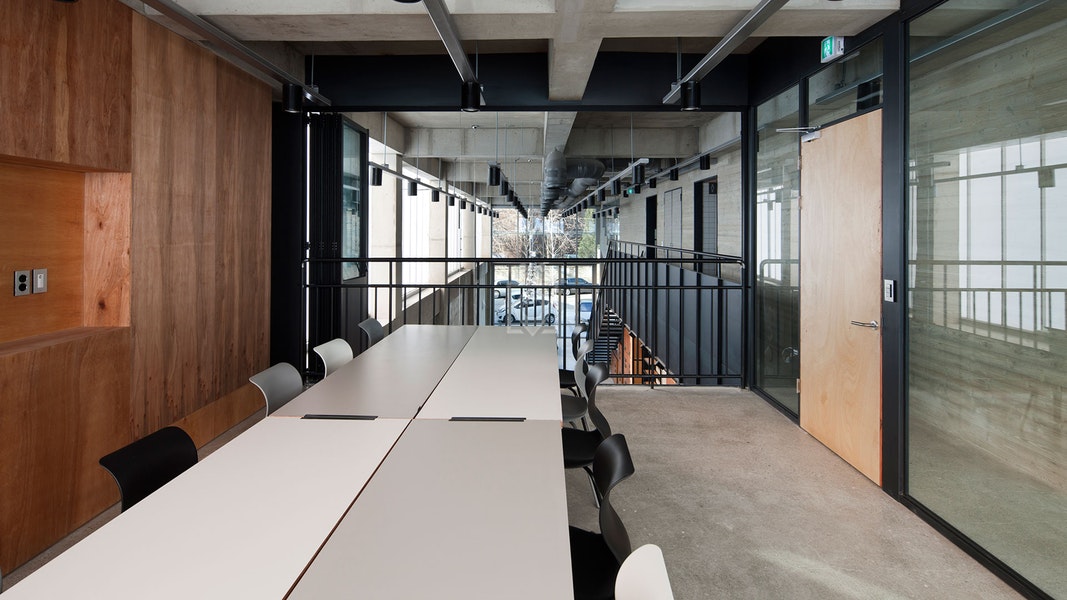 CowNDog is located in Seongu Station and the whole building is theirs. Their name is formed by combining "Cowork and do good". The coworking space can hold up to 90 startups and entrepreneurs primarily focused on making a social impact. The first floor offers a cafe area, the second floor has meeting spaces for workshops and events. Members can hold their own events if they book in advance through their CowNDog mobile app.
They also have a coworking cafe where events and pop-up markets are held. In addition, they are also known for their monthly workshops and talk shows.
Address:  20 Wangsimniro 2(i)-gil, Seongsu 1(il)-ga 1(il)-dong, Seongdong-gu, Seoul
D.CAMP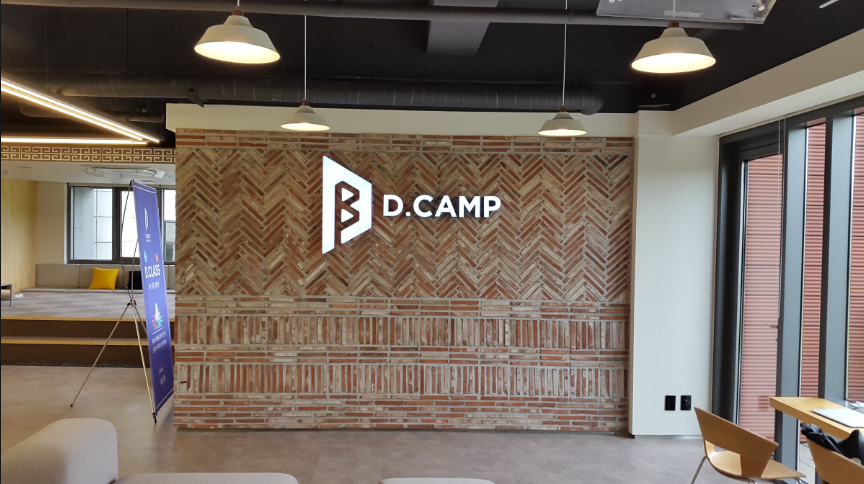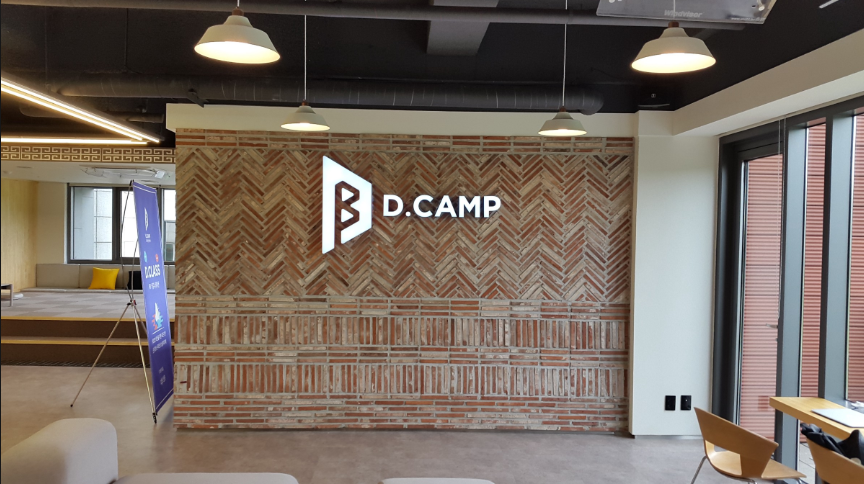 D.CAMP is located in the middle of the Gangnam area (Seolleung) in Seoul. It is the startup support center for The Banks Foundation for Young Entrepreneurs and was founded in 2013. D.CAMP serves as a local startup hub for some of the most talented and passionate startup entrepreneurs and professionals with a 45,000 square-foot space. The building consists of a coworking space, lounge, private office spaces, and rooms for lectures, meetings, and events. It is the largest non-profit foundation for startups in South Korea,
D.CAMP also organizes D.DAY which is a demo day on the last Thursday of every month. The judges include professional investors and industry experts. In addition, they regularly gather around 150 entrepreneurs for this event which makes it a great event for networking. To date, D.CAMP has invested around $400 million into 23 funds.
Address: 
Seoul, Gangnam-gu, Yeoksam-dong, Seolleung-ro, 551 새롬빌딩
DREAMPLUS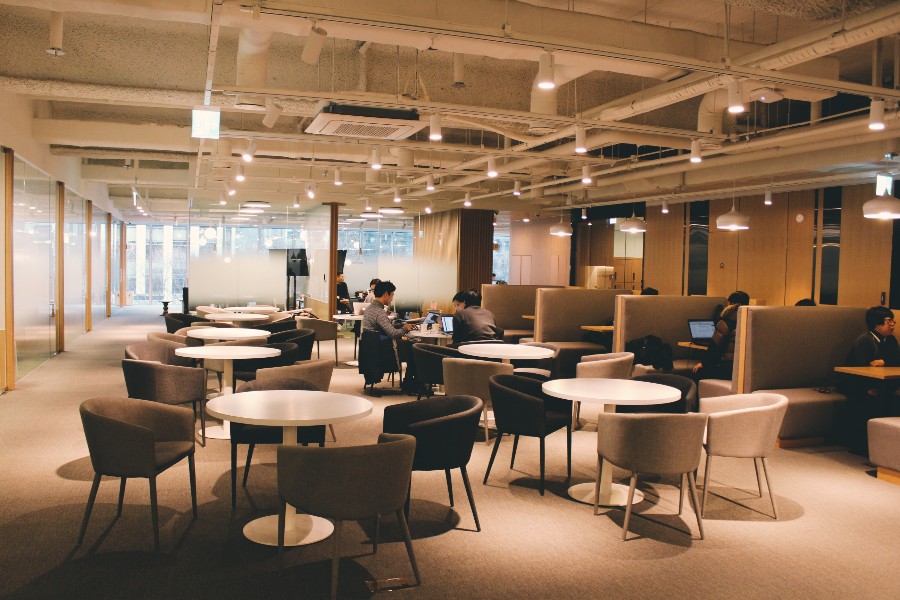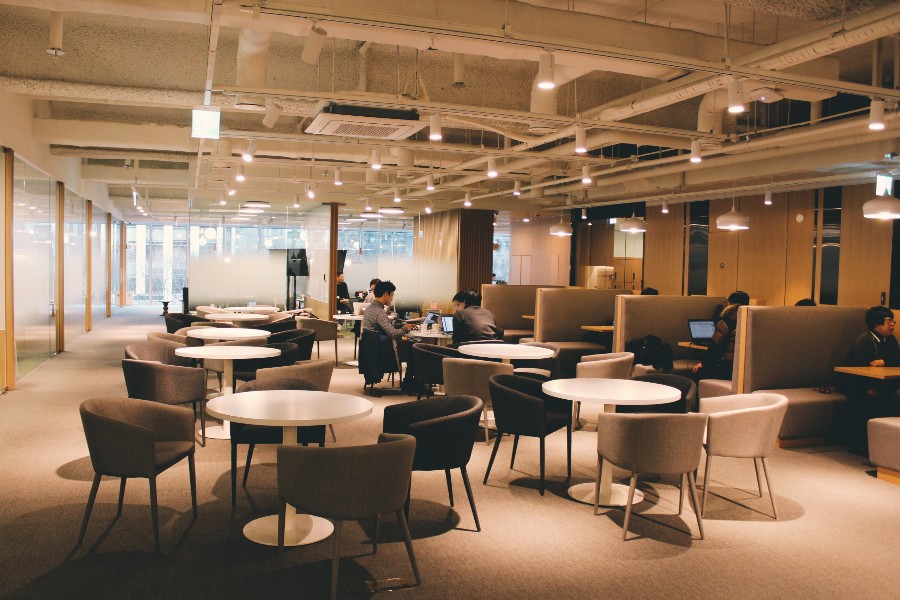 DreamPlus is a co-working space located off of Gangnam exit 6. This branch uses all of the Hanwha Building (15 floors). DreamPlus uses the building not just as a coworking space but also to run its accelerator program. Some major Korean companies such as It's Skin are using DreamPlus as their head office. There are two types of membership programs. Therefore, you can choose to have a hot desk or a private office. All members, however, can access all the coworking floors from B1 to the 4F.
DreamPlus also has a digital media center on the 4th floor. This center can be used for free via reservation. Furthermore, they also have studios, libraries, lecture rooms, meeting rooms, cafes, and event halls. On each floor of the public space, members can use storage spaces and personal lockers.
Hot Desk = 350,000 won a month
Private Office – Starting at 400,000 won a month
FABLAB SEOUL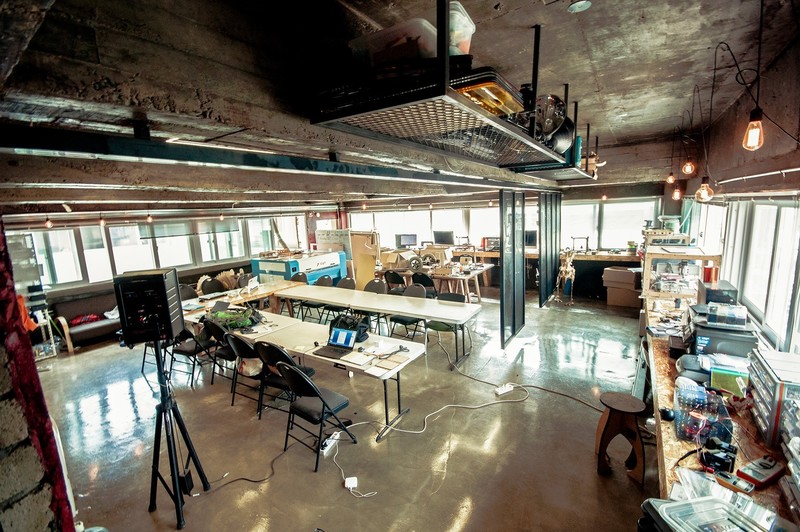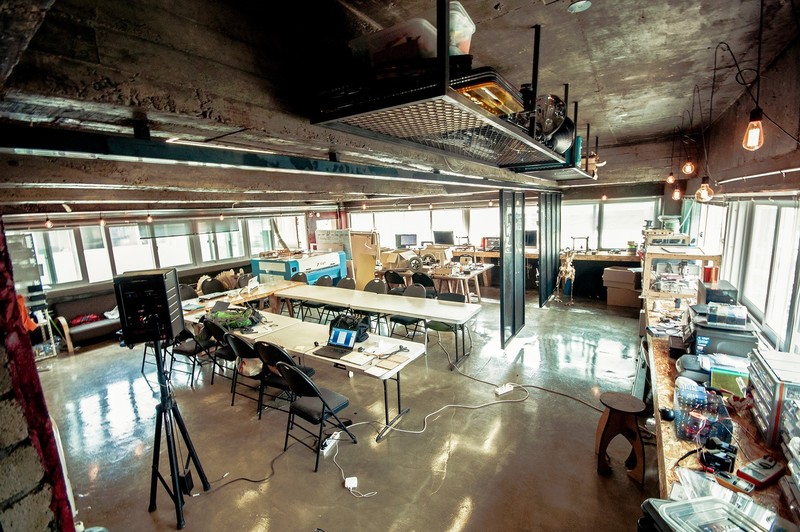 FABLAB SEOUL was the first Makerspace in Korea. It was opened by TIDE Institute to focus on entrepreneurship in Hardware. Therefore anybody can access their tools, the staff's expertise, and their educational programs. Anyone can use their co-working space/lab during working hours from Monday to Friday from 9 am to 6 pm.
Some of their educational programs include their yearly FabAcademy Program, FabTist program which features different artists-inspired workshops, their MakerAcademy curriculum which educates future maker space technicians, and more. By creating a community of makers in and out of Korea and connecting with them, they hope to generate a lot of knowledge and resources that everyone can benefit from.
Address:  Jangsadong 116-4, Sewoon Sang-ga #550 Jong-Ro_Gu. Seoul
FASTFIVE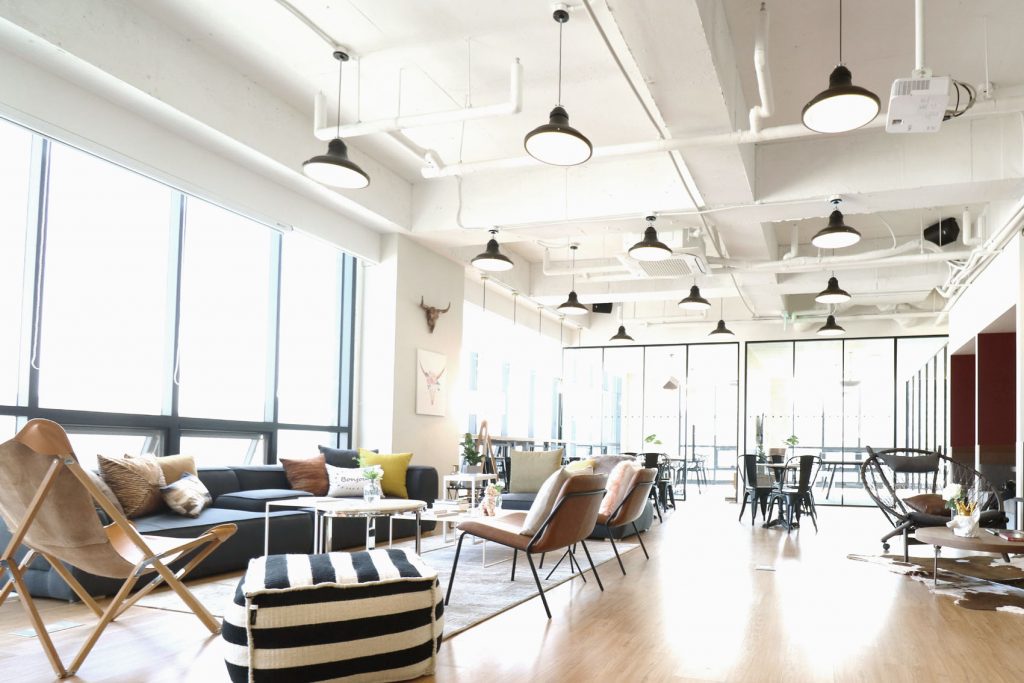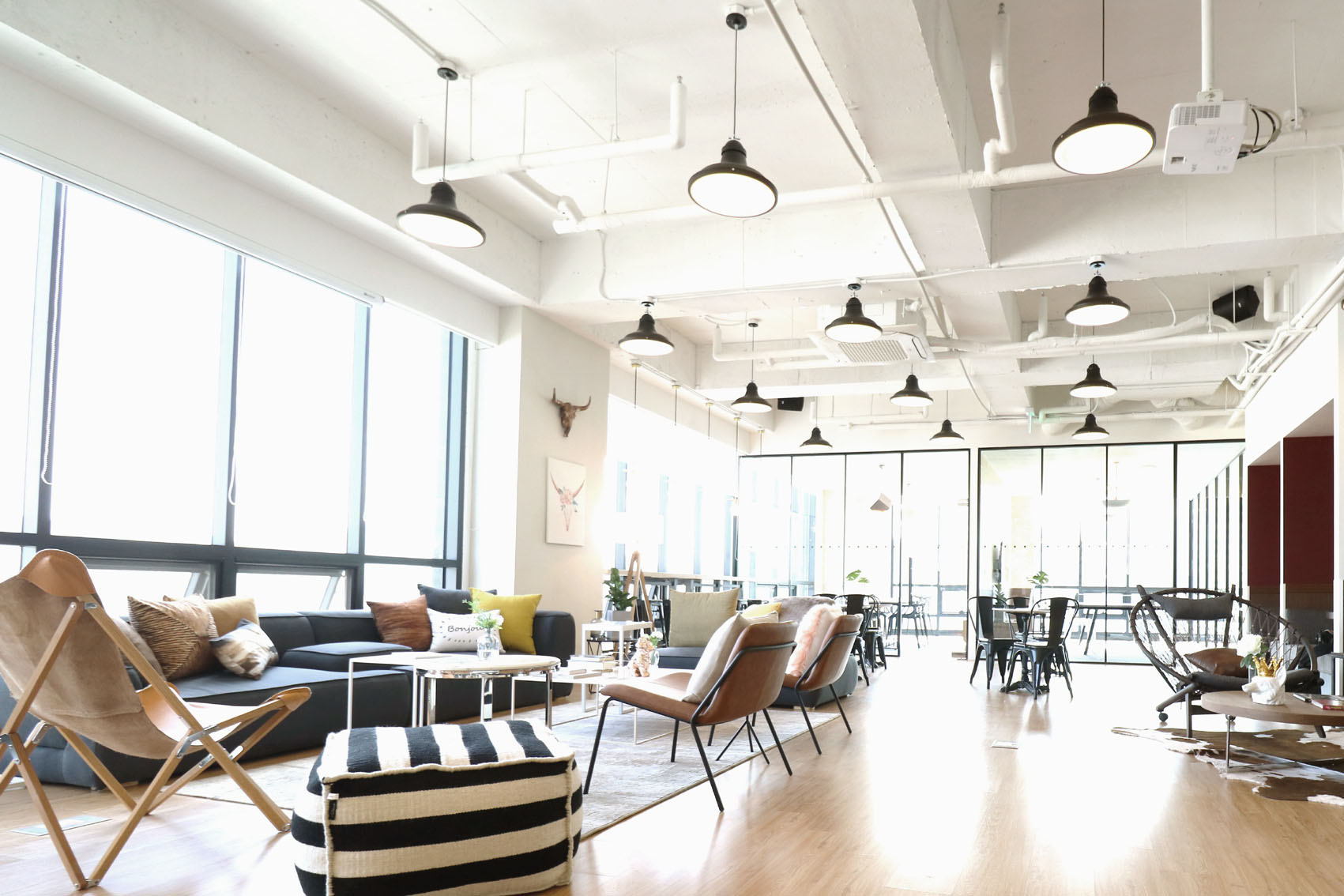 FASTFIVE is the main competitor of WeWork in Korea. They have close to 20 locations across Seoul. FASTFIVE does not sign a lease agreement with the building landlords, but rather a partnership agreement that allows the operator to get funding from the landlord. FASTFIVE then uses the fund for various purposes, such as interior design, management of the space, and the distribution of the rental income from its tenants to the landlords. These partnerships usually range from 5 to 10 years.
Their main focus is on customer service for not only startups but also small businesses. They hold many networking parties and seminars. There are many office space options from open space desks to your own private office. FASTFIVE has had a small 1% rate of empty office spaces over the last two years.
"I believe FASTFIVE has reached a second phase, where we not only serve those in our own space but also reach out to those in need of office solutions," FASTFIVE has sought to create a self-sufficient business model, and we are coming closer to that," said the CEO of FASTFIVE, Kim Dae-il.
GARAGE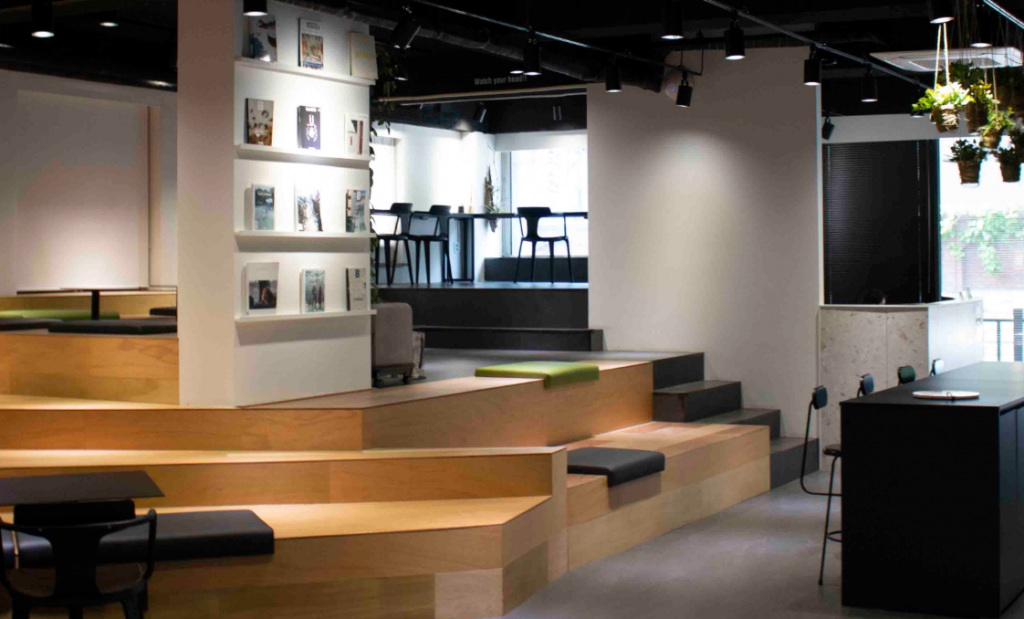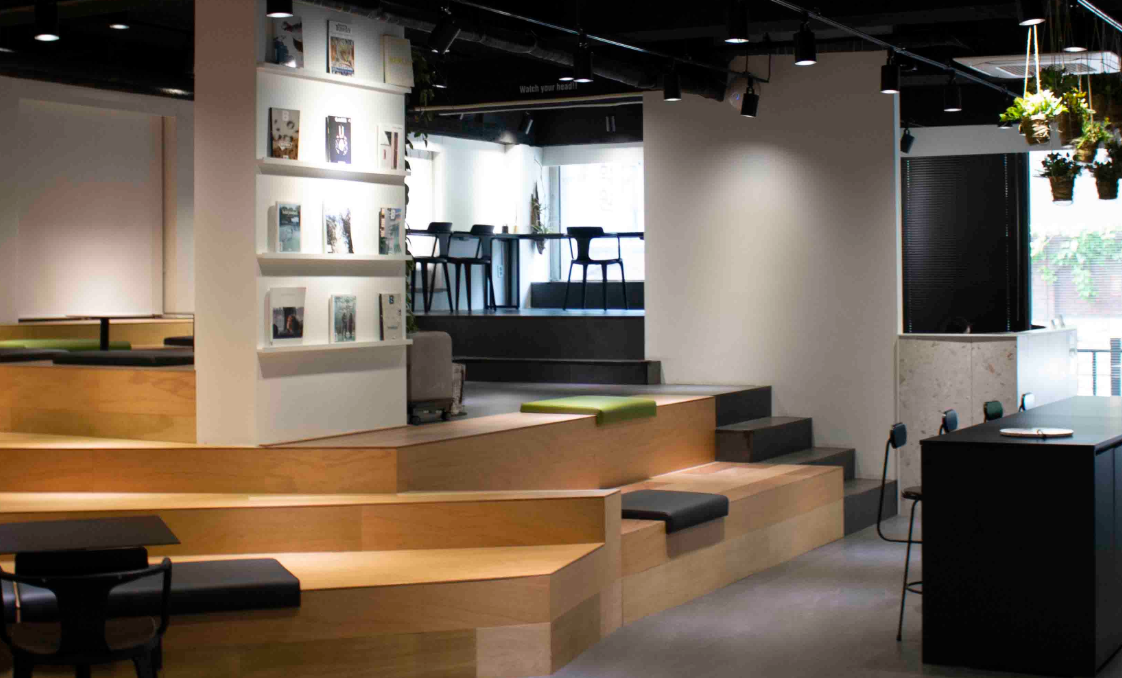 GARAGE is a coworking space in Seoul that is optimized for startups and freelancers. For those that are looking to save money, this coworking space is for you. They offer everything from individual office space to hot desks and even an online workspace.  The prices start at just 300,000 won a month. You can also rent the entire lounge. The lounge can accommodate up to 25 people at a time. Reservations are always open to anybody who wants to use their high-quality space and services freely.
Address:
1) Seonjeongneung Branch(main office): Seoul, Gangnam-gu, Seolleung-ro 578, 7F
2) National University of Education Branch: Seoul, Seocho-gu, Seochojungang-ro 18-gil 31, 1-4F
3) Gangnam Branch: Seoul, Gangnam-gu, Teheran-ro 128, 2-3F
Google for Startups Campus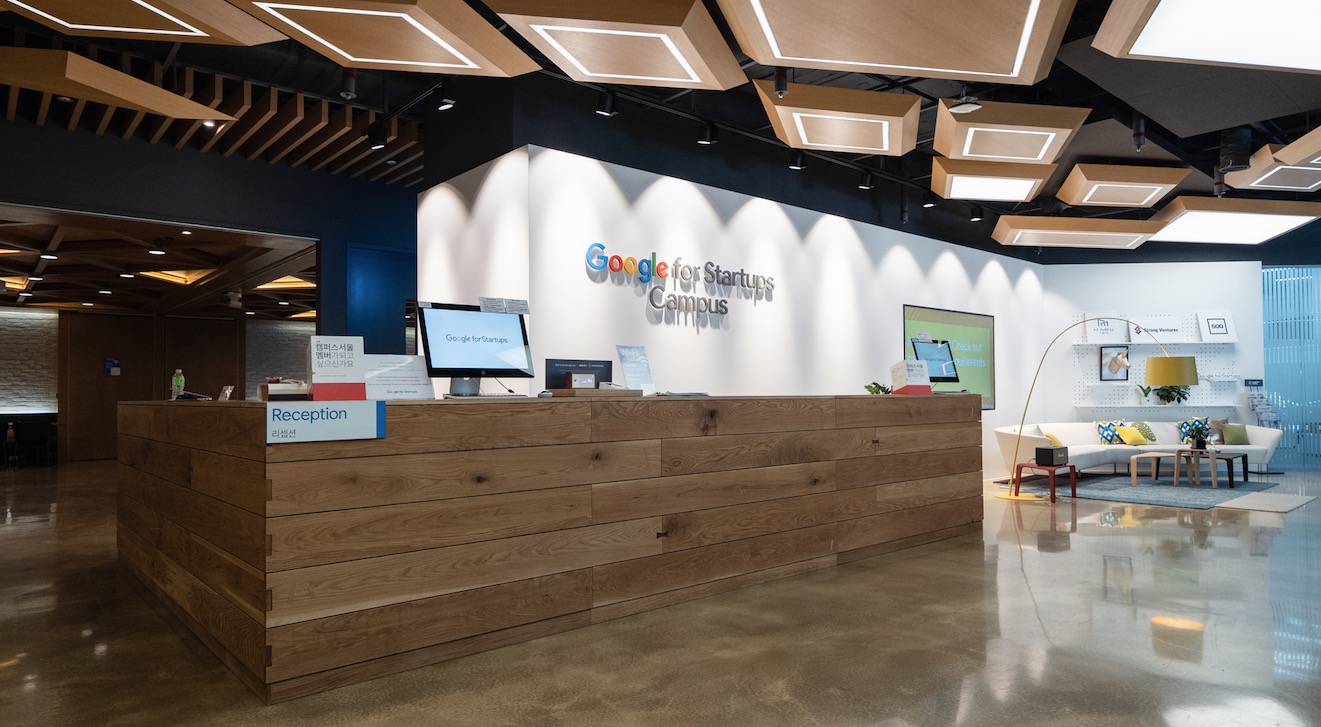 Google for Startups Campuses is Google spaces that offer the elements necessary for entrepreneurs to learn, connect, and build companies that will change the world. Currently, Google for Startups operates six Campus spaces around the world, in Seoul, London, Madrid, São Paulo, Tel Aviv, and Warsaw, leveraging the best of Google's global network to provide a wide range of mentoring programs that help startup communities grow and expand globally. They allow their members to use the event hall space for free as long as it helps Korean startups. The staff is very helpful and will guide you on what you need to hold an event there. 
Address:417, Yeongdong-daero, Gangnam-gu, Seoul, Republic of Korea (Autoway Tower, 오토웨이타워)
hapoom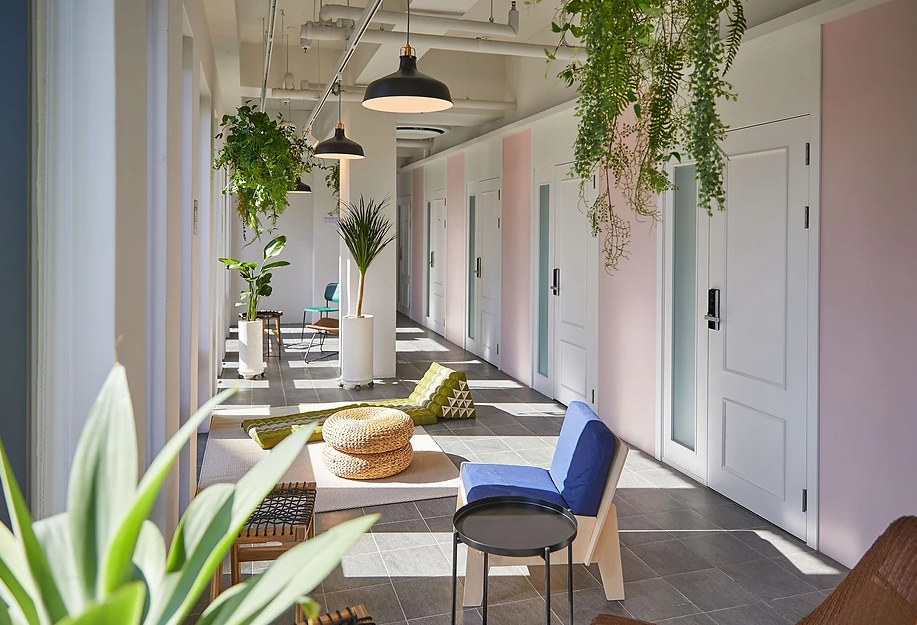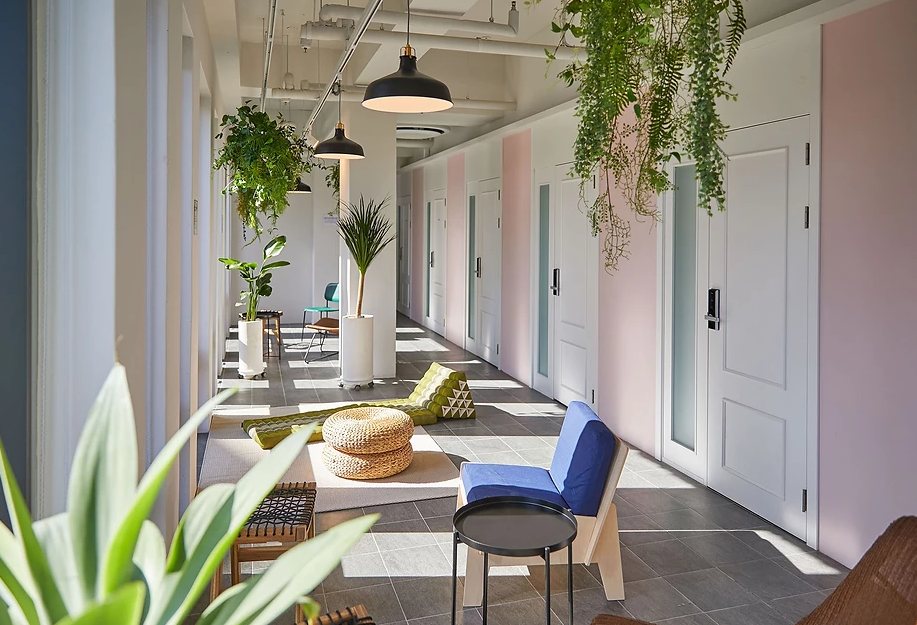 Those interested in a premium co-living and co-working space in Korea, look no further than hapoom. It is a specialized studio for entrepreneurs and professionals. The co-living/co-working space offers plenty of sunlight, a spacious 24-hour cafe, a new kitchen, a garden, and best of all it is dog friendly! The crew at hapoom chooses the members selectively. They carefully select each and every member through an interview to create the ideal community. In addition, they organize fun events and gatherings throughout the year to build their community.
Address: Teheran-ro 5-gil 51-13
Phone: 010-3125-5697
HEYGROUND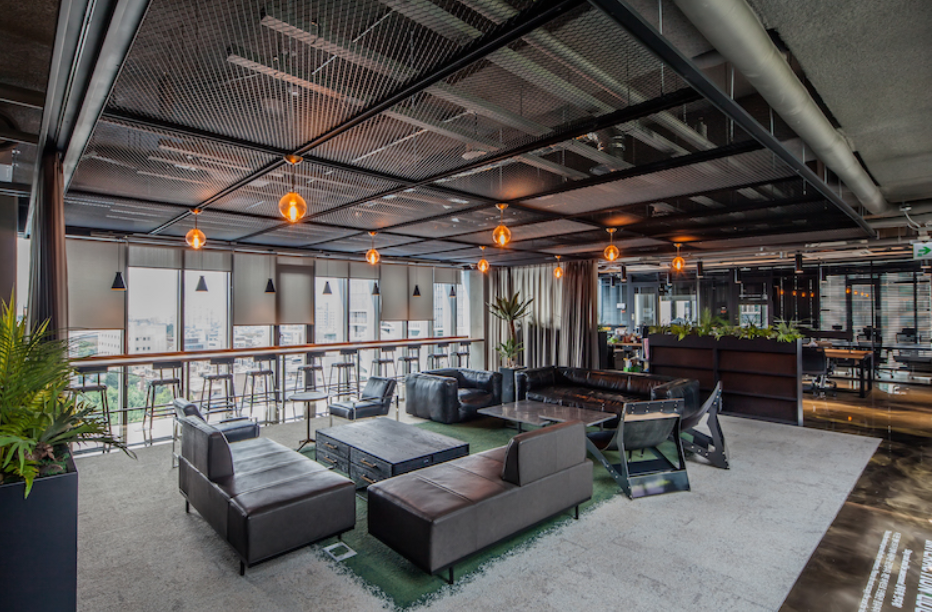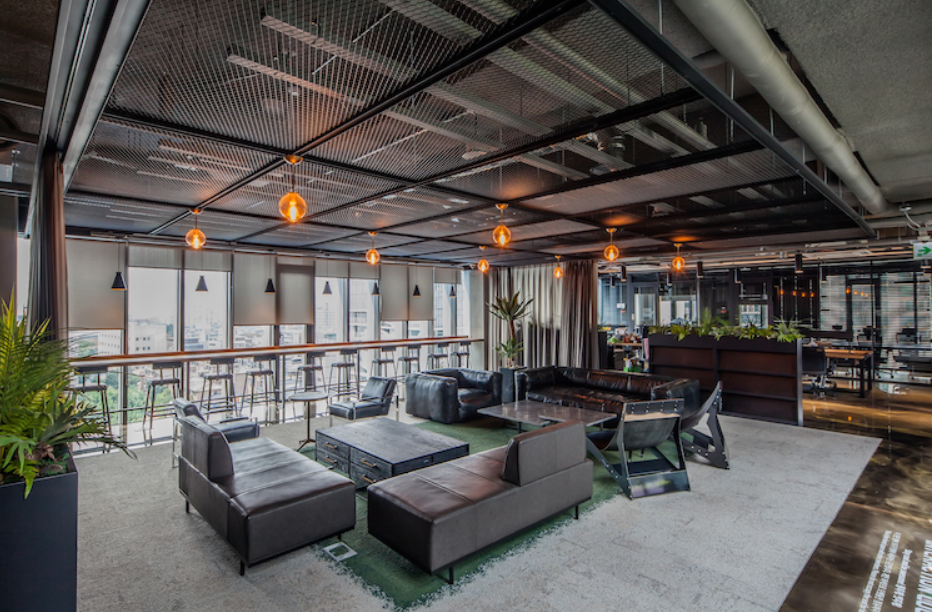 HEYGROUND which opened in June 2017 is an 8-story building for 550 social innovators, NGO/ non-profits, social ventures, and freelancers that want to join a community of Changemakers in Seoul. Supporting Changemakers' work, life, and learning opportunities since 2012, Root Impact designed, developed, and is managing the space. Therefore, not only is HEYGROUND a great coworking space but it gives the members a sense that they belong in a "change-making community".
The coworking space offers free legal services, financial consulting, patent advice, and a network of global partners to help members' sustainable growth. The private offices are from the 2nd floor to the 5th floor and start at 360,000 won a month per person while the dedicated desks start at 240,000 won. In addition, there is a coffee shop on the first floor as well as a restaurant that offers a variety of dishes. Furthermore, their roof layout is amazing and can accommodate up to 200 people for events that start at 150,000 won per hour.
The only negative is that it is located away from the Gangnam district and above the Han River. However, if you don't mind the commute, Heyground is well worth checking out.
" We will expand our social venture ecosystem…to find and cultivate young Changemakers to make a better world," said the CEO of Root Impact, Jaehyong Heo.
Address:  Seoul, Seongdong-gu, 22-8
Hive Arena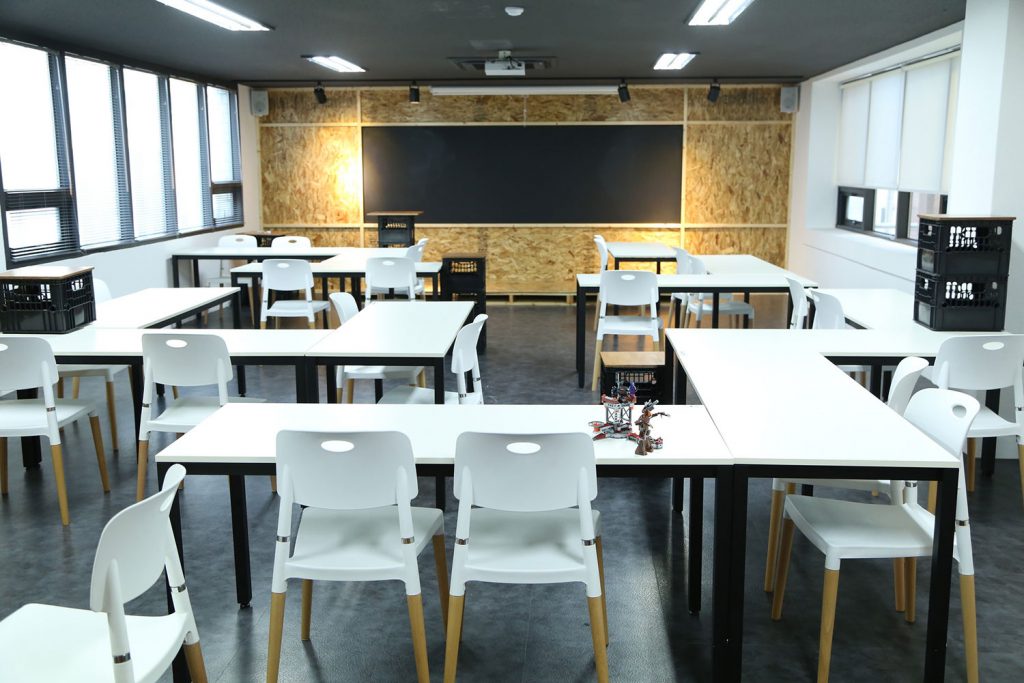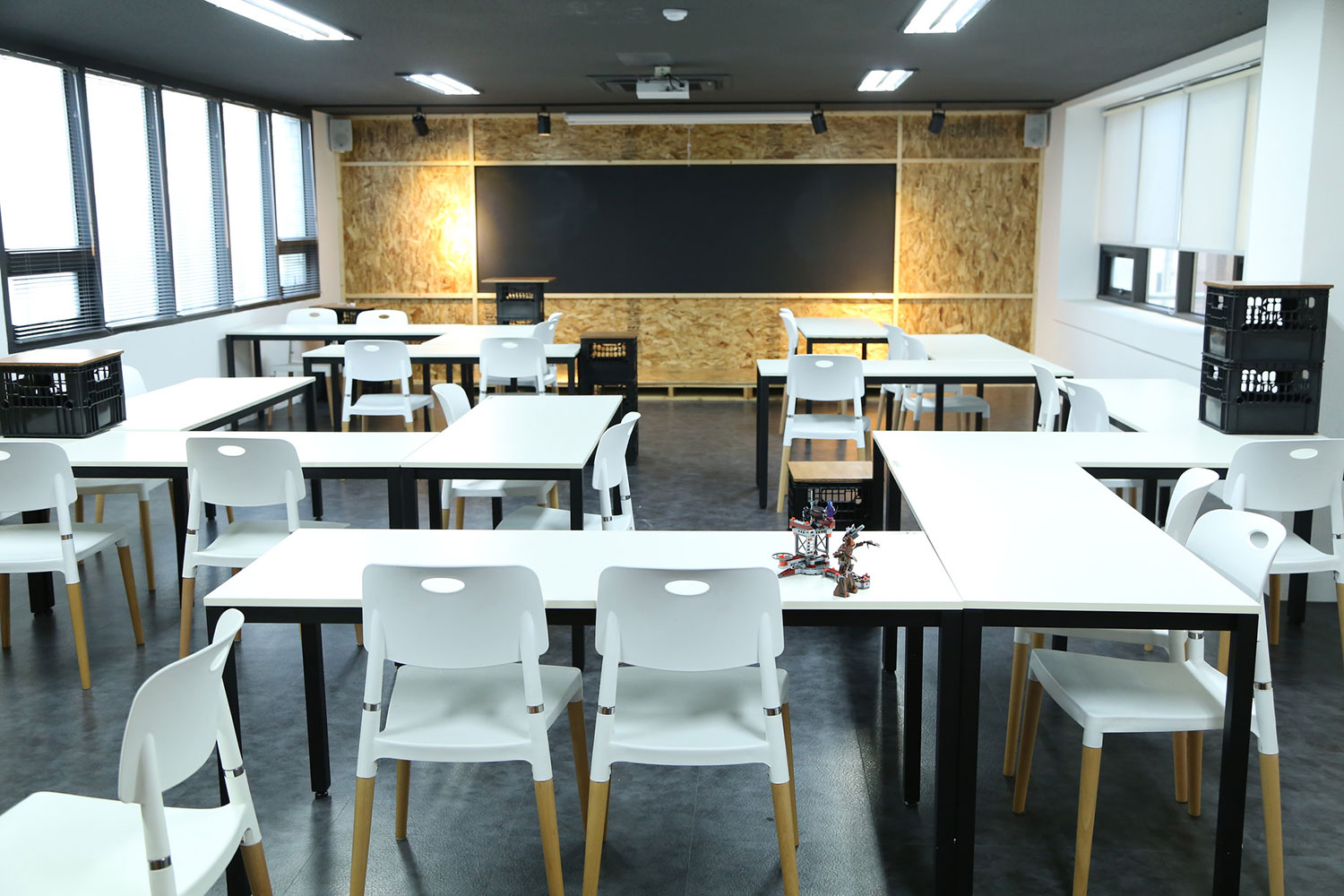 Hive Area is located in Gangnam. It is not big but they have a very strong and tight community. In addition, they have the latest technologies for entrepreneurs to use such as 3D printers. They also offer free beverages, coffee makers, and a small library area. The building to be a study area and a library. Therefore, this is a great place to connect with the Korean startup community and learn more about the Korean startup ecosystem. Especially if you are a foreigner because it is one of the most English-friendly of co-working spaces in Seoul, you'll find digital natives from the United States, England, France, Russia, Sweden, Singapore, and France, just to name a few.
Daily passes are $10 but we would recommend going for the monthly pass which costs only $150.
Address:  Seoul, Yeongdeungpo-gu, 신길동 453-3
Idea Factory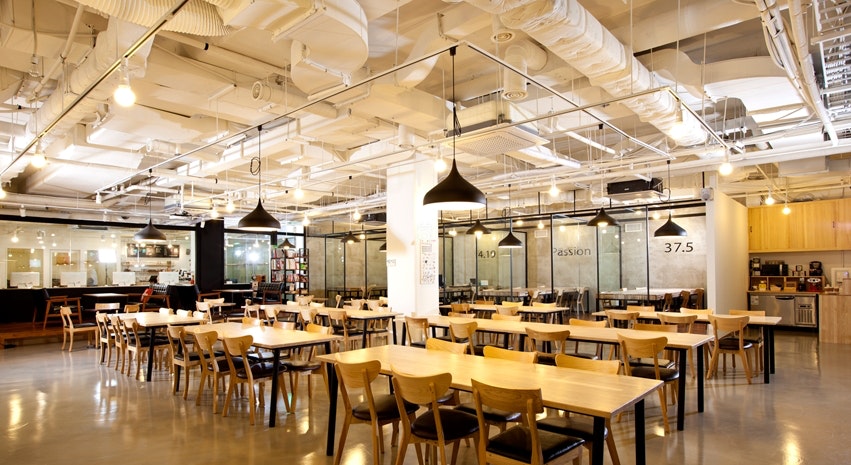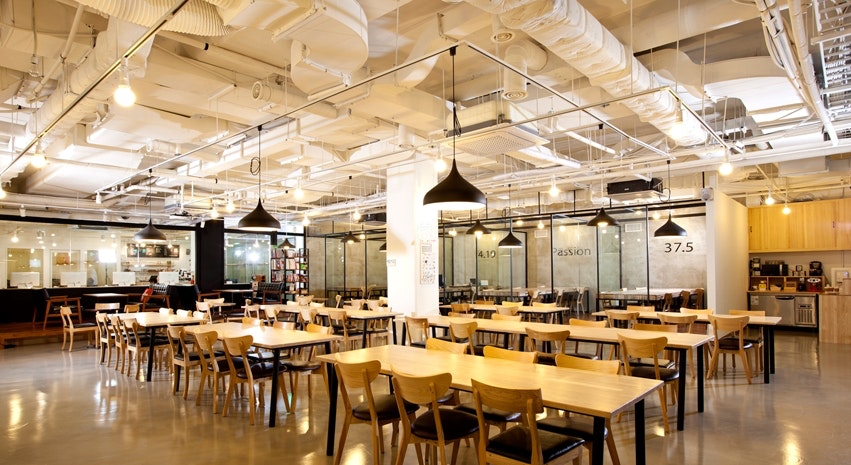 Idea Factory is a coworking space that is open 24 hours to help young artists and designers from ideation to prototyping. They mentor students to help them start their dream. Idea Factory is being supported by the Ministry of Trade, Industry and Energy, Korea Institute for the Advancement of Technology, Culture Foundation, and Haedong Science. It is used as not only a coworking space but also as a place to exchange cultures with foreign countries, hold performances, and display cultural artworks that can be bought by the public. Therefore Idea Factory is a space where all forms of culture can come together to collaborate. The membership fee is $8 daily which comes with free coffee or juice.
The monthly membership costs $150. If you don't need a company address then Idea Factory is the perfect co-working space. It is located pretty much in the center of Gangnam.
Address:  Seoul, Gangnam-gu, Tehran-ro 4 gil 14 Mirin Tower  별관
Maru 180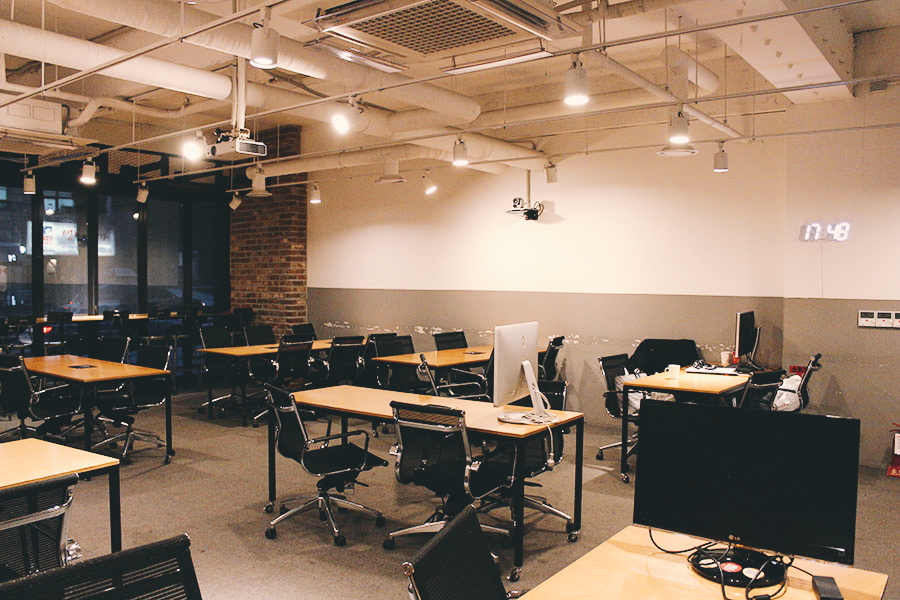 Maru 180 is great for networking. Their basement holds fireside chats and networking meetup events. It is located in Yeoksam. There is also a co-working cafe called MicImpact Studio where entrepreneurs can network with other entrepreneurs, developers, and creators. Maru 180 has 5 floors that are used to run the Asan Nanum Foundation accelerator program. MARU means a large space between two rooms, so MARU looks to be a place to get together and exchange ideas. 180 means they are looking to change the startup scene 180 degrees.
Address:  790-6 Yeoksam 1(il)-dong, Gangnam-gu, Seoul
nonce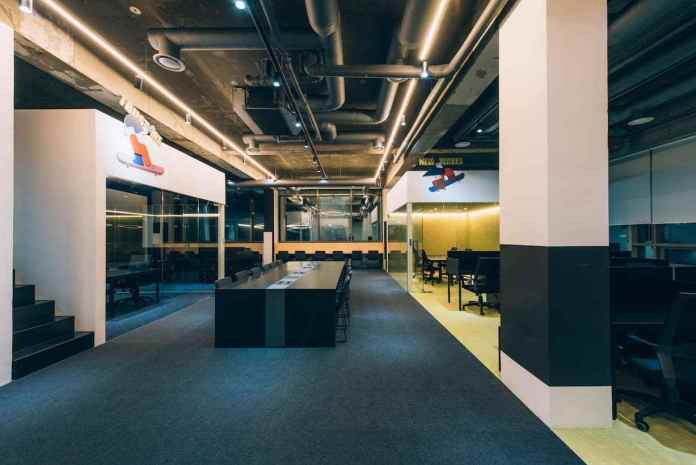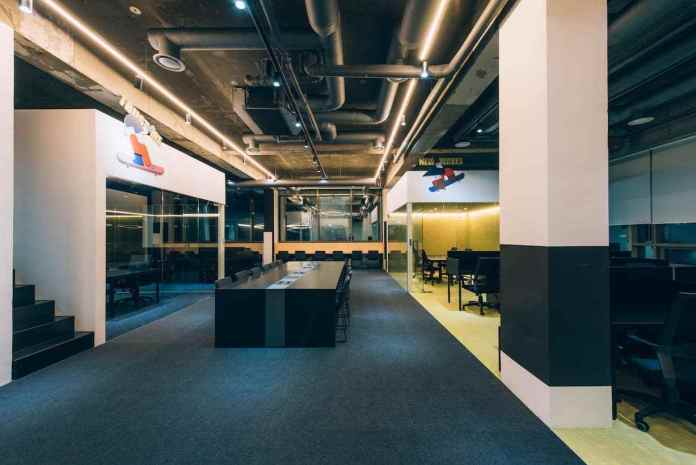 nonce is a blockchain co-living and coworking space in Gangnam. There is an application process and members must first get accepted by nonce. They look for teams that create decentralized products that other members are nonce can leverage. Currently nonce has 55 members and half of them are engineers. Since nonce is a co-living space as well as a coworking space, they have 70 beds, communal kitchens, bathrooms, laundry machines, and refrigerators. Furthermore, every Monday nonce holds VCVA where they study Austrian Economics.
Every Sunday nonce holds Crypto Turtles where they focus on the latest Blockchain trends. They also hold workshops for high school students interested in coding. The location is a bit of an uphill walk from Gangnam Station, but they have the best collection of Blockchain enthusiasts in Seoul.
"We wanted to collect as many crazy crypto people as possible. We just wanted a lot of people who are crazy enough to do this thing full time, part-time, half-time, whatever. And we're just collecting them, curating them one by one," said the Co-Founder of nonce, Jon Ha.
A single room can cost between 750,000 ~ 990,000 won / month (tax not included). A 2/3 person room can is around 790,000 won/month and finally a 4-9 person room can range from 390,000 won a month to 490,000 won. A hot desk is 350,000 won a month.
Address:  Seoul, Gangnam-gu Bongeunsa Ro 22 gil 45-9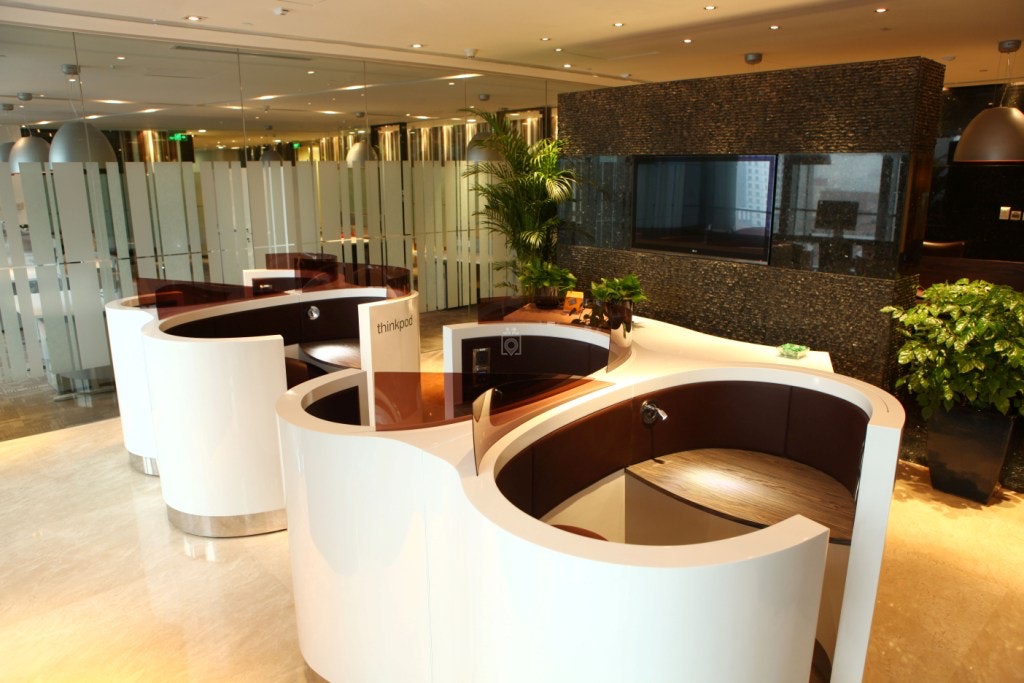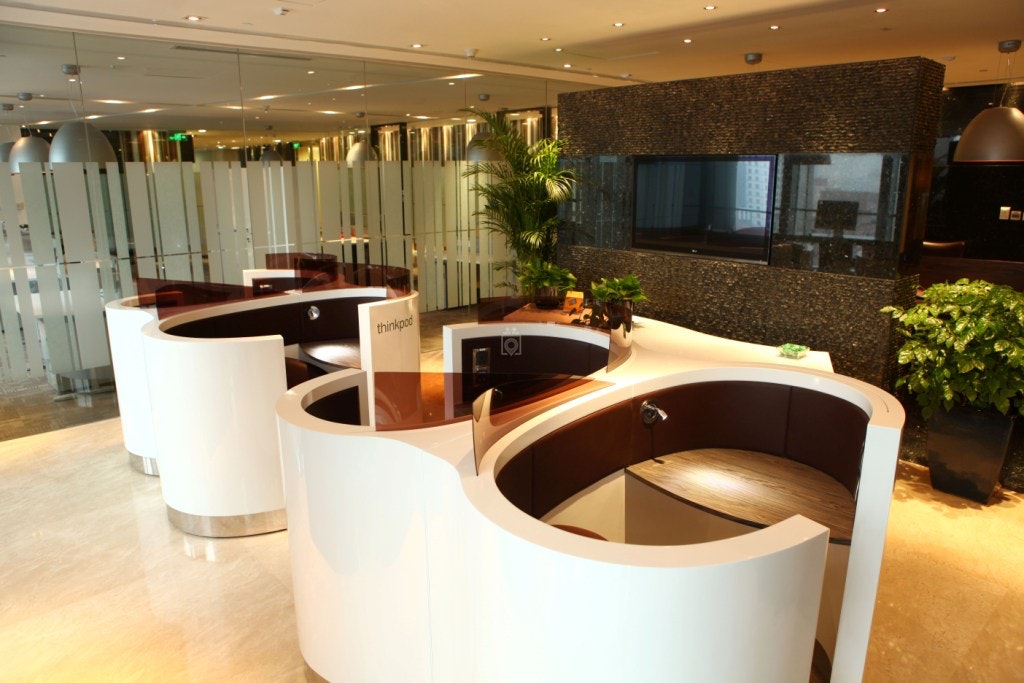 Regus is a global co-working company that has over 3,000 locations in 120 countries. They have 12 locations in Korea. Once you are a member of Regus, you are free to use all 3,000 locations for free. They offer private offices, co-working, lounges, meeting rooms, and the best of all virtual offices. Furthermore, for those that do not need an actual space and get the benefit of a virtual office with Regus. Virtual Offices can range from $150-$200 a month. Some of the locations of Regus in Korea are Seoul Station, Gongdeok Station Centre, Gangnam Station Center, Gangnam Posco Tower, and Seoul World Trade Center just to name a few. In addition, you can even pay per day to use their space. The average daily price is around $10-15.
Phone:  080-355-1000
SPACES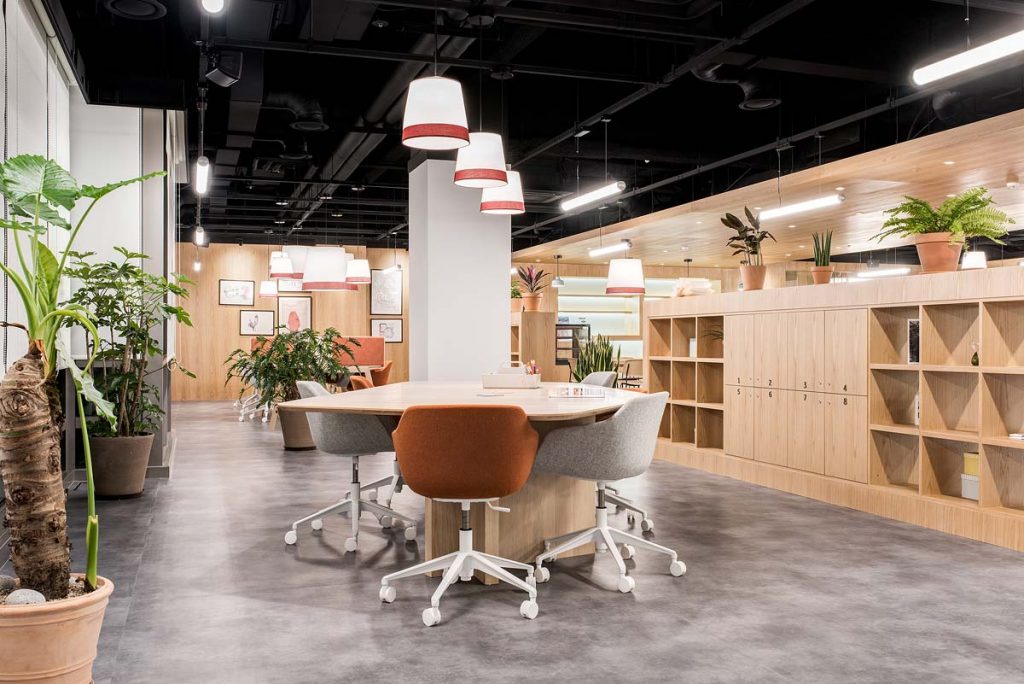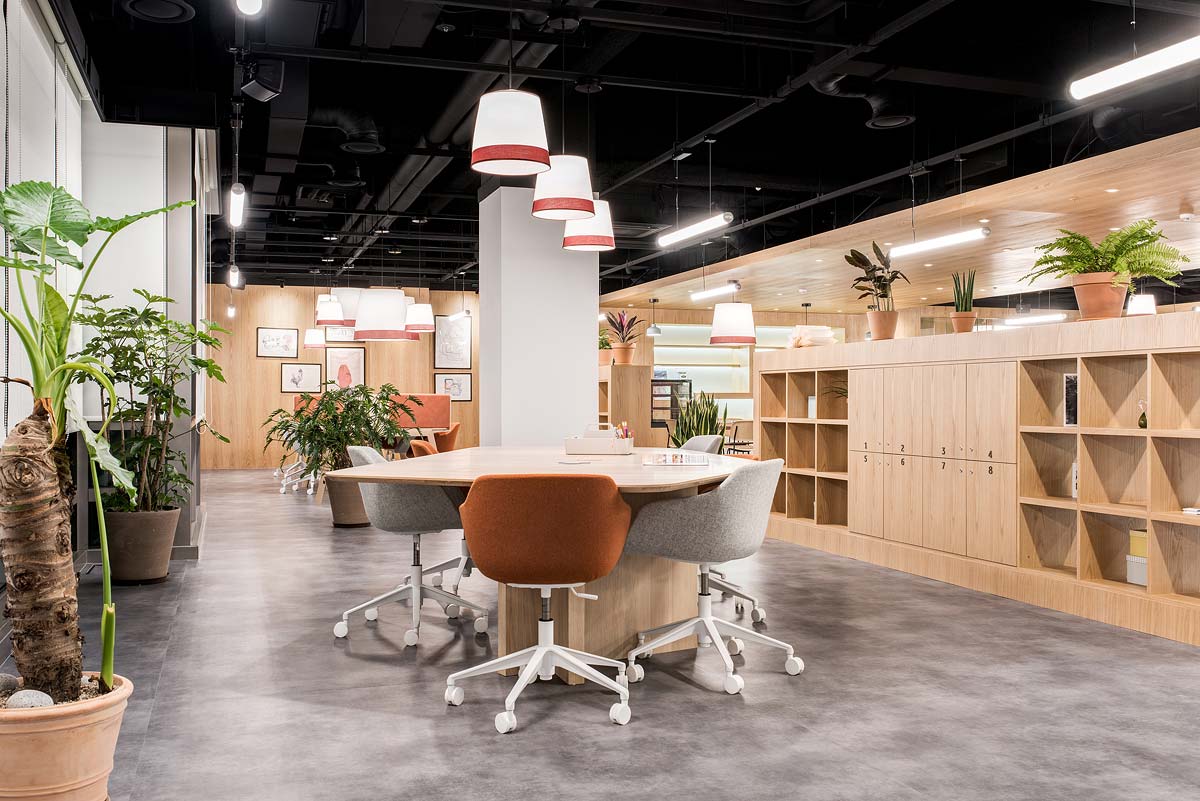 SPACES is located on the 7th floor of the 24-story Gran Seoul Tower. The coworking space is located near Gwanghwamun and is near Jonggak Subway Station. The Gran Seoul Tower also has a world-class hotel, department store, major Korean companies, financial enterprises, government offices, and banks. Therefore Spaces Gran Seoul is a great place for not just startups but any size enterprise that wants to establish a business in the heart of Seoul. In addition, there are a lot of options for startups looking to work out of Spaces.
Business Club Workspace membership starts from 297,000 won a month.
Coworking Membership starts from 410,000 won a month.
Dedicated Desk starts from 526,000 won a month.
Office Space starts from 602,000 won a month
Address:  7F, Tower 1 Gran Seoul 33, Jong-ro, Jongno-gu, Seoul
SPARKPLUS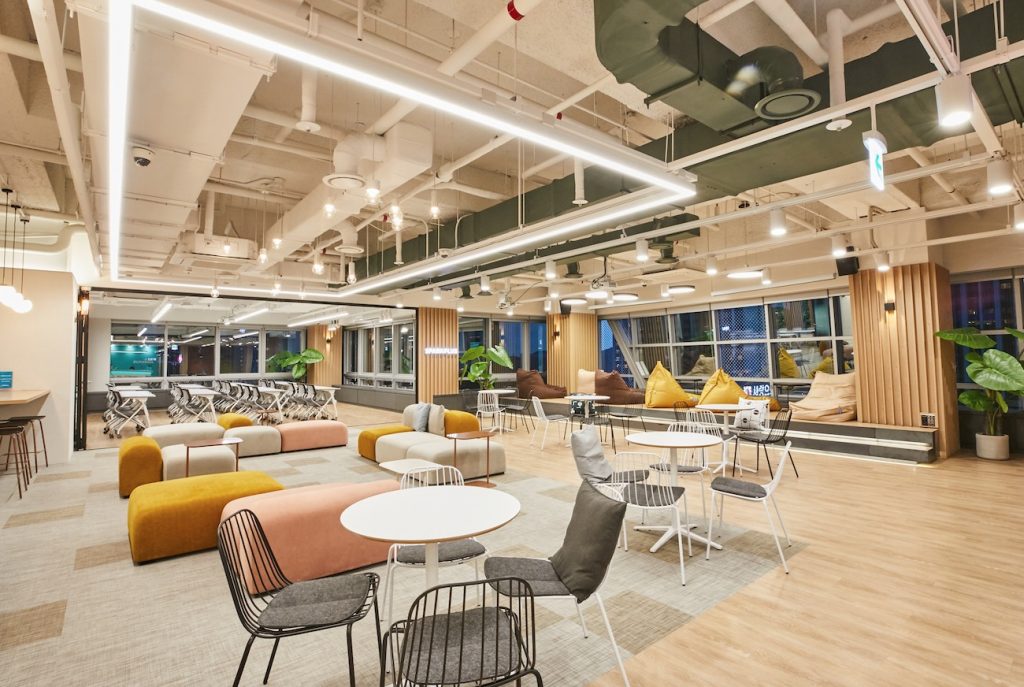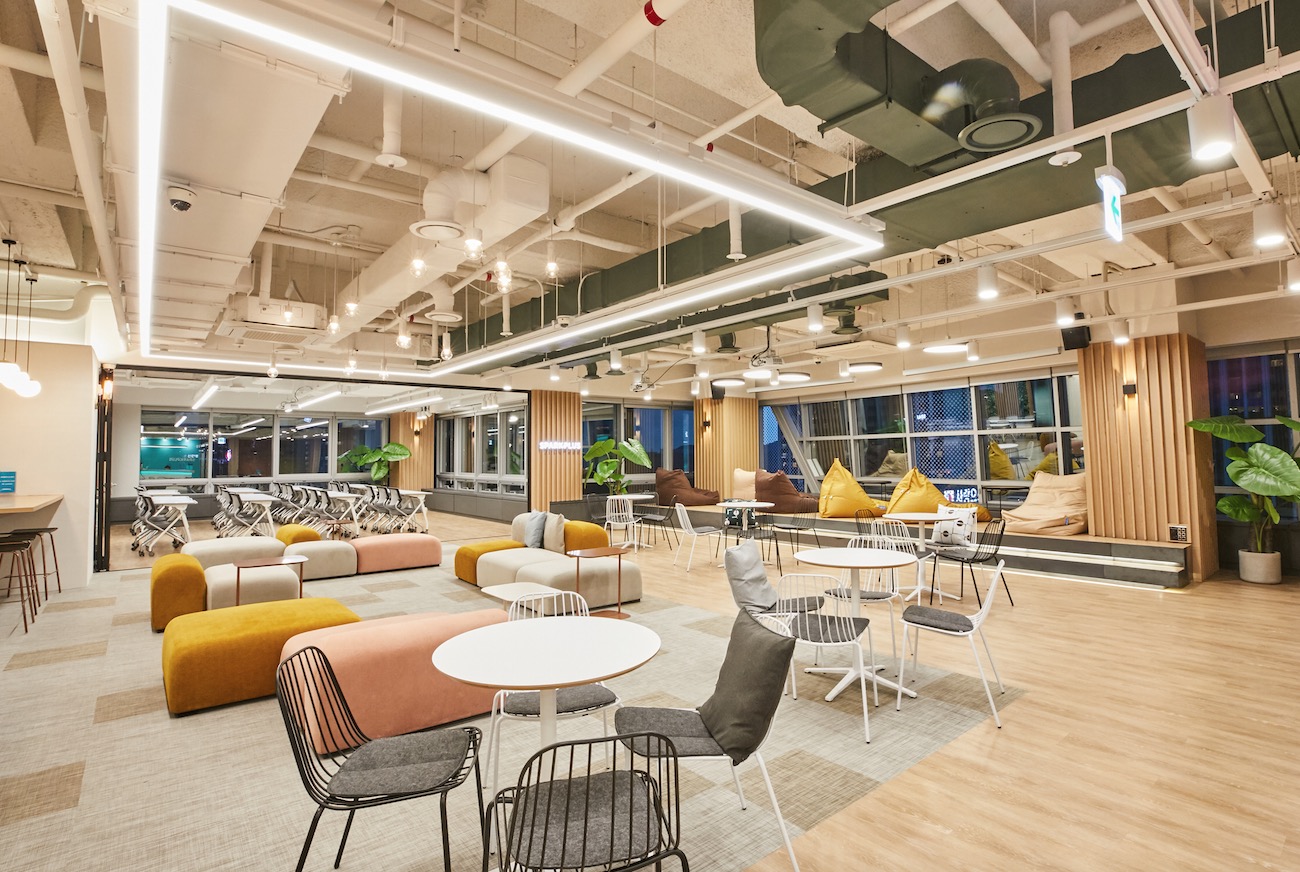 SPARKPLUS is all around Seoul, they have locations in Gangnam, Yeoksam, Samseong, Euljiro, Seolleung, Seoul Station, and City-Hall. They focus on essential working space, customer-centric service, and a grow-up community. That's why all their managers put in the effort to make their members satisfied. They have open spaces for networking and collaboration at every branch. Furthermore, the coworking space is filled with many sizes from startups to major companies. SPARKPLUS has a network of global VCs that can give connections and advice to startups. In addition, they offer morning food, coffee, wi-fi, education programs, and consulting.
Address:  Yeoksam/ 2&17F, 201, Teheran-ro, Gangnam-gu Seoul
Station Neo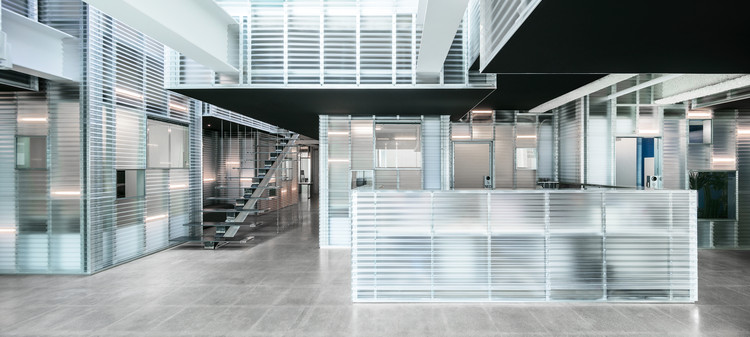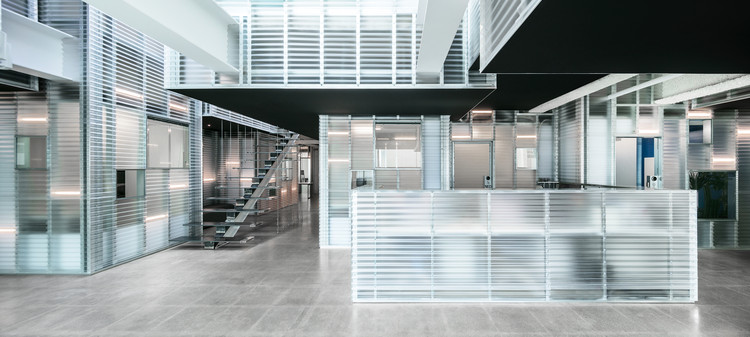 Station Neo is a coworking space located near Seong-su Station which is on green line #2. The coworking space was designed so that it had a lot of small compartments rather than a large open space. There is one communication hall surrounded by overlapping small office spaces. Therefore Station Neo does a great job of using as much space as possible. The coworking space has a very tech/industrial feel. The walls are made out of polycarbonate panels and parts of the ceiling are made of glass to allow natural light to stream in. They hold meetups every month and it is definitely a space worth checking out. Furthermore, they also have a great rooftop area to take a break from indoor work life.
Similar to Heyground, Station Neo is away from the Gangnam District and is above the Han River. If you don't mind the location, this might be the co-working space for you.
Address: Seoul, Seongsu Ilro 8 Road 59, Peace Building B, 7th Floor
WeWork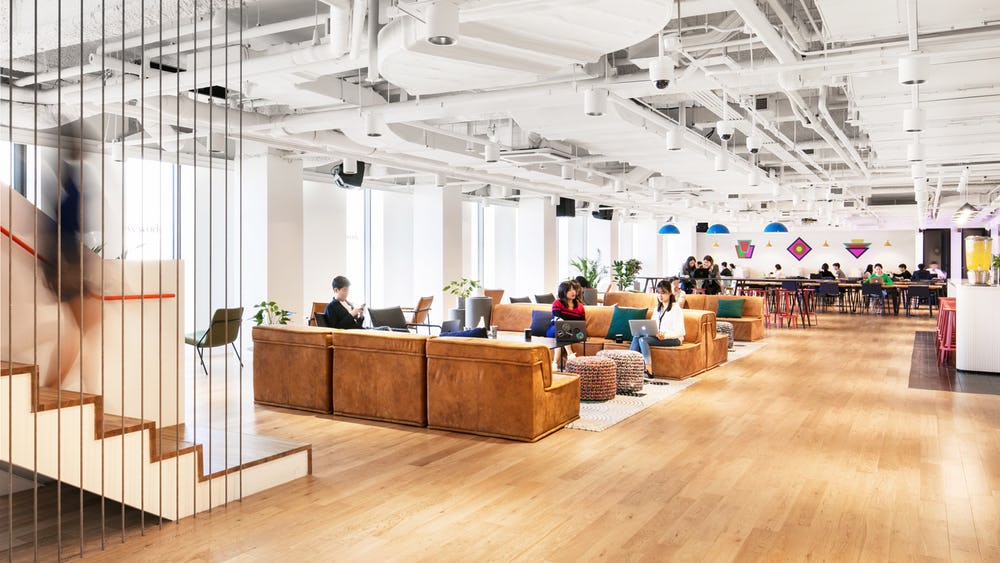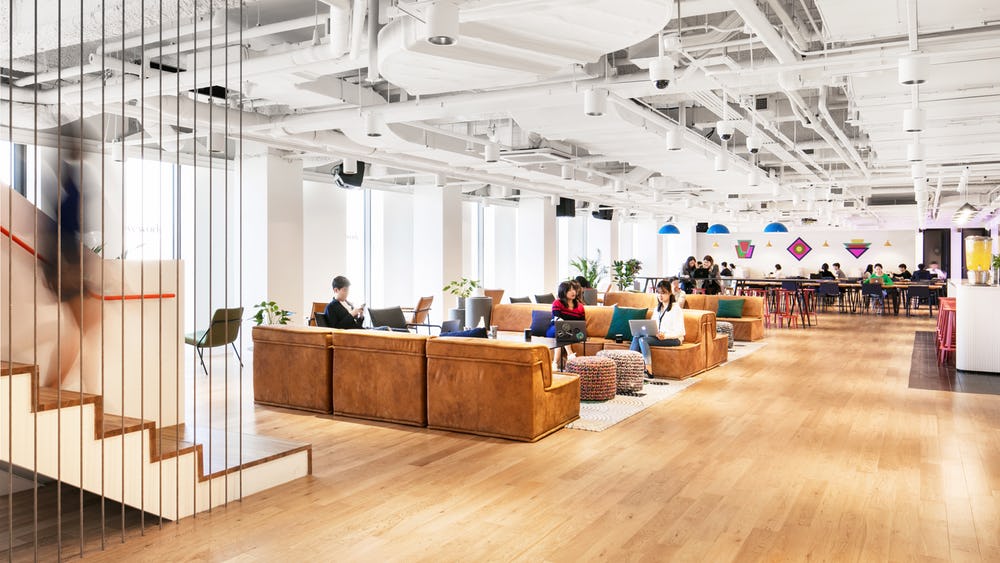 WeWork is all around Korea. In April of 2020, WeWork opened its 20th location in South Korea (18 in Seoul/2 in Busan). They take in industries of many sizes from startups to multi-national companies. There are workshops and panel discussions from innovative leaders in Korea. In addition, they offer cleaning services, high-speed internet, onsite staff, living-room-style lounges, printing, office supplies, soundproof phone booths, conference rooms, and free coffee! However, the one drawback is that WeWork is a bit pricy.
The full price list can be found on their site, however, you are paying a lot for the brand and the community they have. If you decide to join WeWork make sure you take full advantage of their community events and networking sessions.
"We have strong belief in Korea as we see the growing demand for flexible and value-added workspace options, particularly witnessed by the steep demand of large enterprises' need for our  unmatched custom buildout service," said Patricia Chun, General Manager at WeWork Korea.
Workflex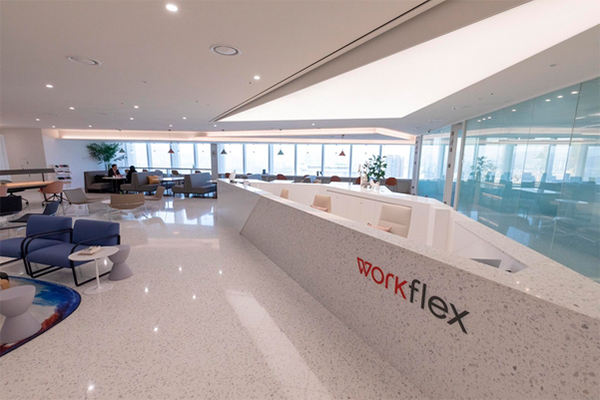 Workflex is a coworking space in Seoul located inside Lotte World Tower. It is located on the 30th floor of the 123-story Lotte Tower and is one of the higher-class coworking spaces in Seoul. Members will have a great view of Seoul, access to meeting rooms, discounts at movie theaters, food courts, and marts that are operated by Lotte Group affiliates. Furthermore, the coworking space has 565 seats available and WeFlex will look to open up a total of 30 coworking spaces in Seoul by 2020. This could be a better option for those that want to be away from the Gangnam district but not too far away. The commute from Jamsil to Gangnam is less than 10 minutes by Taxi.
Address:  300 Olympic-ro, Jamsil 6(yuk)-dong, Songpa-gu, Seoul 30th floor.  
Conclusion
Coworking spaces are no longer thriving due to COVID-19. However, there is a strong chance for a great comeback in 2022 because Korean startups had more success there than being on their own. This is mainly due to collaboration. Therefore, Korean startups can not only network and partner with other Korean startups but also with global startups looking to enter the Korean market. Startups are sharing their different skills. Furthermore, this forms a strong community that helps one another. Therefore it feels more like being with friends rather than work because coworking spaces bring a lot of freedom. Hopefully, the lessons that can be had from coworking spaces will sneak into Korean corporate companies.
---
John is the Co-Founder of Seoulz. He has covered the Korean startup & tech scene for over eight years and has written over 700 articles regarding the Korean startup ecosystem. He has brought global attention to Korea's tech scene using Google SEO. Email him at john@seoulz.com
All author posts