3D rendering is the latest trend in marketing for businesses big and small. Any brand that is looking to sell its products online sees 3D rendering as a window to the virtual world of 3D. There are many 3D rendering companies that specialize in 3D visualization. They are in high demand because clients these days want to see ideas in a complete picture. The good news is that the 3D rendering and visualization process is getting more and more affordable as technology continues to advance.
What is 3D Rendering and Why Companies Need it?
Everyone knows about the process of editing 2D photos. Companies at least have one member that is proficient at Photoshop. 3D rendering is the process of turning a 2D image into a 3D model to be used online. The ultimate goal is to make the objects as realistic as possible. Almost indistinguishable from the real thing. This is why so many companies are falling in love with 3D rendering. Once you have the image you can use it how you like without having to physically go out and reshoot.
While it is mostly used in architecture however brands that sell products online are also using 3D rendering to sell their products. Companies end up saving time and expense while showcasing their products in print or via a website. Companies no longer have to hire expensive photoshoots. Brands can now use 3D Rendering companies to create CGI (computer-generated images) of their products which can be more stunning than those taken by professional photographers.
Therefore, we have located 10 of the best 3D Rendering companies out there from across the world. The factors we considered were customer service, services, team, and most importantly affordability.
The Best 3D Rendering Companies of 2021
VSLB Inc.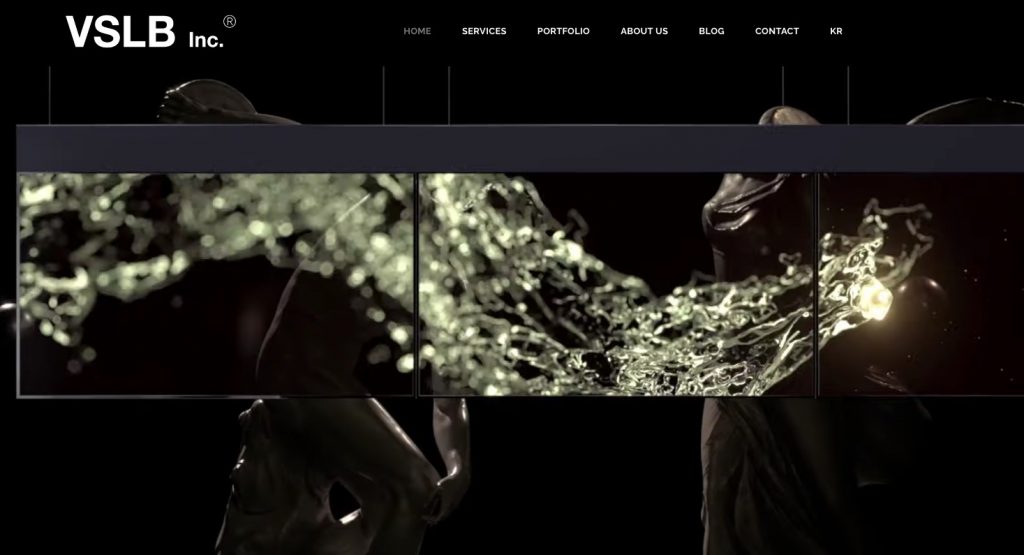 VSLB Inc. is our choice as the best 3D rendering company in Asia. They are digital image makers for brands that specialize in 3D product rendering, motion graphics, customized digital avatars, and branding. Their target clients are luxury brands and DUTY-FREE brands who want to stay relevant in the era of digital marketing. VSLB Inc. offers end-to-end solutions from brand materials and packaging design to advertising your product with 3D images and motion graphics. They develop designs around their client's unique selling points, target audience, and branding.
Luxury Brands that are looking to create digital assets for websites, social media, and e-commerce platforms need to incorporate designed motion graphic videos into their advertising campaigns. VSLB Inc. also offers 360° VR solutions for VR glasses and websites as well as branding (package design, logo design, branding materials, and brochures). Therefore, get your free quote from VSLB Inc. and speak with their CEO for a free consultation.
Best 3D Design Content for Luxury Brands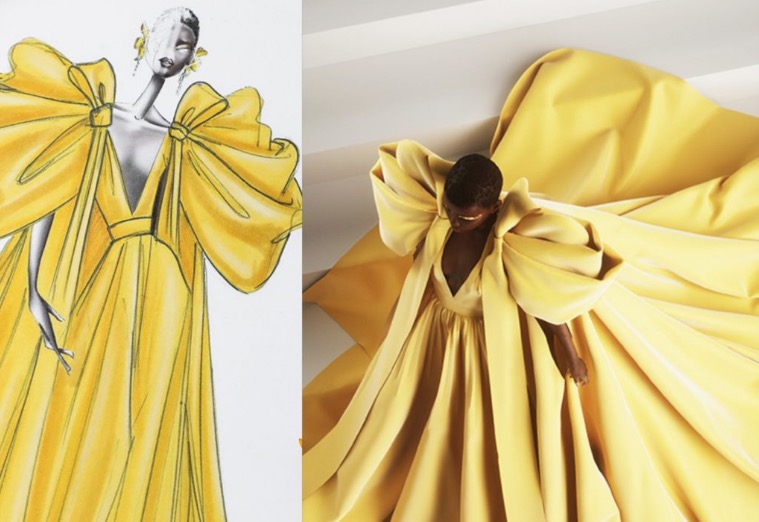 VSLB partnered with British fashion house Ralph & Russo to create an avatar to present its new collection for Paris Couture Week which was held online. The result is amazing and shows the possibilities of merging the digital world with the fashion world. Projects like this showcase VSLB's ability to create creative yet personalized virtual designs.
Vrender
Vrender is based in New York and is mainly focused on high-end residential and commercial rendering projects. They are one of the top 3D rendering companies for architectural rendering, 3D design, and animation. They also specialize in interior visualization and architectural virtual tours. The team specializes in architectural design, 3D animation, and 3D visualization. Therefore, for those looking to design a home whether it is the exterior or interior, Vrender has years of experience with both large and small projects. There is no need to hire expensive architects and designers. In addition, Vrender offers custom-made business plans to generate the right kind of workflow. You can go on their site for a free quote.
Best Architectural 3D Rendering for Real Estate
Vrender is known for its architectural rendering technology for real estate and construction companies. Their services are mainly used for architectural projects, visualization of interiors, the exteriors of buildings, and the visualization of the territory with architectural objects. Their services have provided a positive impact on business relationships between property developers, architects, and their clients. As they are based in New York, they are aware of the latest trends in both residential and industrial architectural rendering.
RealSpace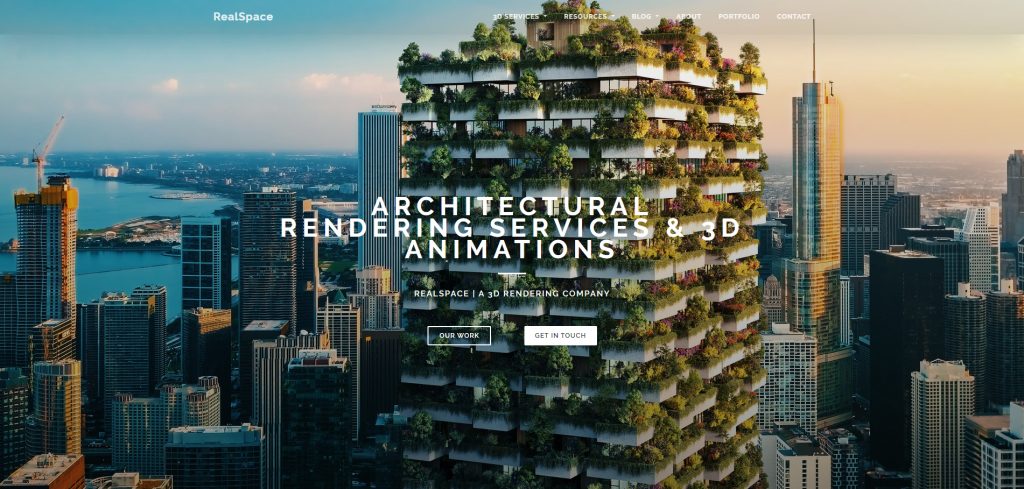 RealSpace is located in Vancouver but has worked with clients from all around the world. They have a strong team of 3D artists who focus on architecture and the creation of computer-generated images and animations. RealSpace is the perfect company to work with for building innovative presentations for clients, boards, investors, and buyers. They have been in business for over 12 years and have worked with Fortune 500 companies to typical homeowners. Besides architectural rendering services, RealSpace also offers Product Rendering and VR services which include a fully immersive 360-degree viewing experience.
Interactive 3D Rendering Pricing Calculator
The company offers a comprehensive guide to explain their 3D rendering pricing which has an interactive pricing calculator. To get the best quote possible remember to have your architectural plans or engineering files when speaking with a representative. Furthermore, they have a quick response time so you should be able to get a quote within a day.
Brick Visual

Brick Visual is a high-end architectural visualization company that is known for its unique and engaging visual styles. The company is based in Budapest and is partnered with renowned international architecture studios from Norway to Australia. Their team is filled with diverse and skillful professionals with strong architectural backgrounds from 8 different countries. In addition, they incorporate classical art and cinematography to create their architectural visualizations. Brick Visuals even have their own developed proprietary software solution to perfect their production pipeline. Therefore, what started out as a design startup, is now a company with over 50 employees. If you have the budget you can't go wrong with Brick Visual.
Brick Visual's Pulze Scene Manager
Brick Visual is known for its R&D and has worked hard to develop new technologies and software designed to further streamline the design process for a more efficient and productive workflow. The Pulze Scene Manager provides a logical interface that makes working with heavy scenes in 3DS Max easy. It is an intuitive time saver for 3D artists and Architects.
DESIGN STUDIO DANDIFY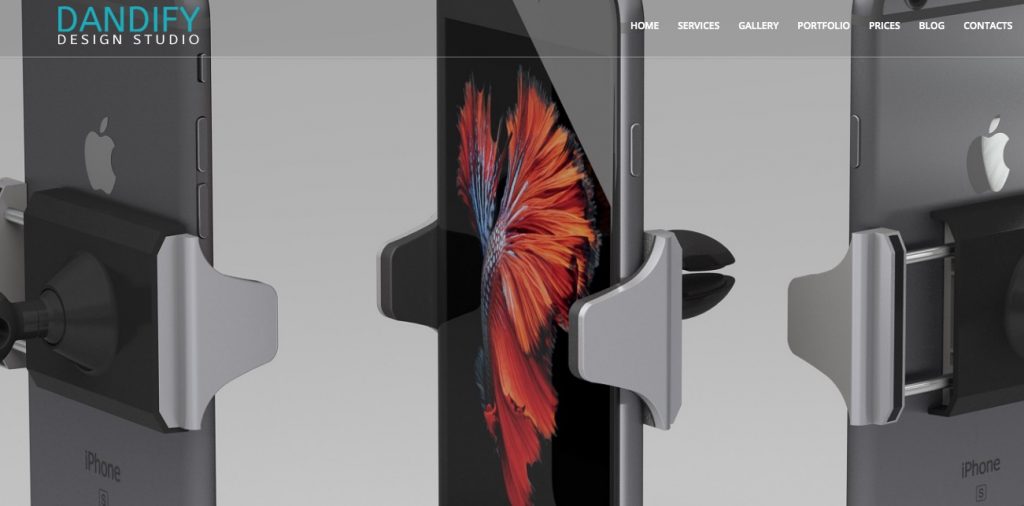 DANDIFY Design studio specializes in product design for presentations, websites, brochures, and advertisements. Those that are looking to advertise their products on e-commerce platforms should look into working with Dandify to create realistic visualizations. Their team focuses on creating realistic visualizations of products for Amazon. Furthermore, some of their clients have done successful fundraising campaigns for Kickstarter and Indiegogo. In addition, they offer product packages and logo designs for companies.
Best Product 3D Rendering for E-Commerce
Soon all e-commerce sites will transition to product rendering. Technology has improved so much that product images now have both high quality and high resolution. Therefore rendering products to 3D have huge advantages over traditional photography. In addition, DANDIFY can consult with you on how to showcase your product for better product representation online. Since they have experience with launching campaigns on crowdfunding sites, feel free to ask for a free consultation on the best way to approach your launch.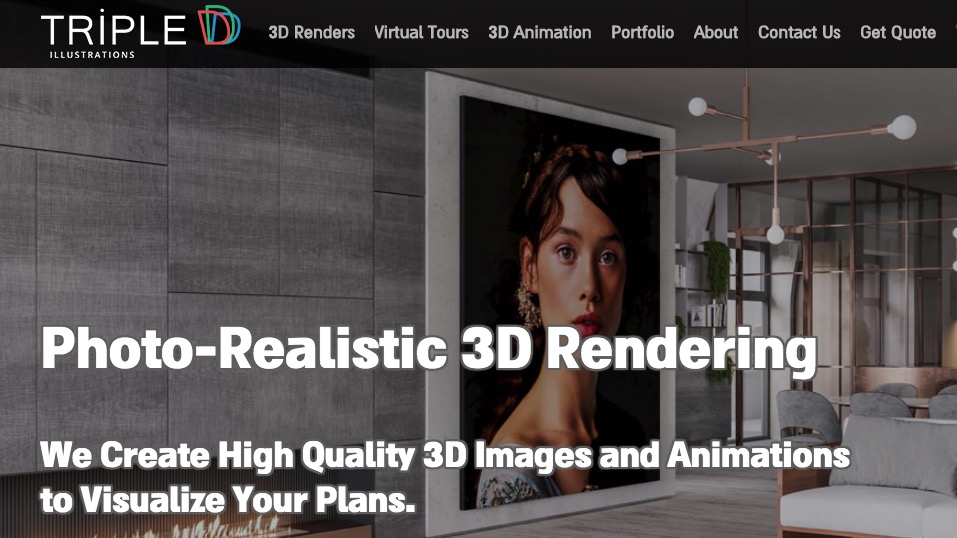 Studio Triple D is one of the top 3D rendering companies for highly detailed 3D floor plans. Their floor plans are complete with furniture to create a detailed floor plan that is great for printing and posting online. Any real estate company looking to gain an edge over their competition should look into working with Triple D. They have a great team of professionals, experienced in various aspects of design, 3D modeling, and rendering. Furthermore, they are constantly updating their technologies to keep up with the latest trends and techniques. Therefore they offer the most up-to-date 3D illustrations and designs. Those in the USA, UK, Israel, or Ukraine should look into hiring Triple D for your 3D Rendering projects.
Best Detailed 3D Rendering Floor Plans
Studio Triple D offers highly detailed 3D floor plans that are complete with furniture and object placements. This creates a highly detailed floor plan that is suitable for printing and posting online. They offer several types of floor plans including Classic 2D and 3D floor plans with virtual tours and a 360-degree panoramic view. They are the go-to 3D rendering coming for real estate agents that want to show their clients a detailed layout without having to physically go to the location.
VizSource
VizSource is based in San Diego, California (USA). They are one of the more established 3D rendering companies in the world. They've completed thousands of projects for over 4,000 clients worldwide. Most of their customers come from the United States and Canada who are in the design/build industry. VizSource offers a 100% money-back guarantee on the accuracy of the rendering. In addition, they also boost a 99% on-time delivery rate. In addition, they offer overnight architectural rendering services and offer a full-color draft of your architectural rendering in less than 24 hours. Their typical project timelines range from 3 days to 5 days.
Best Virtual Reality Tour
VizSource Virtual 360s offers an interactive VR experience that allows clients to see the end product from every angle before it is even built. This is perfect for real estate companies that want to offer their clients a showcase that will help close deals pre-construction. Therefore, potential buyers will be able to see the layout of their residence before it is built!
Go3DViz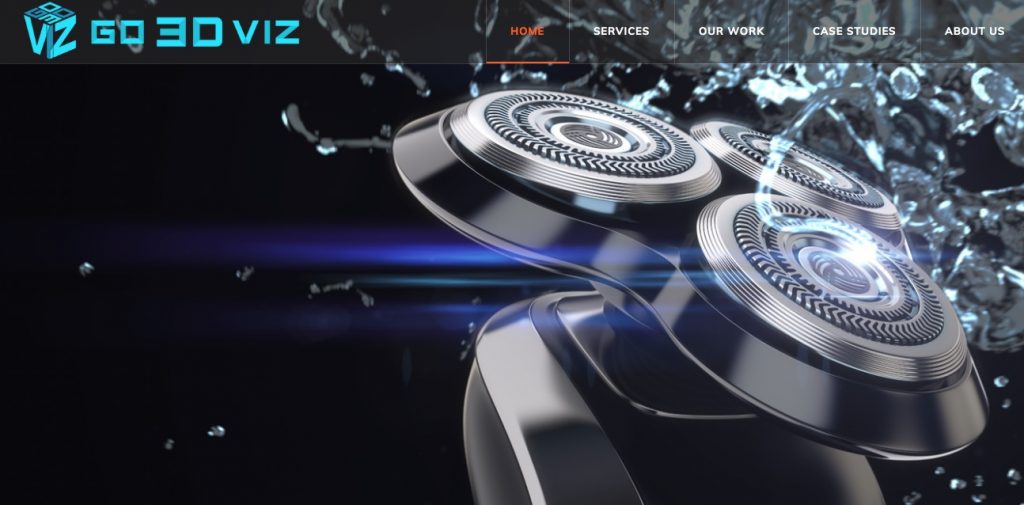 Go3DViz is a product rendering and visualization company that specializes in photo-realistic 3D product renderings for marketing, pre-visualization, and branding. The company works with its clients every step of the way. This starts from the initial point of contact to the final results. The company is known for its high-quality designs, affordable prices, quick turnarounds, and personalized communication. Take advantage of their free consultation to get the best package possible. Therefore, those that are looking to create memorable digital content using 3D graphics and CGI technology should work with Go3DViz.
Best Photo-Realistic 3D Product Rendering
For those that need photo-realistic 3D products, it does get better than Go3DViz. They have rendered products such as beauty supplies, toilets, guitars, golf clubs, sinks, watches, electric razors, you name it, they can do it.
ARCHI CGI

ARCHI CGI is considered the best 3D Rendering company in the UK. They specialize in online architectural visualization and you can find their previous projects on their website. They do a great job of using lighting, color balance, and expressive composition in their CGI. The has a team of designers who realized that architectural visualization was just too expensive. So they started their own company. They promise that they will deliver on time or else it will be entirely free. In order to benefit from their "on-time guarantee", clients must pay upfront, get in touch with your 3D team at least once per 24 hours, provide all comments, revisions, and adjustments within 12 hours. They will deliver your design in 3-5 business days. In addition, ARCHI CGI offers over 40,000 models of all major furniture, lighting, and interior accessories in their library.
Best Interior 3D Rendering Company
ARCHI CGI uses 3D Interior visualization. They use AI-powered 3D rendering and have a large team of experienced and creative 3D artists that specialize in interior design. Make sure to have your plans, sketches, texture samples, style references before the consultation to get an accurate quotation.
XR3D Studios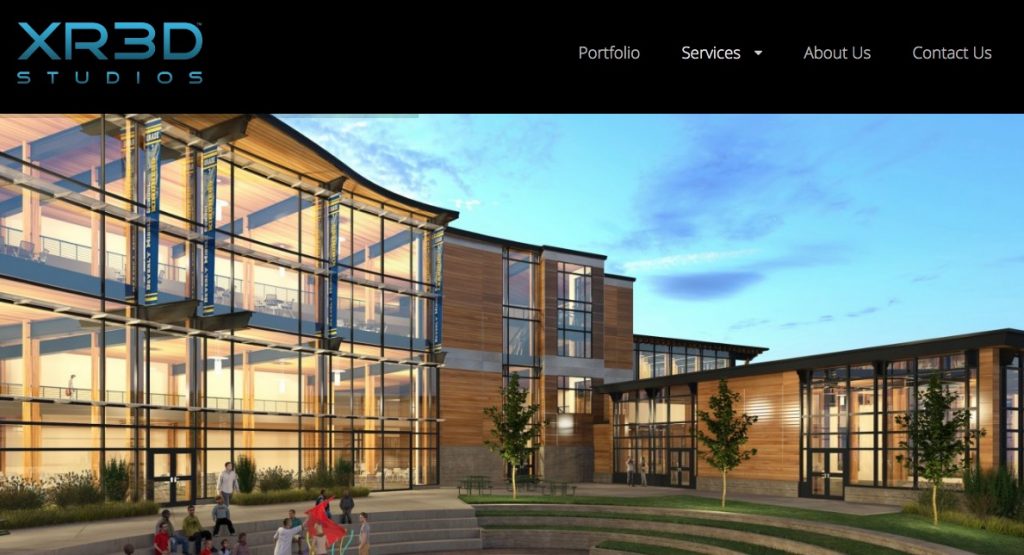 XR3D Studios offers professional 3D architectural renderings and animations for both large and small companies. They work mainly with companies out of the US and Canada and have been doing business for over 15 years. They have already completed over 15,000 renderings to date. Therefore, some of their clients include homebuilders, realtors, architectural firms, interior designers, and commercial real estate developers. They bring new construction and real estate projects to life through their photo-realistic architectural renderings. Furthermore, they offer virtual animation tours which are great for presentations to potential buyers, investors, and planning departments.
Best Architectural Animation
XR3D Studio specializes in producing animated virtual tour videos that showcase any new construction projects. They do this with fully edited sequences professionally timed to music, captions, and additional stock footage. Therefore they are able to offer a complete ready-to-play presentation. The final product is a high-definition video that is playable with most standard media players. Perfect for uploading to YouTube!
---
John is the Co-Founder of Seoulz. He has covered the startup, tech & blockchain scene for over 7 years and has written over 700 articles regarding the Korean startup ecosystem. Using Google SEO, he has brought global attention to Korea's tech scene. Email him at john@seoulz.com
All author posts