Compared to other industries, eCommerce grew steadily despite the ongoing pandemic. It has become increasingly important for consumers during this time. Retailers and brands understand that they cannot count on offline sales and traffic any more. Most consumers shifted to online shopping now. Additionally, they are also aware that customers' expectations are a lot higher than before. Shoppers now demand flexibility, efficiency, and a high level of customer service when it comes to online shopping experiences. 
YESBEE is a E-wholesale solution that digitizes K-beauty and helps retailers solve inefficiencies in their supply chain. Developed by AIO&CO, the platform aims to be a single and simple solution for improving overall eCommerce logistics. It is an all-in-one platform where even small retailers can easily join the eCommerce marketplace by utilizing YESBEE services. The platform guides companies through every stage of the eCommerce supply chain, from sourcing potential brands to logistics. Moreover, YESBEE helps solve difficulties that arise when entering overseas markets such as China, the United States, and Southeast Asia.
YESBEE has a highly experienced team that brings together the right mix of expertise regarding the global e-commerce, retail, and beauty markets. They supply over 200 brands in categories such as cosmetics, household goods, and food through its distribution network in 70 countries worldwide. 
It can get overwhelming for online retailers, especially when they are still small and new, so the YESBEE is an excellent all-around E-Wholesale solution. It provides various online stores that come with an e-commerce component and a logistics solution that handles collection, packing, and delivery. By outsourcing the time-consuming and labor-intensive logistics to YESBEE, retailers can focus more on profitability, sales, and the overall customer experience. While YESBEE is an all-in-one wholesale platform, its own ecosystem offers additional services a retailer needs to succeed globally. 
YESBEE – A Supply Chain Management E-Wholesale Solution 
With YESBEE's SCM solution, companies can access complex eCommerce transactions on one platform. It has an easy-to-use interface and comes with cloud-based services for each process. Traditional trading methods have turned digital in order to make the execution and decision-making process faster and more efficient.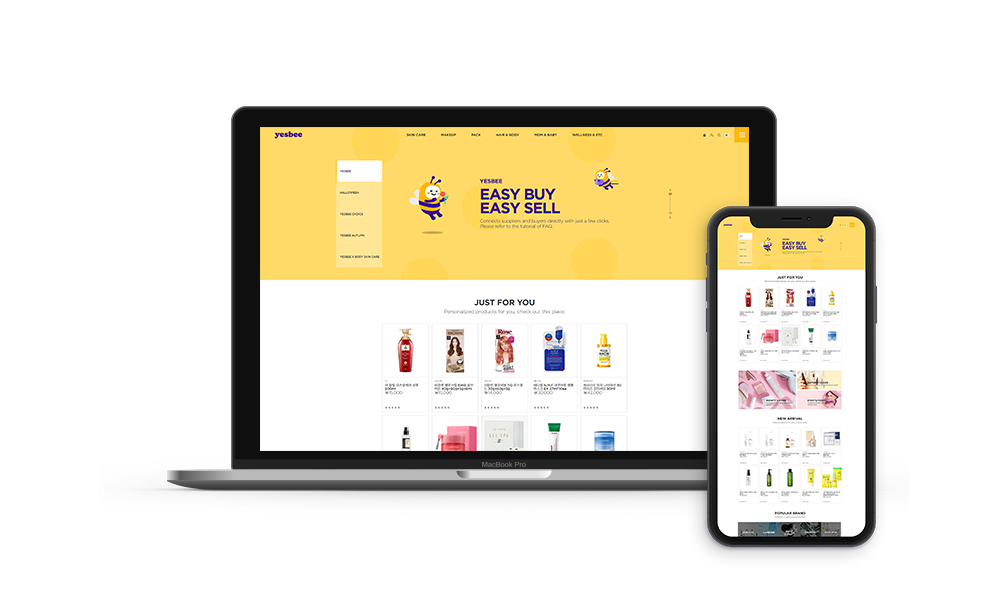 The YESBEE Hive Center – A Global Fulfillment Service 
Additionally to the E-Wholesale Solution, YESBEE has its own global fulfillment center called YESBEE Hive Center. This means that companies and brands can stock their products at the YESBEE Hive Center for drop-shipping. The YESBEE Hive Center allows them to store and manage the products for retailers. At the same time, YESBEE is responsible until the products are delivered to the customer. YESBEE currently has fulfillment centers in South Korea, China, Hong Kong, and the United States. Moving forward, they aim to save time/cost and increase efficiency through advanced center operation software and automation.  
When you combine the Hive Center with YESBEE,companies can shorten the B2B from 30 days to 10 days.
YESBEE PLUS – An Online Incubating Service 
"YESBEE's supply chain management services can provide clients with better plans to reach their desired targets in the global market and reduce the decision-making process. We are on a mission to develop the best platforms and IT solutions to make this happen," – said Jaehoon Jun, CEO of YESBEE Korea Global Marketing Membership Service (YESBEE PLUS)
YESBEE is not only about helping retailers with supply chain management and logistics. They also offer a service called YESBEE PLUS, which is a global marketing membership service. Think of it as your personal consultant that will help with branding, product sourcing, and matching you with the right social media influencer. 
For companies that seek foreign partners but lack the skills for global marketing, YESBEE PLUS offers influencer and social media marketing services. YESBEE PLUS guides retailers through signing contracts with influencers, monitors social media campaigns, and provides an overview of campaign performances. 
Smart Lifestyle Shopping Mall CINDY PICK
YESBEE has been working with many beauty retailers around the world to gain access to K-beauty products. K-beauty has taken over the beauty industry and is becoming popular in Asia and Europe, North America, and more. The demand for K-Beauty products has immensely increased in those regions. To help K-beauty fans source the right products YESBEE has created CINDY PICK. 
CINDY PICK is a recommendation curation mall where consumers can buy K-beauty products and lifestyle, home, and fashion products. CINDY PICK targets mainly "smart shoppers" in their 20-30s who want to buy high-end brands at a low price.
Through these services, YESBEE is looking to change traditional trading methods to a more digital-friendly platform. The company aims to offer a faster, more efficient, and integrated decision-making process. YESBEE's E-Wholesale solutions help companies all around the world optimize their eCommerce operations. For companies looking to find new K-beauty products or brands looking to enter new markets through eCommerce, YESBEE is a great solution to go with. 
Last year, AIO&CO joined the NX NIVEA Accelerator program. NX NIVEA Accelerator is the first global beauty accelerator launched in Korea to scouts startups that want to reshape modern skincare.
---
Sue is the Co-Founder of Seoulz. She is the mind behind all of Seoulz' creative direction and visuals.
All author posts