Virtual worlds are no longer concepts we only see in movies. Over the past few years, virtual technologies have been on the rise. Especially with the ongoing pandemic, creating immersive experiences using virtual technology has become an everyday escape for people. Whether through games, social media, or even work, more and more have adopted virtual technologies into their daily routines. In South Korea alone, the government plans to invest approximately $180 million into VR and AR technologies to support its development and growth. Furthermore, it is predicted to outgrow other media segments globally in the future.
W

h

a

t

i

s

V

i

r

t

u

a

l

T

e

c

h

n

o

l

o

g

y

?
According to studies, on average, we spend 7 hours online per day. We use messenger apps to chat with our families, social media platforms to get updates from friends, and video conferencing platforms to meet with our colleagues and discuss work. 
Most of our interactions happen online, and lockdowns worldwide have accelerated the process of digitization in different areas of our lives. Virtual technology can create environments that allow users to create, transfer, access, modify, or exchange information. 
Social distancing has increased the general acceptance of digital platforms in our daily routines. While platforms like Zoom are the go-to medium for social gatherings now, they still lack some features that get closer to mimicking human-to-human interaction. This has opened opportunities for new platforms to upgrade and enhance the experience of virtual social gatherings.
Gather Town, for example, is a virtual office space that gamifies the virtual working environment. The platform allows users to set up an online space and recreate their offices. Using their maker tool, you can create any world, not just a virtual office space. It has been used for conferences, university spaces, and even weddings.
More and more companies are looking into virtual technologies to provide optimized experiences for users. This type of technology is commonly referred to as "Virtual Reality." However, the sphere of virtual reality is incredibly broad, which is why it is important to understand the different types of this emerging technology.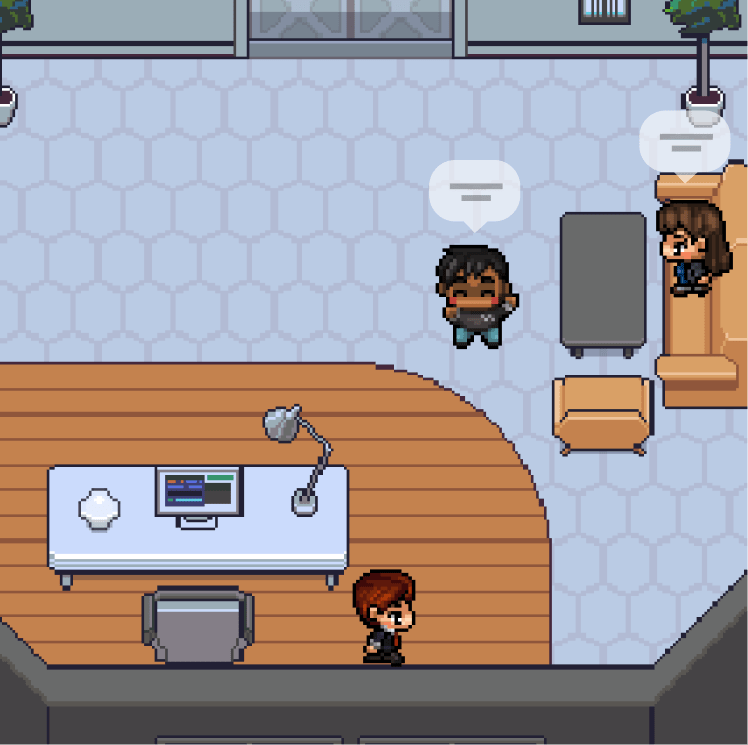 The Different Types of Virtual Reality
Many people today have had some experience with virtual technology before. However, virtual technologies and environments are still a new field to many. When it comes to virtual tech, the majority might think of VR headsets, but there are diverse concepts of it. To better understand the differences, virtual reality can be categorized into three main types.
1. Fully Immersive VR: VR Devices
While "Virtual Reality" and "Virtual Environment" are often used interchangeably, the leading concept is that VR is a computer-simulated environment that can be accessed using VR devices, such as headsets, glasses, or gloves. The key point of a fully immersive VR experience is that it places a user into a virtual environment and allows them to interact with their surroundings in real-time. 
VR content is consumed in a viewer-centric perspective, recreating a realistic experience for the user. If the user turns their head, the camera pans in the same direction, allowing them to immerse themselves in the virtual world or environment they are looking at.
The NYPD (New York Police Department) uses VR for training drills for real-life scenarios that are impossible to recreate. Many of the drills involve active shooter drills in different environments like schools or office buildings. These 3D environments can be created virtually with different avatars for different situations. Officers can get many different scenarios in a short period of time. It is a fully immersive and realistic tool that prepares officers for real-life active shooter scenarios.
Similar to the NYPD, big brands like Marriott International or Patrón utilized VR technologies in their previous campaigns to create 360-degree showrooms and 3D product views. Blending storytelling with different VR techniques provides a realistic experience to the consumer as it allows them to have full control over what is happening and how they want to engage with the product.
2. Non-Immersive VR: 3D Virtual Spaces
"A 3D Virtual Space is a digital environment that uses artistic elements to meticulously unveil a product or service. Everything is created with 3D software, revealing exceptional details and modern craftsmanship."
The impact of the pandemic has shown that everything that could go online has gone online. In 3D Virtual Spaces, products and objects can be placed in hyper-realistic environments by utilizing different technologies like 3D rendering. In addition to the limitless possibilities in design and aesthetics that 3D Virtual Spaces provide, they are an excellent tool for brands to create innovative campaigns. Not only can brands produce visual campaigns remotely from anywhere around the world without needing a physical location, but they can further create inspiring visuals that defy physical and creative boundaries.
3D Creative Studio VSLB, which specializes in the design of tailored and artistic 3D Virtual Spaces, has worked with leading brands like LG Signature to craft stunning visual campaigns for their product line-ups. The company provides three different types of 3D Virtual Spaces: 
The idea behind "The Studio" is to provide a virtual space that emphasizes timelessness and simplicity. Products are put in front of a colored background and can be showcased in different angles. 
more info
VSLB's "The Abstract" offers surreal locations that invite brands to explore their creative potential. Depending on which atmosphere and mood brands want to convey, this Space creates striking visuals that take you outside the realm of possibilities.
more info
For brands that want to show their products in a hyper-realistic interior setting and portray an ideal lifestyle, VSLB offers "The Interior."
more info
Each of VSLB's spaces serves a different purpose and helps to highlight aspects of a brand, its products, and marketing objectives. A well-crafted and branded environment provide a product with a context to exist in; thereby, helping consumers visualize how a product will fit in their lives and connect with a consumer's lifestyle. Creative studios like VLSB give brands an innovative edge and provide the key to engage consumers through the power of storytelling and art.  
3D Virtual Spaces are mostly considered non-immersive as people are still in the physical world. They can interact with objects in the Virtual Space via devices like a computer or a smartphone.
Furthermore, 3D Virtual Spaces are the first step in interacting with virtual technology. By adding AR or VR, these 3D Virtual Spaces can be turned into semi or fully immersive experiences.
While there is a clear distinction between VR devices and 3D Virtual Spaces, the metaverse seamlessly combines all virtual technologies together. The metaverse attempts to recreate a form of reality through virtual means by allowing users to wander around, represent themselves through avatars or experience a different lifestyle. 
The concept of the metaverse is broad and still under development, but there are gaming platforms that come close to the potential experience the metaverse holds for the future. Some of these are Fortnite, Roblox, Minecraft, and Facebook Horizon. Depending on the platform, players can create their own worlds inside the game. Not only can they interact with in-game characters, but they can also invite digital versions of their friends and share adventures together inside the game.  
Naver's metaverse app Zepeto is considered the leader in South Korea in the metaverse race with over 200 million users. Users can create an avatar version of themselves by customizing skin color, hairstyles, and outfits. Once their avatar is created, they can roam around the Zepeto world, meet and chat with others virtually, and even go shopping. The company has landed major partnerships with brands like Nike, Gucci, and Ralph Lauren to create branded items to sell inside the Zepeto world.
Why Should Brands Invest in Virtual Tech?
Ad blindness is an indicator that consumers are becoming desensitized to current digital marketing strategies. The phenomenon of Zoom fatigue shows that people demand change and crave active interaction in the virtual sphere. More companies are looking into the development of new technologies that can create immersive experiences, as they know that virtual technology will be the future of marketing. 
VSLB's CEO Sarah Schmidt believes that current and future consumers are connected to the virtual world more than ever and seek unforgettable and immersive experiences. Therefore, brands have to evolve to stay relevant. She emphasizes that now is the time for brands to begin creating a digital legacy through extraordinary and unique visual experiences.
"The current innovations on the technological and digital front are just the beginning of a more virtually connected world. Brands should invest in these technologies or utilize the advancements of VR, AR, or 3D Virtual Spaces for their campaigns early on to better connect with a changing consumer market and experience unlimited creative freedom."
 - Sarah Schmidt, CEO of VSLB
Interactive and immersive content is unbeatable when it comes to attracting the attention and interest of users, which is why Zepeto, Roblox, and Fortnite have amassed great popularity. Visiting a brand's virtual world becomes an adventure for users and no longer feels like a hard-sell marketing technique. With virtual technologies, brands can connect with consumers on a new and more personal level. Therefore, now is the time for brands to embrace virtual tech.
Some of the visuals found in this article were created by our media partner VSLB, a 3D Creative Studio based in Seoul, South Korea. Redefine product experiences and take your brand to new creative horizons with VSLB.
Visit VSLB